Introducing: Meredith Schomburg
Our newest signing Meredith Schomburg reveals how her experience in product design informs her illustration, how a 220 square foot mural became her most cherished work, why she gravitates towards drawing plants and florals, and how it took a pandemic to define her style…
Our newest signing Meredith Schomburg reveals how her experience in product design informs her illustration, how a 220 square foot mural became her most cherished work, why she gravitates towards drawing plants and florals, and how it took a pandemic to define her style.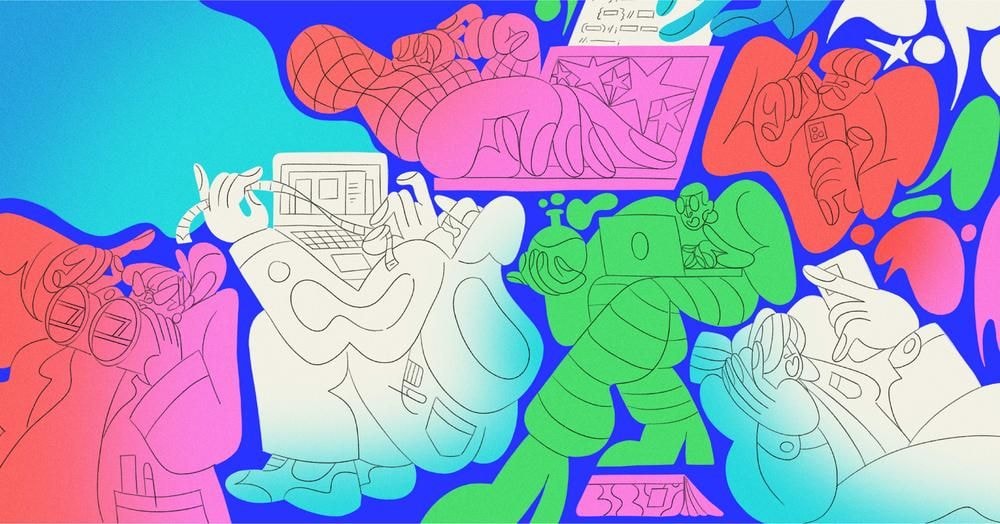 Can you tell us a bit about yourself? What's your story and your journey to where you are now?
I'd probably joke I grew up with a pencil in hand but genuinely some of my earliest memories are of some sort of drawing. I grew up in a small suburb of North Carolina, nothing fancy, but thankfully to parents who really encouraged anything creative I wanted to pursue.
In my first full-time job I found myself doing digital illustrations for internal things to pass the time, leading to some freelance work. I landed a job on the product design team at Airbnb and made the move to SF (a far cry from the suburbs of North Carolina) where I would illustrate at home when I didn't know what to do, or even how to process what I was feeling. From Airbnb I joined the team at Koto in Los Angeles as a brand designer.
Then the pandemic hit, and once again I found myself drawing just to process what was going on and to pass the time. I took some time off around that time to prevent burnout and felt like I finally figured out my style. What I liked to draw, how I liked to draw it, and just had a new sense of love and excitement for illustration—so much so that I finally had the courage to pursue it full-time. It finally just clicked that illustration is what I LOVE to do. What I can get lost in for hours doing. That it was worth at least giving it a try. I left Koto, moved to NY, went completely freelance and think it's the best decision I've made yet.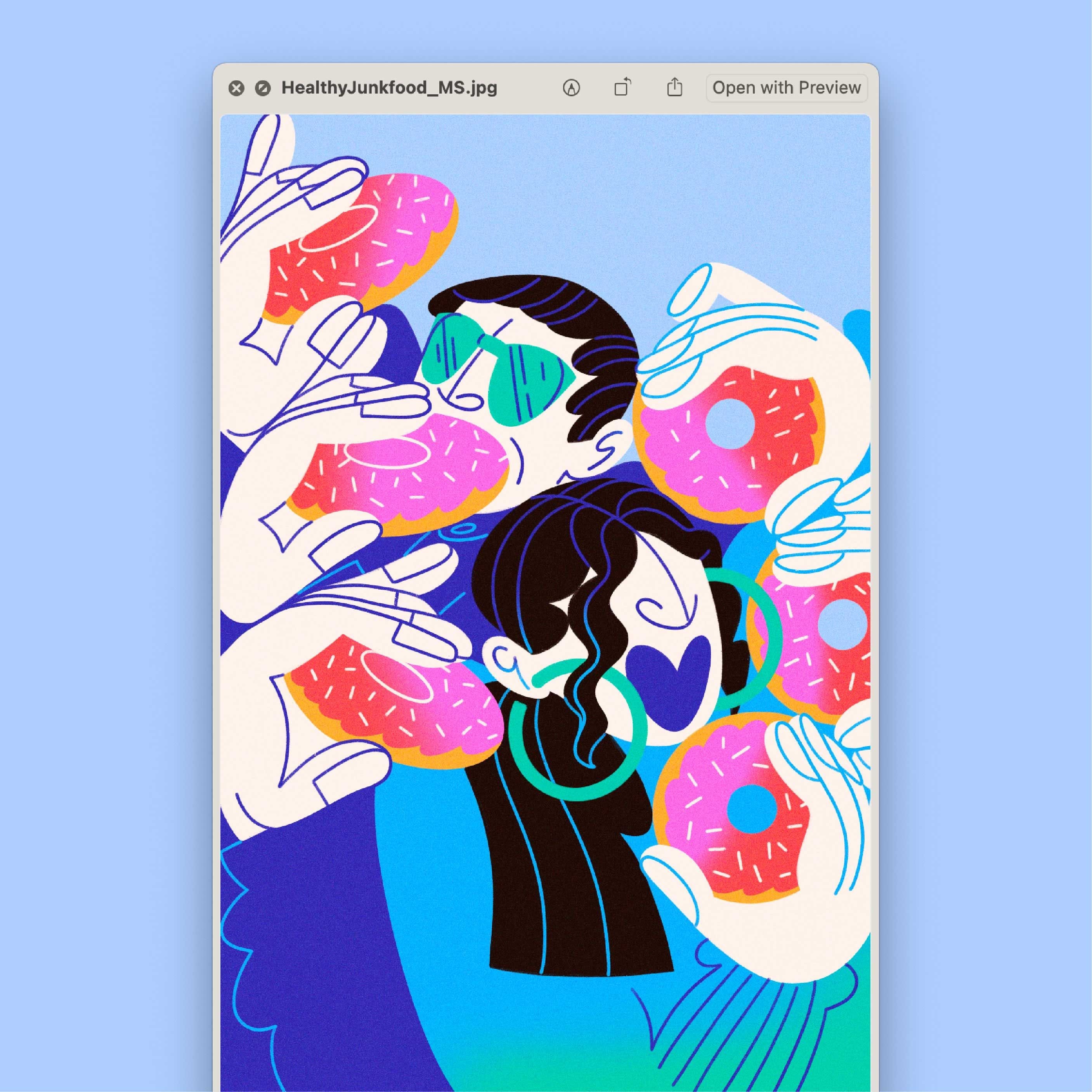 Your work is so vibrant – where do you get inspiration from?
I really think it's that I love colors that make you feel a sense of joy and optimistic energy. Things that stand out and grab your attention. I want to make people excited when they see my work in maybe an otherwise dull moment and find that vibrant colors best suit that intent.
How did you get into illustration specifically and why?
I always drew as a kid, had parents that encouraged any creative pursuit. School was more design focused but taught me a lot about composition and color and then my work experience in tech and agencies showed me how illustration could be applied from the smallest moment in product to the largest brand campaign.
I think there's a simplicity to 'why illustration' in that I'm good at it, or at least it feels like it comes naturally, and it brings me a lot of joy to do it. And it's an added bonus when creating something has a positive effect on others around me.
I love people, which is again, quite simple really, why I gravitate towards drawing them all the time. I think the human form is beautiful and interesting and it seems like there are endless ways to draw it. Plants and florals too, anything 'living' really—things already imbued with their own life force and trying to find a creative way to represent that in my own voice.
"I finally had the mental space to give ideas I had had for a while the time they needed and really found the start of my style...Time off also showed me there's a lot of freedom to not have it all together and in being honest about my state of being was able to create from an authentic place."
Meredith
Tell us your favourite project you've worked on so far
Over the summer I painted a ~220 square foot mural in some friends' backyard. It took two weeks painting from morning until sunset, the NY heat wave didn't help… but throughout the process other friends would ask if they could help in some way. I think at the end of it there were 17 other hands that helped paint,when it was all done we threw a party in the backyard to celebrate.
I'm genuinely proud of the work itself, but it was the process I loved—getting away from the screen, working alongside friends, meeting new people because word got out it was happening since it took so long to finish and seeing how it transformed a random back patio in Brooklyn into a really colorful space. Because it was personal too I gave myself the time I needed to get it done and learned a lot in that, experimented with some new methods of painting that really helped me solve some of the problems I'd had in previous projects and are informing how I tackle new things.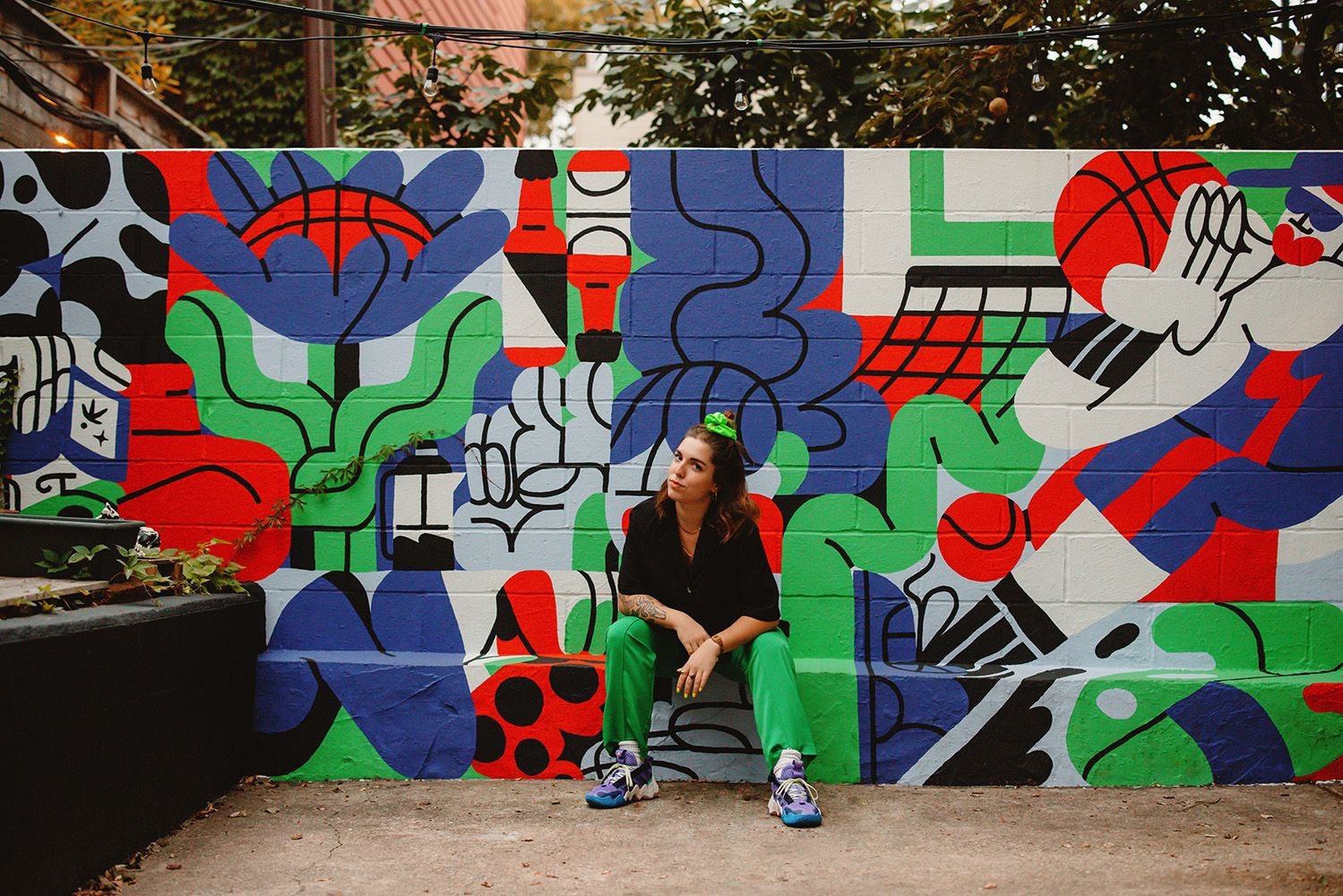 What do you enjoy doing when you're not working?
It's always a tricky balance when what I love to do is also what I do for work… If I'm not on a client project I always have some sort of personal piece I'm doing—I try to balance it out based on the medium. Lately I've been painting a lot since my 'work' has been primarily digital.
But for things not art/illustration related… It's usually spending time with friends. I love to cook, especially really involved dinners I can make for friends. Any chance to get outside as well, so taking my bike around Brooklyn or sitting in the park near my apartment with a book. I'm also trying to get back into playing basketball—I grew up playing but it's been a minute.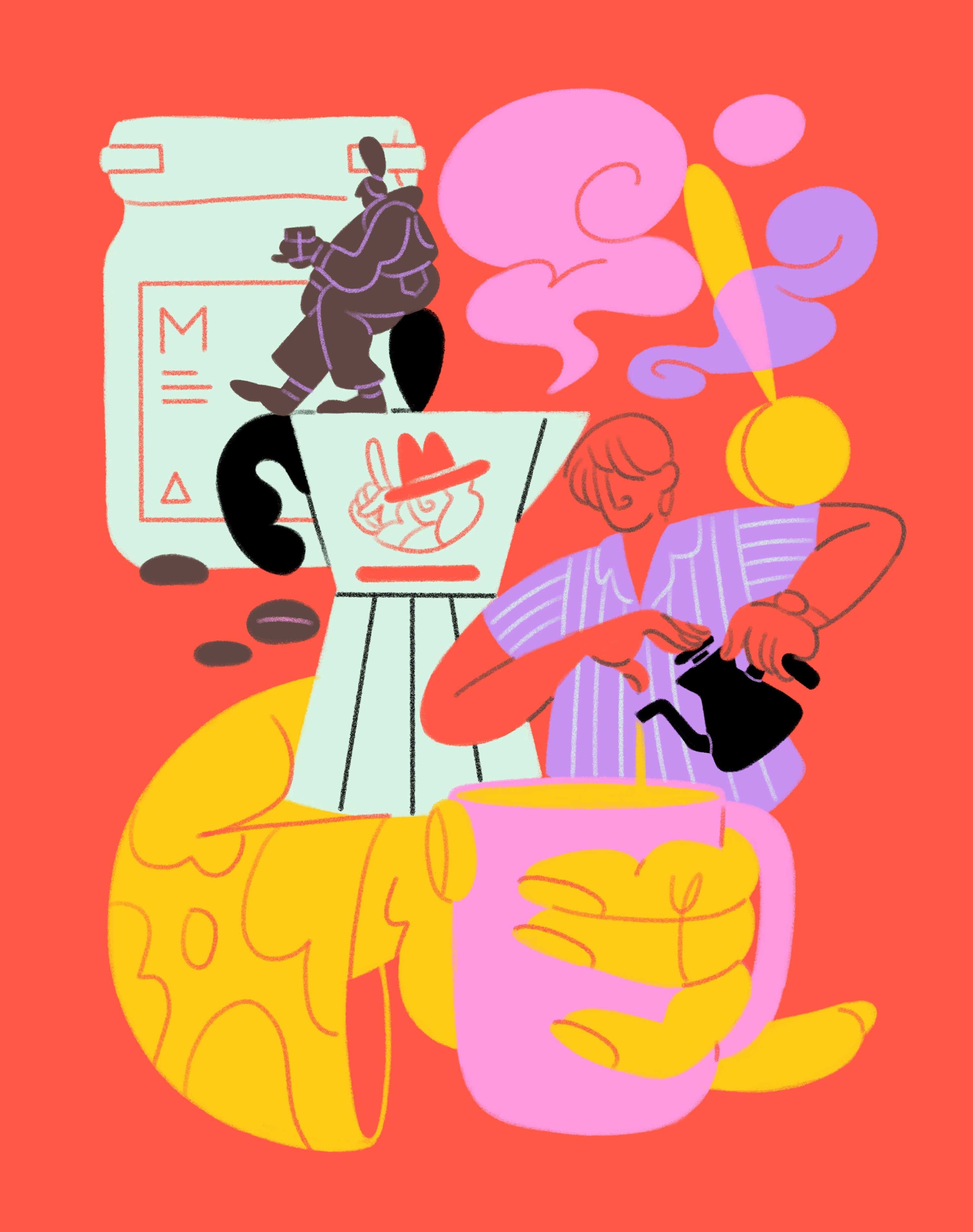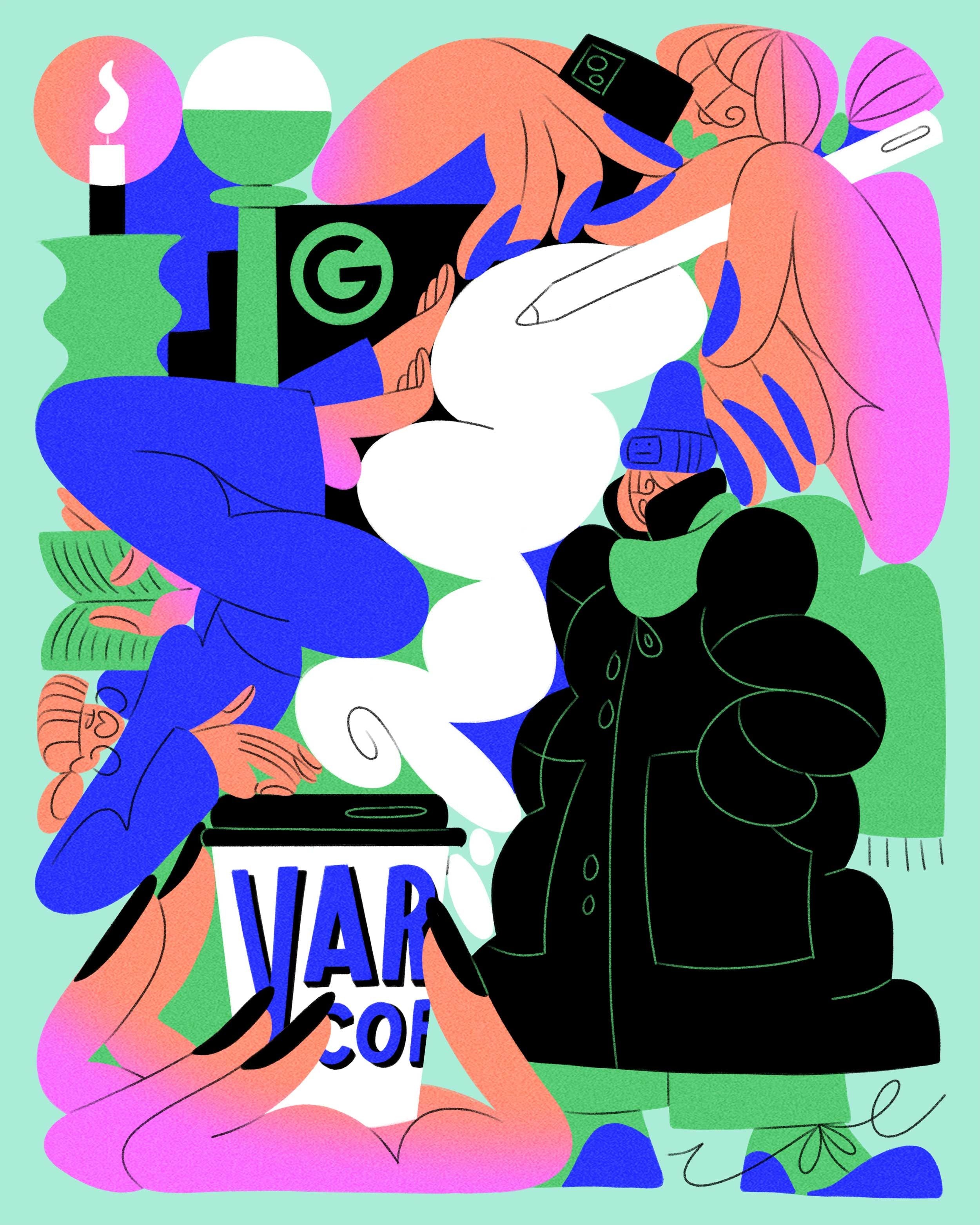 We love your work for Airbnb, can you tell us more about it?
Ok so this one was super fun! I got to work with some of my previous co-workers on this for Women's History Month. The goal was to depict really colorful female-identifying characters that could be used as zoom backgrounds to celebrate the month. Got to play with the brand colors and draw my favorite subject matter: the female form. Since they were going to be used as Zoom backgrounds I tried to think compositionally how to use the characters as more of a framing device for anyone centered in the piece.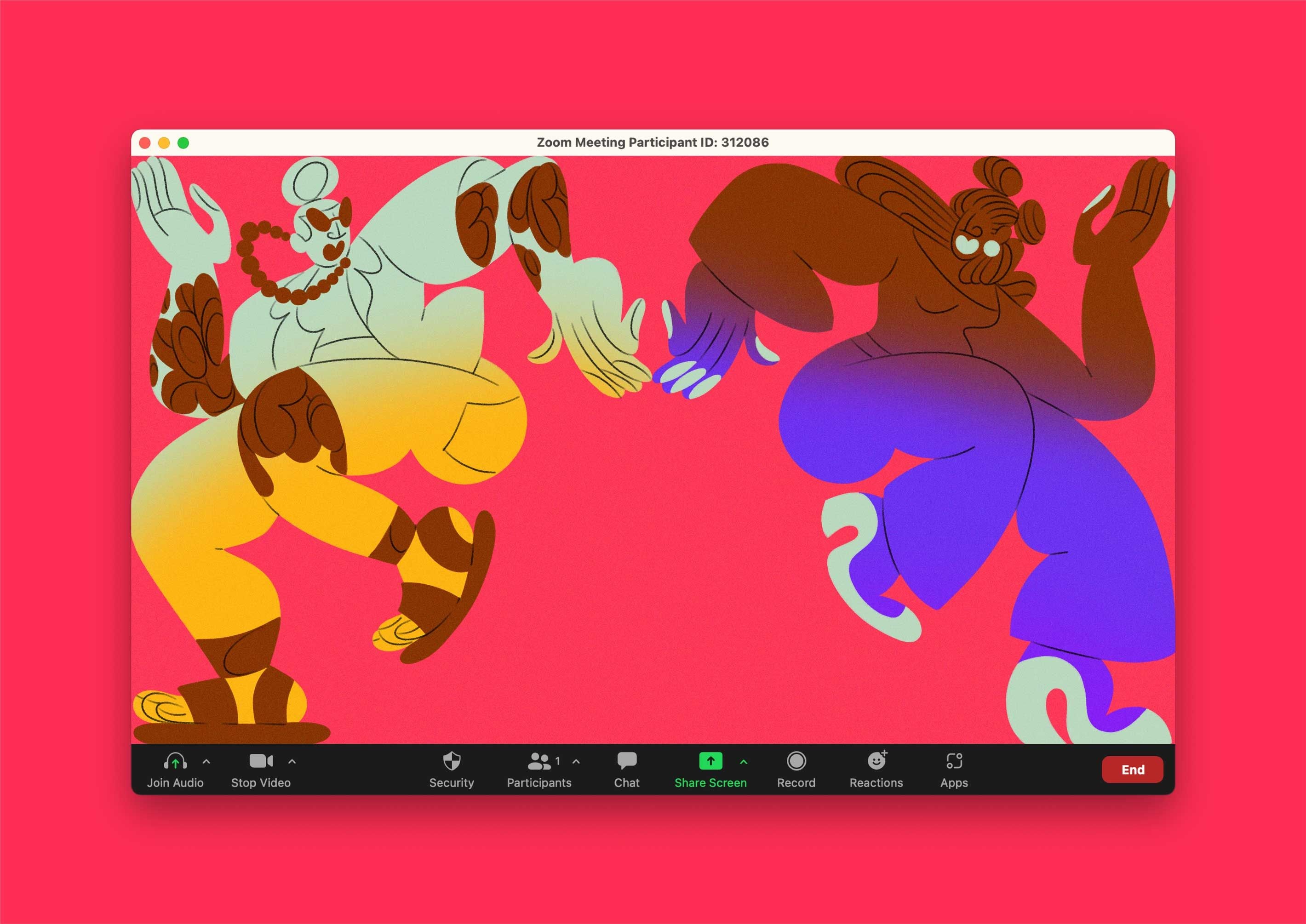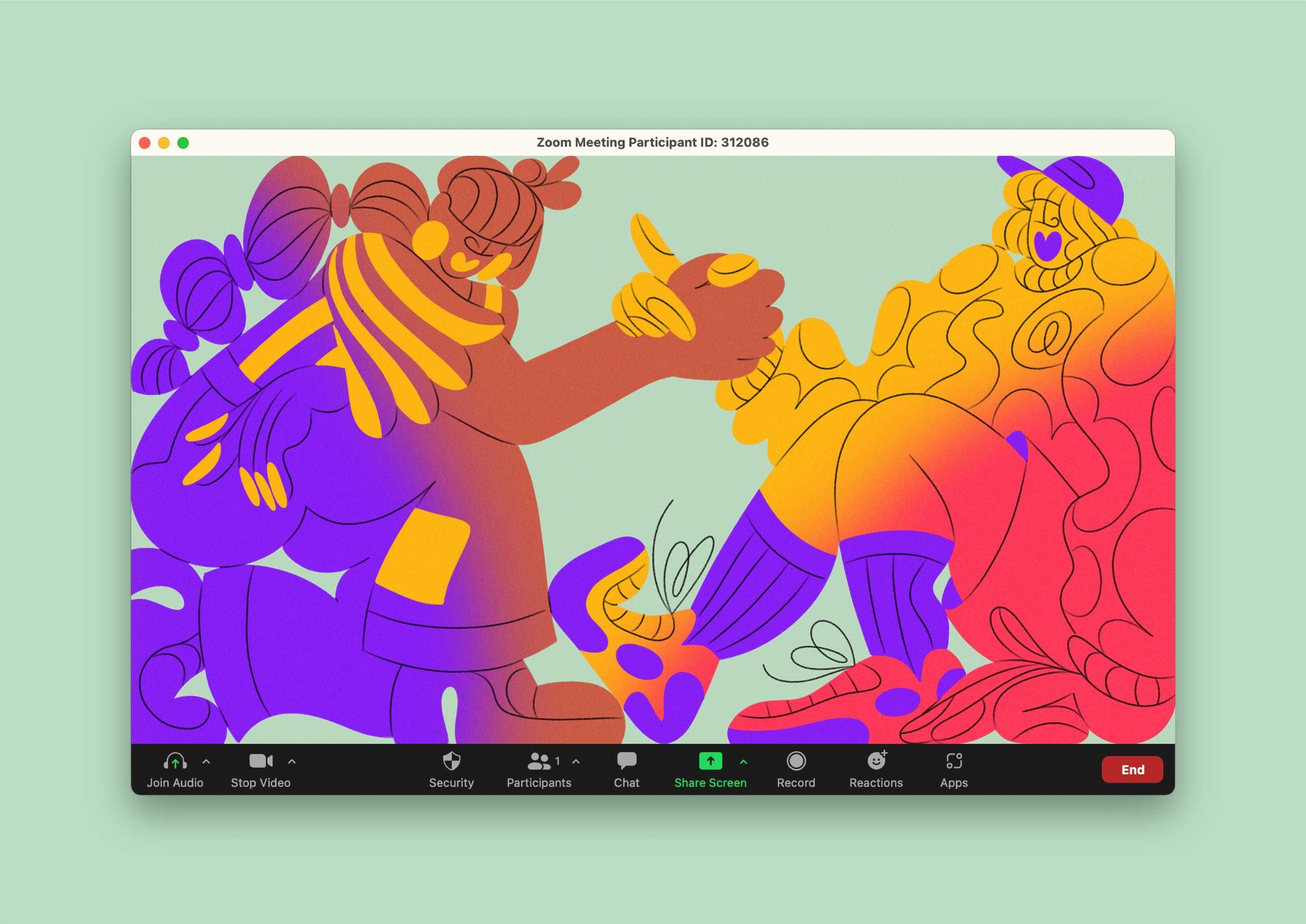 How has the pandemic pushed you and your craft?
It gave me the space to realize I wanted to go freelance/pursue illustration full time. Full transparency, a few months in to working from home I hit a depressive stint. I actually didn't know how to show up to work and the team at Koto graciously let me take leave to take care of myself. During that time off I drew A LOT. I finally had the mental space to give ideas I had had for a while the time they needed and really found the start of my style. Figuring that out gave me more motivation to keep drawing and growing to the point I'd be in a place to pursue illustration full-time.
That time off also showed me there's a lot of freedom to not have it all together and in being honest about my state of being was able to create from an authentic place, that's why I think I found my style in that season.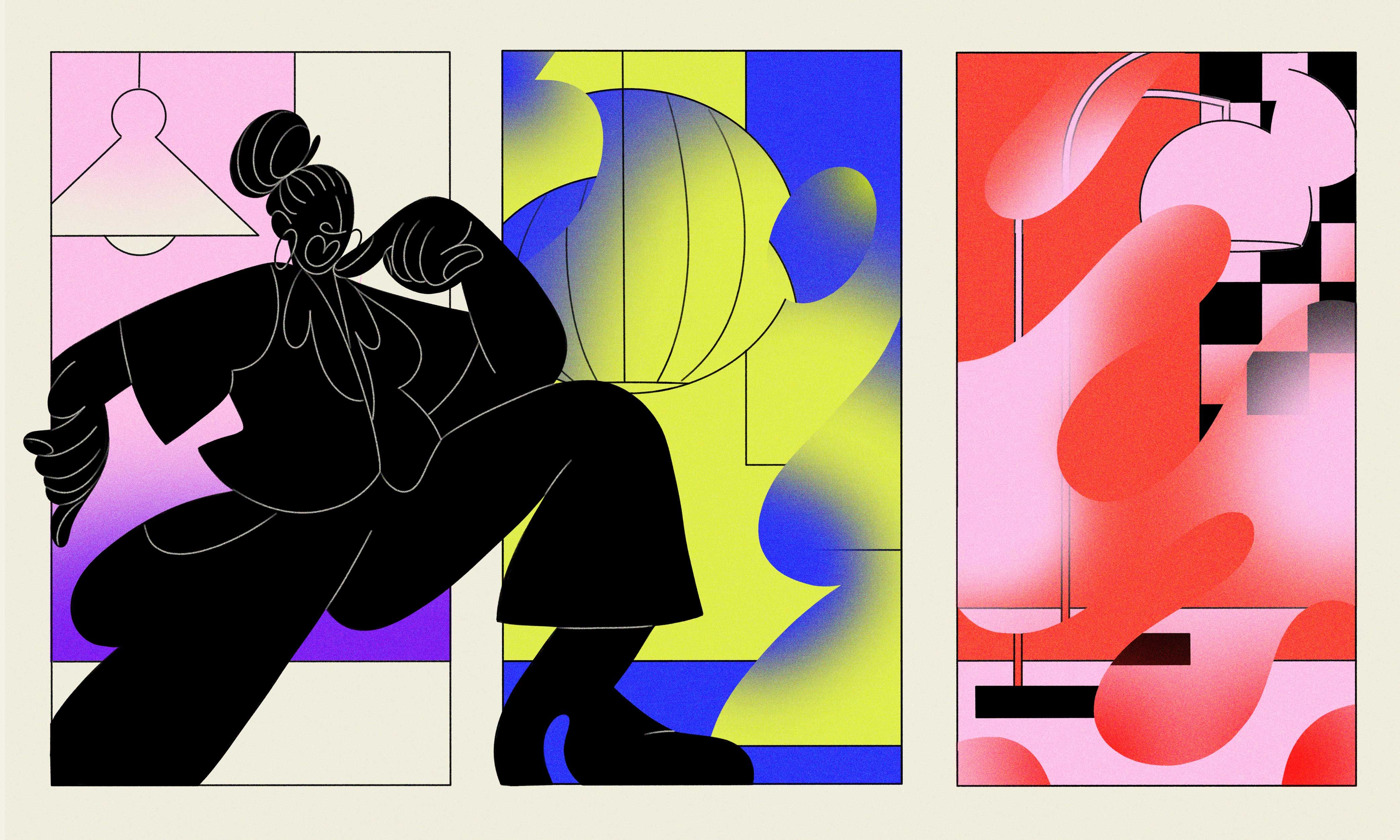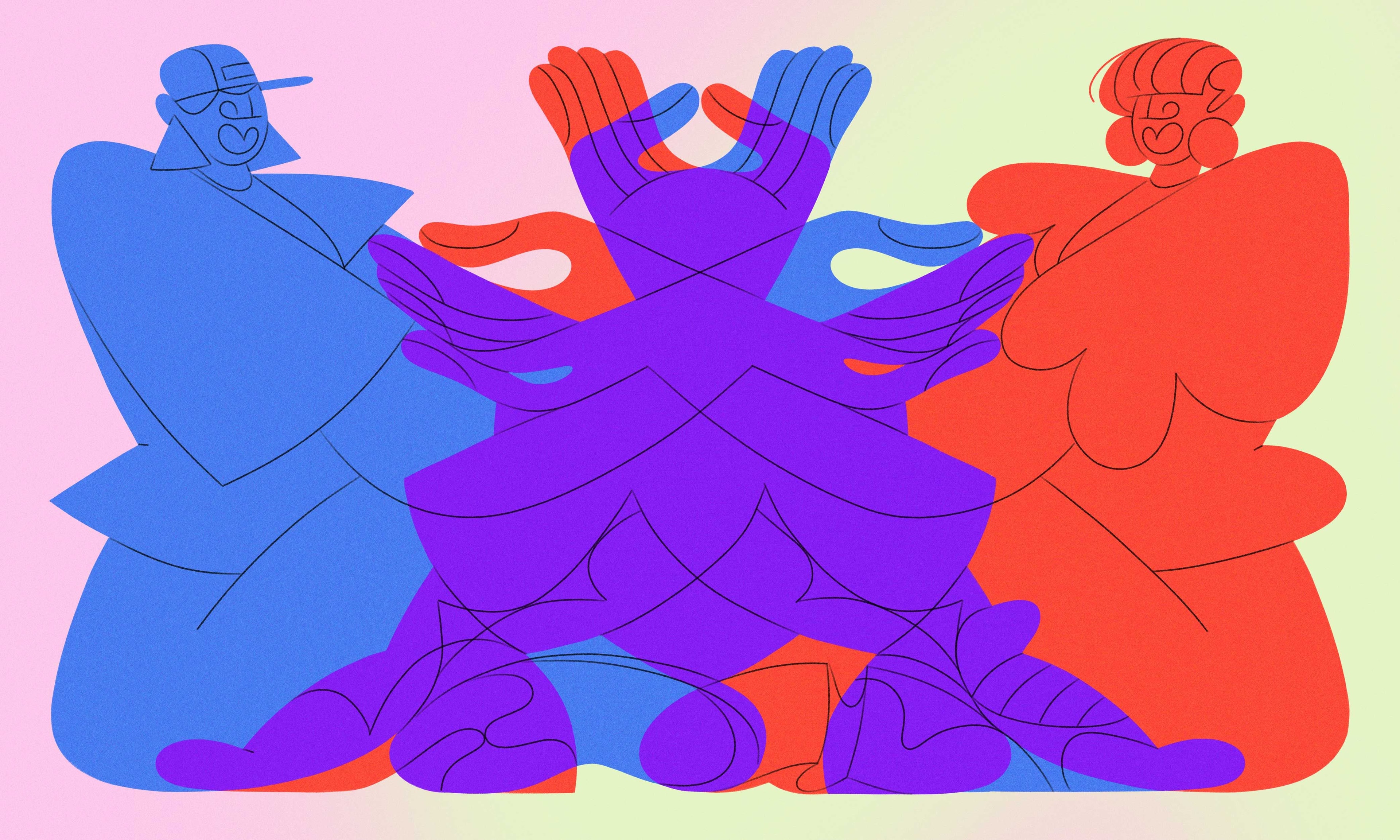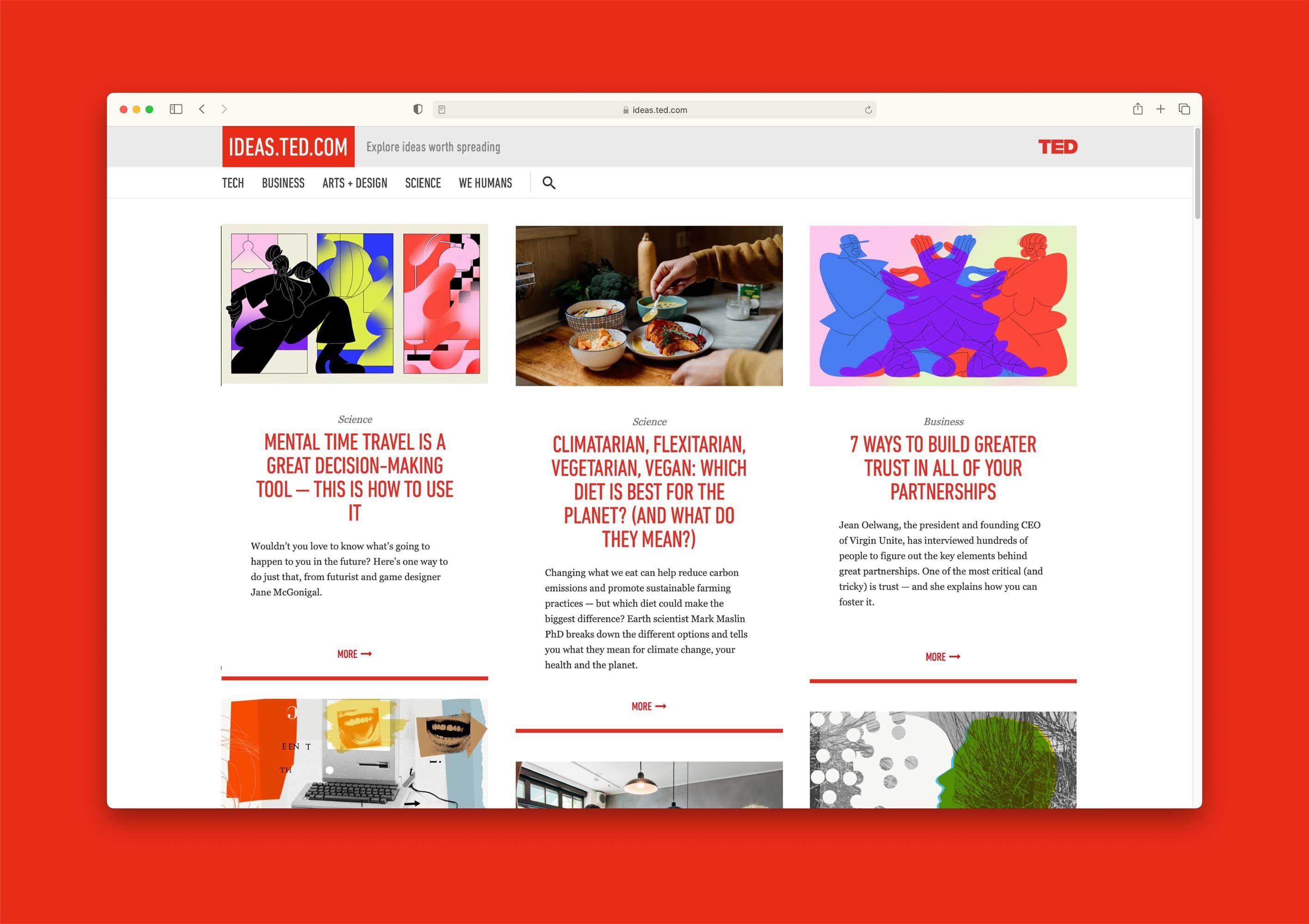 What would you say your purpose is as an artist, and what gives you that motivation?
I just want to create colorful, beautiful things that add joy to the world somehow, and bring people into the fun of that process along the way.

On a surface level, the motivation is that it's just exciting to create and literally makes my life more colorful and enjoyable. On a deeper level, there's a spiritual motivation because I believe the world has been originally created with beauty and intention and that's worth celebrating. I want whatever I create to be a direct reflection of my conviction in divine artistry.
Where do you see yourself in 10 years?
Making art and making friends. Not to avoid the question, but I like to take things a day at a time, you just never know what life brings. I just hope I'm doing something creatively impactful and surrounded by people I love. Maybe things have gone well enough where I can have my own studio space that doubles as a gallery for new artists that need a space to create and show their work without having to pay themselves. Invest in others the way I was invested in. That'd be the dream.
What We Do
Solving creative problems with strategic thinking, bespoke teams, and expert execution View the Collection