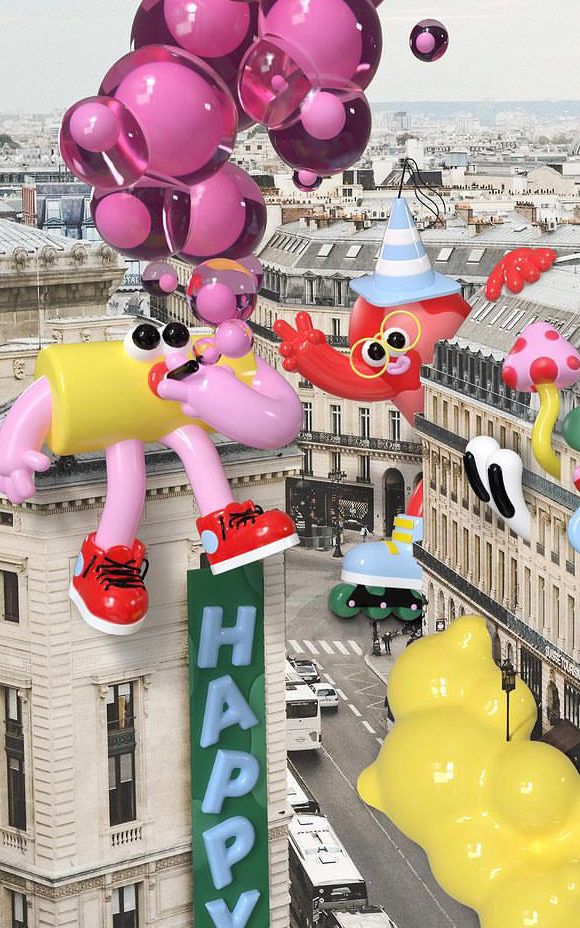 Meet The Team: Leslie Ellen Poole
Our EP in Hamburg, Leslie sits down to tell us about her career so far & the exciting launch of Jelly Europe.
A close friend of Jelly, we are delighted that Leslie has joined us at this exciting stage of expansion.
What do you do at Jelly?
I am Jelly's Executive Producer for all projects from our European friends. My role is varied and exciting. I am a huge illustration and animation fan so for me it is a real pleasure to be involved in the production of it and artist development. I am looking forward to every new briefing that comes in! I am the first point of contact for our clients from Europe, mainly from advertising agencies and brands in Germany, The Netherlands, Italy and Spain. I am there for them to go through new briefings for all kinds of creative illustration and animation projects, from character design, visual storytelling, typography, 3D designs, paper craft or animations for digital assets or TV commercials, just to name a few. I am supporting the client to find the right artist, as well as scoping the timings and budget. I am also working closely with our wonderful in-house project management and production team, to ensure all runs smoothly up to final delivery to meet the needs of the artist and client. I also love to go out there to meet creatives and production teams for a chat and share some of our beautiful work for inspiration.
How will launching a European office shape the future of Jelly?
The launch of Jelly Europe is a great chance for all our artists to be involved in projects from different European cultures, brands and styles. Also, on the other hand everyone working in the creative industry can collaborate with Jelly artists from all over the world more easily. I am expecting to see new strong creative relationships and a bigger variety of briefs, styles and mediums.
What is it that people in your industry have to deal with, that you want to fix?
With our launch in Europe, I would like to make it easier for everyone in the creative industry to work with our international roster of artists. Often clients might have been hesitant to even explore the option to work with artists from the UK, down to the different currency and the fees were often seen as too high. Also, for some projects more paperwork could have been an obstruction, down to double tax agreements that Germany has in place. Now that Jelly is also based in Hamburg, we are officially part of the same market and work culture, which makes working together very straight forward.
What's the most exciting thing about Jelly launching a European base?
From working in advertising agencies myself for more than 10 years in Germany and the UK and listening to people in the industry, there is still room and the desire to develop more beautiful illustration and animation campaigns for European brands. I feel excited to bring our talented artists from all over the world right into Europe to share their amazing work and connect with the creative people here. I hope we can inspire more agencies and brands to consider brave and fun illustrations more often for new campaigns. I really see Jelly as a creative partner for everyone and it is exciting to be part of the creative community here.
What are the key differences between the European & UK industries?
I can only talk about my personal experience from working in advertising agencies in Hamburg and London. In Germany, many creatives were saying they would like their clients to be a bit braver to explore more innovative and international creative solutions. That felt different in London, creatives were often challenged to explore a wider and more unusual range of ideas. This is changing now though, as I have seen many exciting campaigns recently across Europe.
What are your credentials/past experience, for working in your position?
Since 2006 I have been working in the creative industry and have gained broad production experience as a creative producer across top advertising agencies in London and Hamburg. I have managed and produced creative campaigns across all media for a wide range of exciting clients such as Lamborghini, Fuller's brewery, Carlsberg, NIVEA, Flybe airline, Olympus cameras, Kellogg's, Fitness First, CLARINS and many more. I love to manage all sorts of projects from creative development to production and final delivery. I am also a real matchmaker, loving to find the right talent for any kind of briefing. I feel in my new role at Jelly as an Executive Producer I can combine all my past experiences in creative production with my love for working with creative teams across Europe on beautiful illustration and animation campaigns. I feel incredibly lucky!
What's the most exciting thing you're working on right now?
Every briefing and project that I have on my table now is so unique and across all different types of media such as animation, typography, illustration and 3D character design. Also, requests for the new medium NFT came in, so there is always something new to discover. The variety makes it for me and exploring this together with all our wonderful artists is extremely exciting.
Best thing about being part of the Jelly team?
We are such a fun, inspiring and very sociable team with great values. Jelly is also very family friendly, which makes it easy to combine personal and work life for all of us, so it just feels like one and fully integrated. That's how I love it.
Your top 3 favourite Podcasts/Books?
I enjoy reading books by Tom Hodgkinson, such as 'How to be Free' or 'Business for Bohemians'. Aside from that I love getting stuck into old classics, especially books by George Orwell. 'Down and out in Paris & London' was one of my favourites.
Any artists and/ or exhibitions worth looking up at the moment?
There are so many wonderful artists out there. I really enjoy coming across their work everywhere, on blogs, instagram and exhibitions. In terms of exhibitions, I really enjoy spending some time in Hamburg's Kunsthalle and Deichtorhallen to enjoy the art and atmosphere. I was recently at the Tom Sachs's 'Space Program: Rare Earths'. I really love his craft and short films. Also, I am looking forward to any upcoming university exhibitions to see what new talents are up to.
What do you enjoy doing in Hamburg when you are not working?
I love going to gigs and strolling around the city for hours chatting with a friend and stopping now and then to buy records, pop into exhibitions and get some food and drinks on the way. Aside from that I also spend a lot of time walking in the nearby countryside with my family and dog.
What's the biggest misconception people have about your position?
I am not aware of any. When I was working in advertising as a creative producer and art buyer, I have just always found it really helpful to be connected to agents and producers on the production side. It helped to get quick and high-quality results and inspiration in an extremely fast-moving work environment.
What's the best advice you were ever given? Who was it from?
The best advice came from life itself. I have always tried lots of different things and moved around a lot. By trying it all out, acting on all those ideas, life has shown me that it is just incredibly exciting to see the outcome, whatever that is! It just gives back so much energy and inspiration for new ideas and things to do.
What We Do
Solving creative problems with strategic thinking, bespoke teams, and expert execution View the Collection