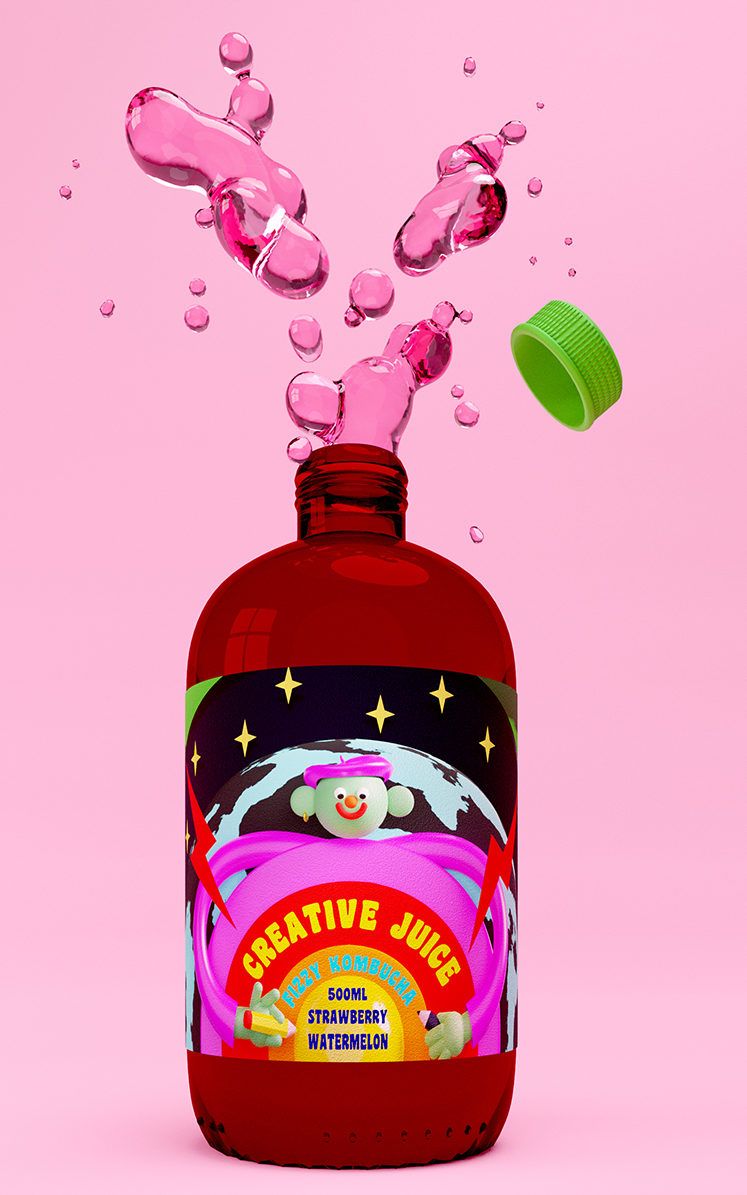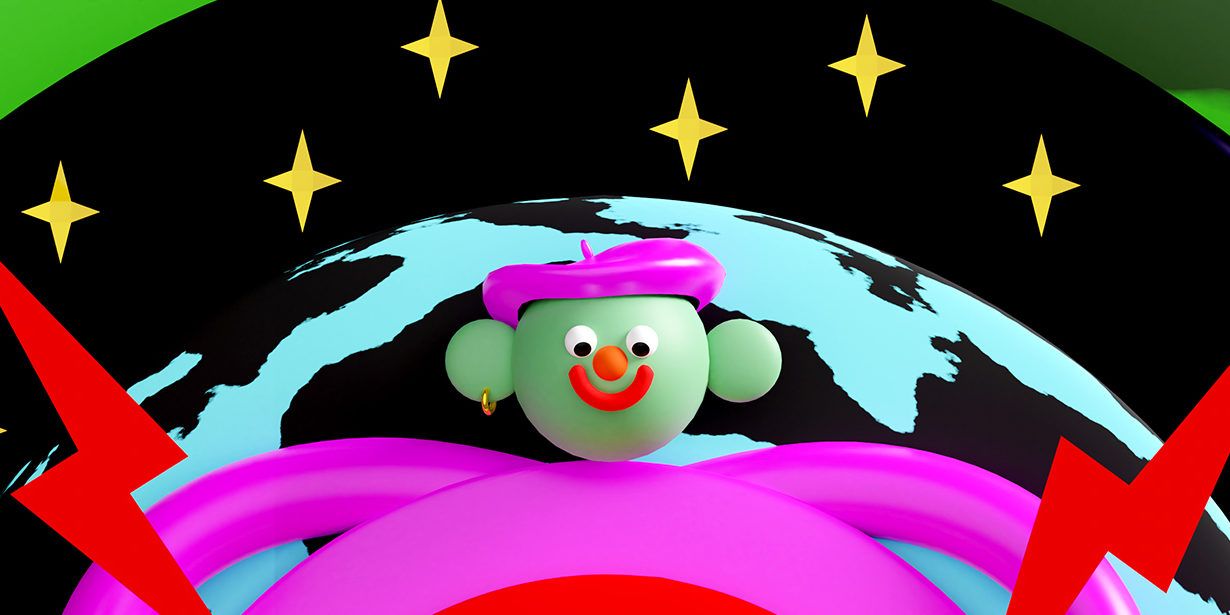 #NoBrief: Leanne Rule
Leanne talks about her most recent passion project, 'Creative Juice', featuring brightly coloured 3D bottles of an imaginary brand of Kombucha...
The #NoBrief series is an ongoing look into our talented illustrators, animators, lettering and type artists' minds – focusing on the passion projects they create when they become their own client. When they are free to let their imagination and creativity run wild, when there's no client brief to stick to.
Previous #NoBrief's have seen the likes of Niceshit, David Luepschen and Alice Tye (to name a few) discuss the highs and lows of creating (and completing) a passion project and the benefits it reaps.
Continuing with the series is multimedia artist & director Leanne Rule, whose characterful stories are infused with her signature sense of humour.
When did you start this project? And what inspired you to create this?
I started this project mid- way through the most recent lockdown, I felt like It had been a while since I had given myself a brief to fulfill, instead of creating one off bits of content, and I always enjoy getting a bit more stuck into projects. I wanted to create something more design-based, then explore the universe that the product could live in and try and make some really fun environments for it!
The idea of creative juice is probably quite an obvious one, something I really could have done with at times this year!
On a serious note… how much Kombucha have you been drinking recently?
I honestly drink kombucha every day if I can! If I'm leaving the house that day I will try and pick up a bottle at some point. Me and my gut try to be good to each other.
How would you describe your style?
I don't know quite how to describe my style, I'm definitely influenced by 60s/70s art, especially in colour and the environments I create with shape and colour, but whether that comes across I'm not always sure. I also like my work to feel quite tactile, so I try to put texture into it. So maybe some kind of squidgy bright 3D soup?
We like the sound of that! How did you get into creating 3D artwork? Was this something you've always been interested in?
To be honest I never thought I'd make 3D work, there were a few artists who I liked that were doing it but didn't think much of it. However in my first year of Uni I experienced some really bad mental health after the sudden passing of my best friend, I went about 6 months of not really being able to get out of bed and was really worried I'd have to drop out.
Then I downloaded SketchUp onto my laptop one evening out of complete boredom, and made this really freaky drawing out of basic shapes (SketchUp is not an ideal 3D software for character design haha) and It just really made me laugh, I showed it to my tutors and they really liked it too, so then I decided to actually give 3D a chance and learn it properly as it was a great distraction for my brain and I found it a really easy way to make funny images. Creating things that made me laugh became really important to me.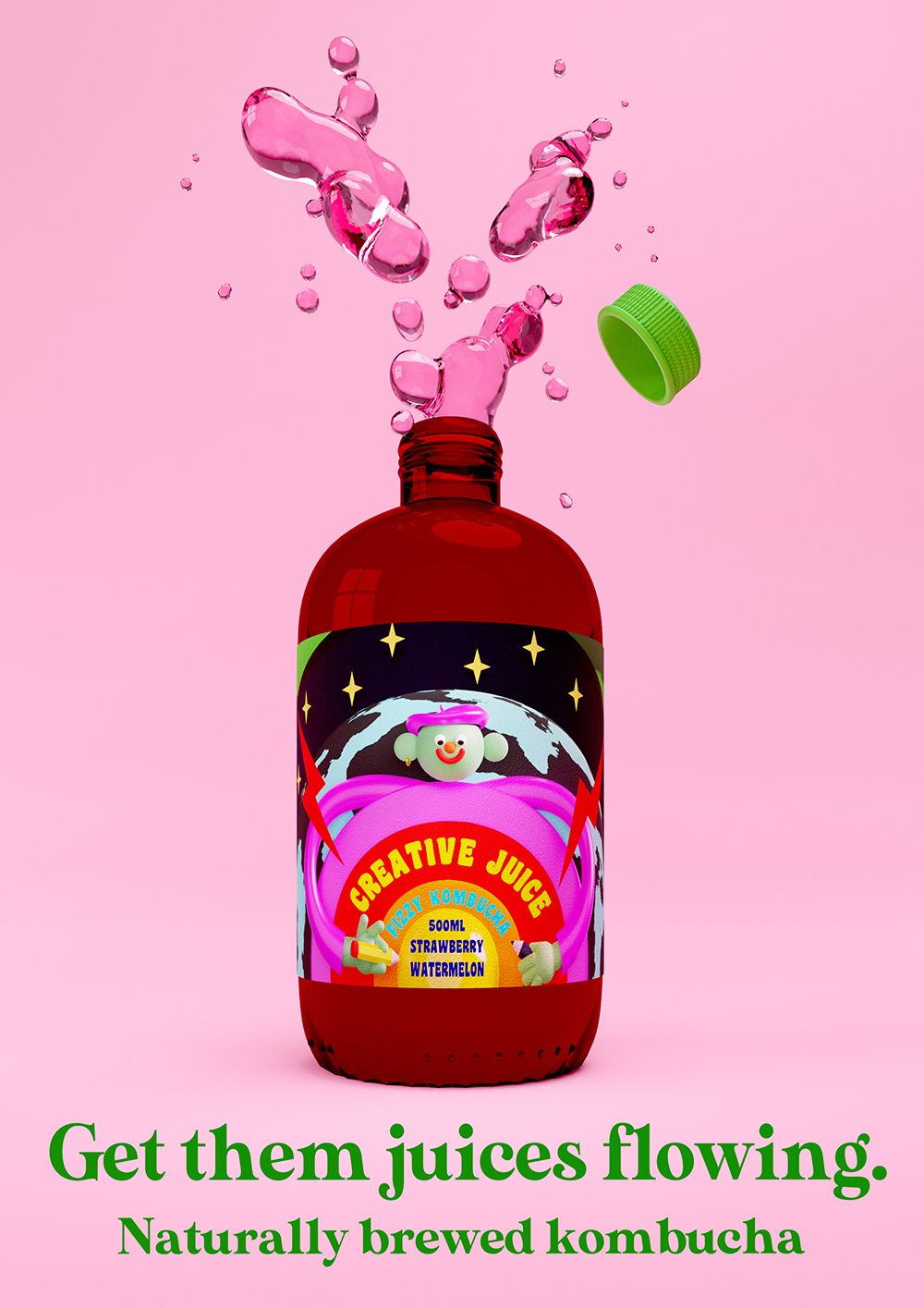 What's your favourite project to date & what's your favourite type of project to work on.
I think I'm quite bad at really hating on my old work because I can always see what I would change in hindsight, but I still really love YOLO the little short I made. I don't know if it's okay to still be laughing at my own jokes 2 years later?
My favourite type of project to work on is something with lots of characters.
Firstly – it's definitely OK to keep laughing at your own jokes 2 years on 😉 Secondly – how important is it to create personal work?
Personal work is SO important. It's a safe space to play and try stuff with no consequences! You might just find the coolest new style or idea, or if you don't it's personal so no one ever has to see it!
Have you struggled at all creatively during lockdown?
I've massively struggled with creativity this year. I get so much of my inspiration from everyday life/ my friends. Not being able to see people often or get out to galleries / movies / anywhere took a way bigger toll on me creatively than I imagined. There's only so much creativity you can get out of the same four walls all the time.
What advice would you give to people creating passion projects?
Come up with the idea with an audience in mind, be it for social media content/ clients etc, but then take the pressure off once you start making it. Give yourself the freedom to make whatever it is that you want to make, but set an intention and goal behind it. That way it's not wasted time, as you either have a nice new portfolio piece, or you've had a good old play and given your creative bones a workout. Both are valuable.
We love that advice! What kind of work do you like /want to be creating?
I love fun work. Anything a bit cheeky is right up my street. I would love to do some work for the music industry, music videos, album art etc. would be a dream.
And last but not least…Dream client?
I'd love to make work for Spotify, or MTV. Or maybe do some late-night stuff for Adult Swim.
What We Do
Solving creative problems with strategic thinking, bespoke teams, and expert execution View the Collection