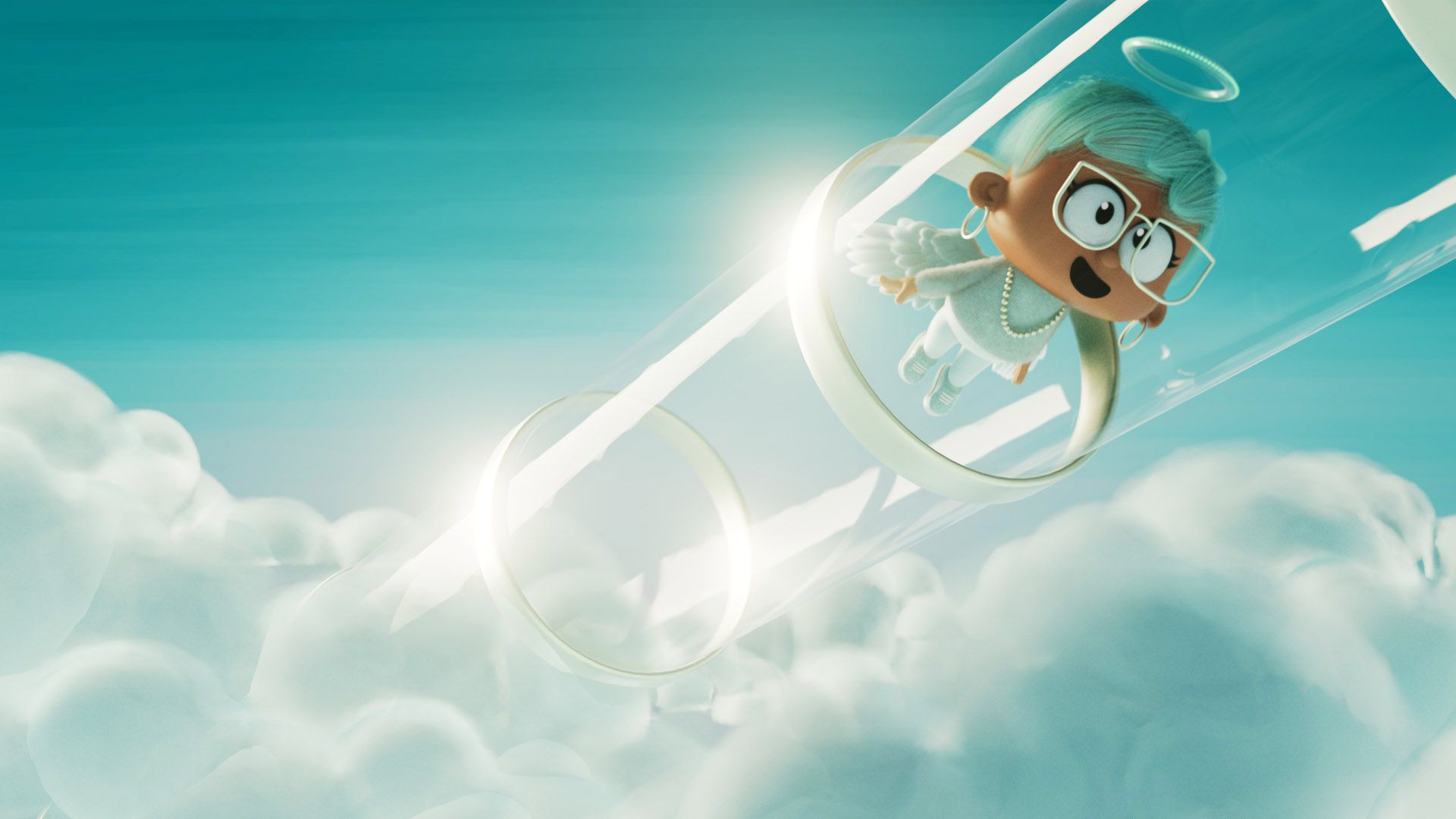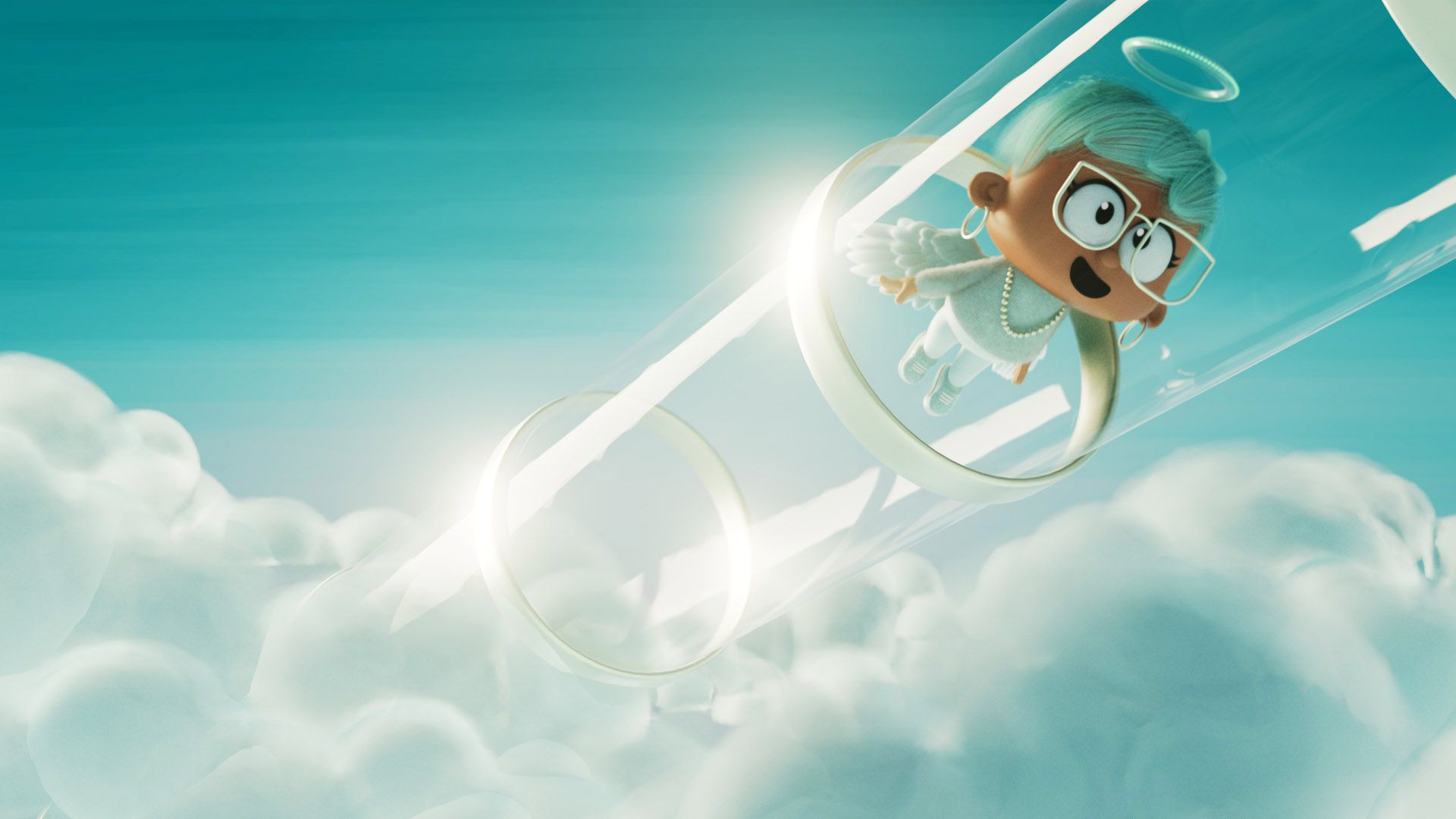 #PitchGraveyard Returns
Risen from the dead once again, Pitch Graveyard is the series where we look at the ones that got away, the concepts that didn't quite make it, and the illustrations that almost were.
Tuesday 14 February 2023
By Eri Panasci
Have you seen the new toilet paper brand commercials in the clouds? So have we.
The brief for this pitch came from a well-known toilet paper brand in the US, who's mascot needed an 'angelic' makeover that gave the face of the brand a new direction, while maintaining their friendly audience appeal. Here's how director Neil Stubbings proposed to bring that world to life with his clever character design and humorous take on storytelling.
One of our favorite things about Neil's treatments is the tangents he takes to tease the bigger-picture world in which the characters live, considering even the smallest of details. His tendency to ideate on the nuances of a fully explorable universe helps to convey brand values and benefits uniquely through visual metaphor, and also lends to more exploration of the world in future communications...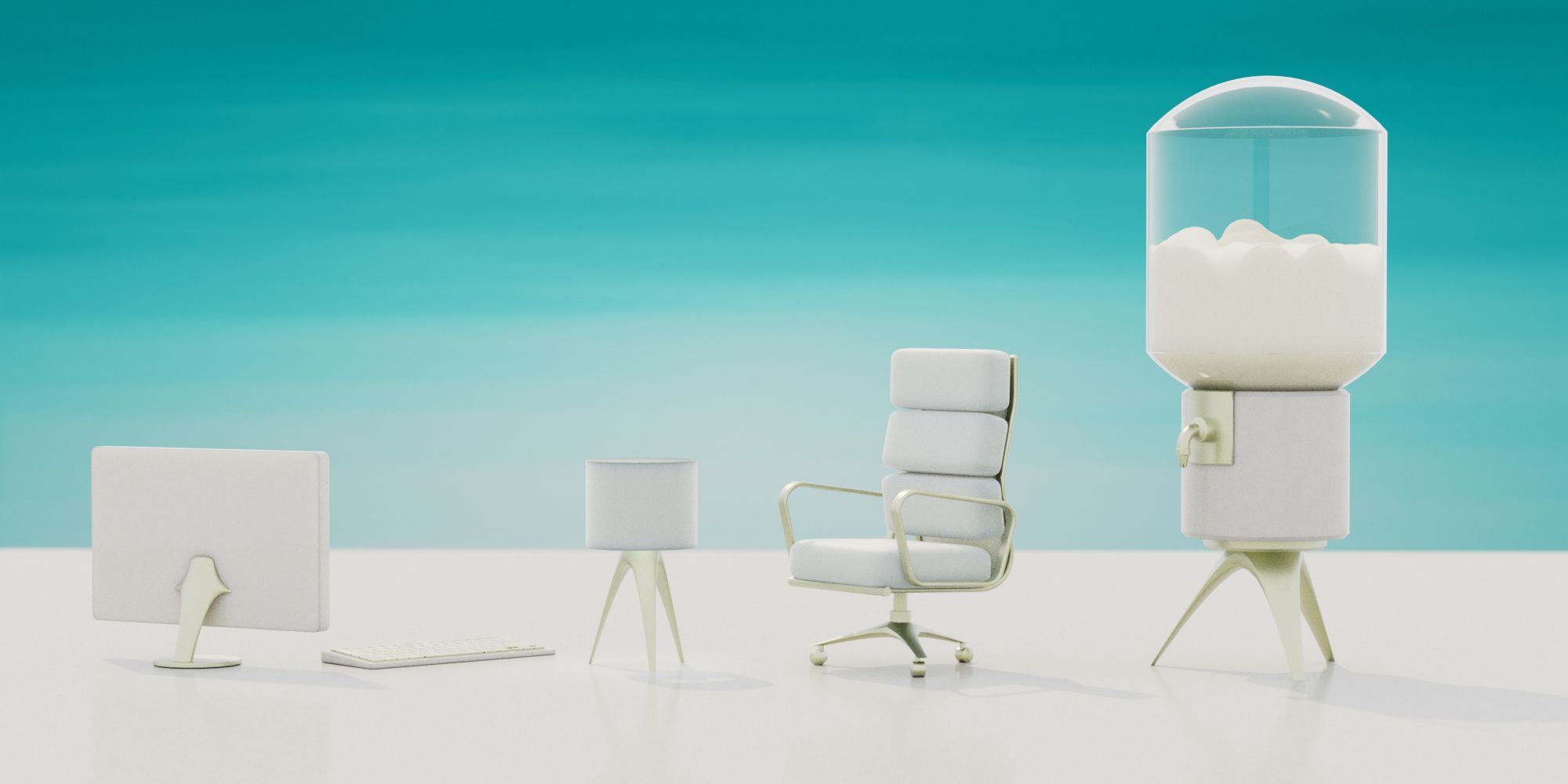 "[The brand] characters' universe isn't far off our own. Sure, those are fantastical beings living and working in the skies, but a lot of the daily life is similar to our own. We can totally relate to their working day. We can spot similarities in their office and factory, even if it is just subconscious. Instead of chatting at the watercooler they do this at the whip cream dispenser. Their computers crash, the coffee machine is out of water, there's no wifi reception on the factory floor and the projector just does not connect. It is those subtle similarities which makes the world charming, relatable, and endlessly expandable."
Neil
In this specific treatment, Neil dreamed up the machinery which could convert clouds into the product, a whipped cream cappuccino maker within the headquarters, a pneumatic tube system to transport the characters around this world, and the chief protagonist's sleek office...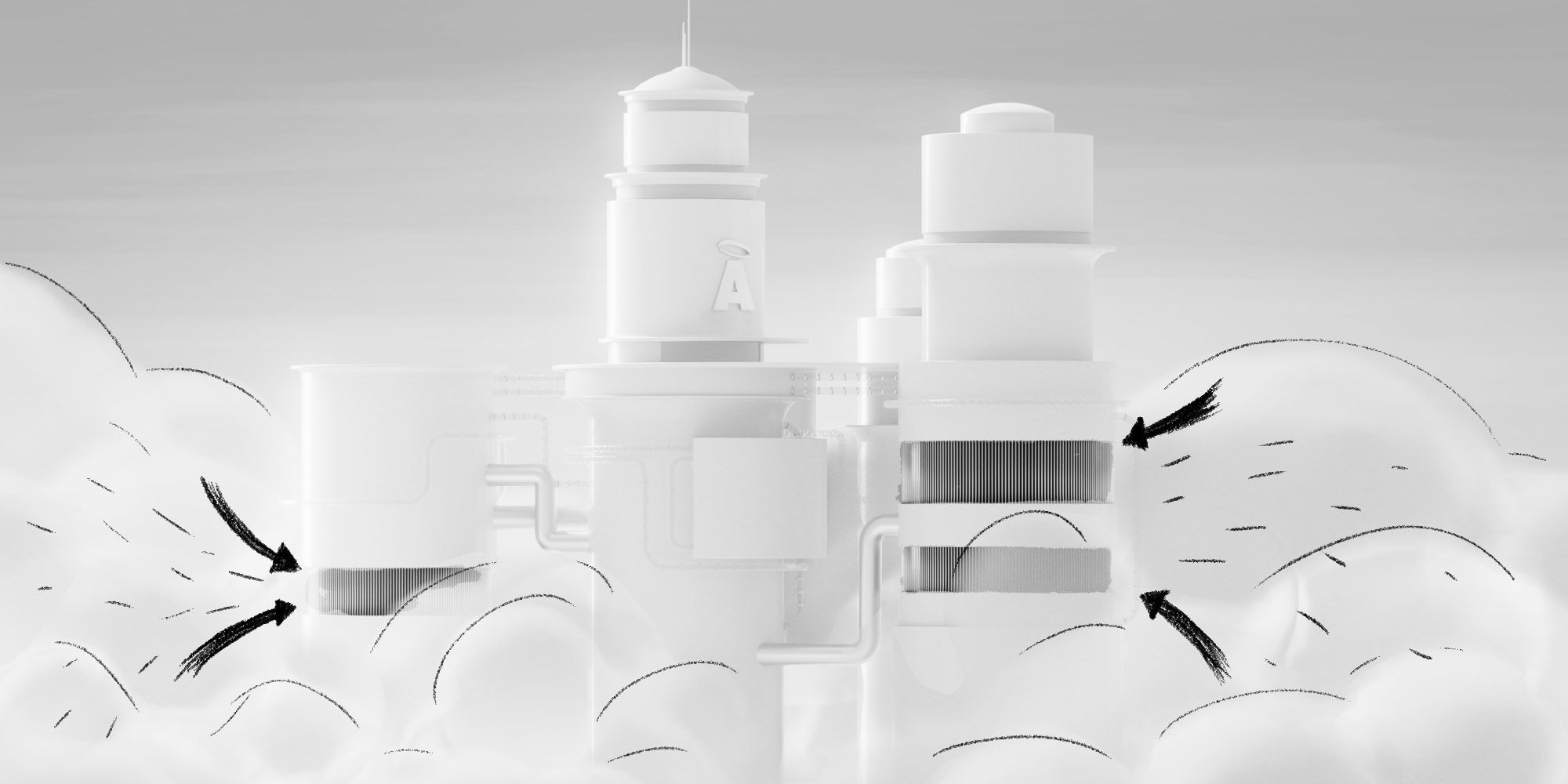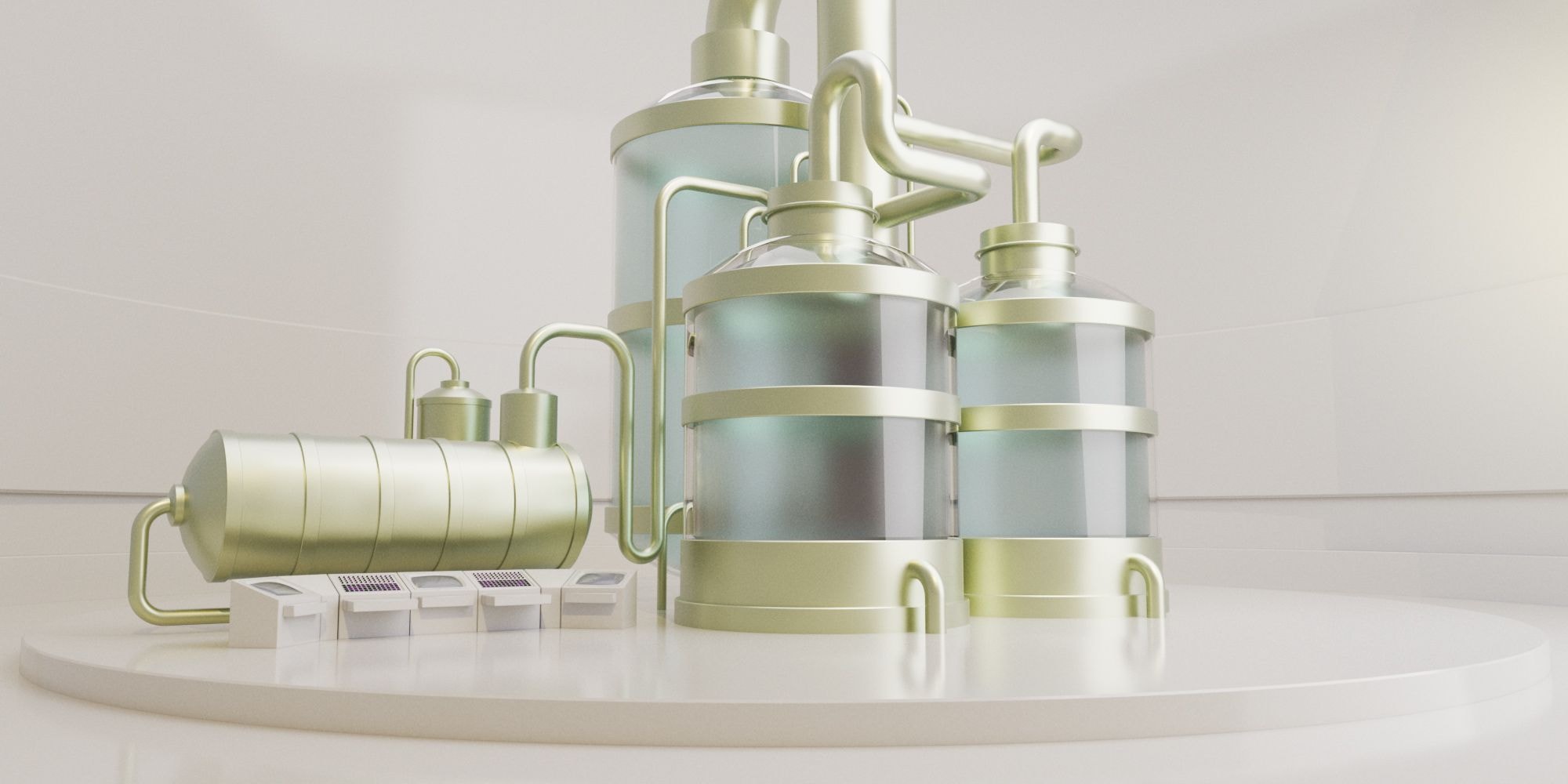 "The clouds get absorbed by the giant filter system. An industrial strength cloud compressor condenses the clouds to the pulp that is then layered to create the toilet paper."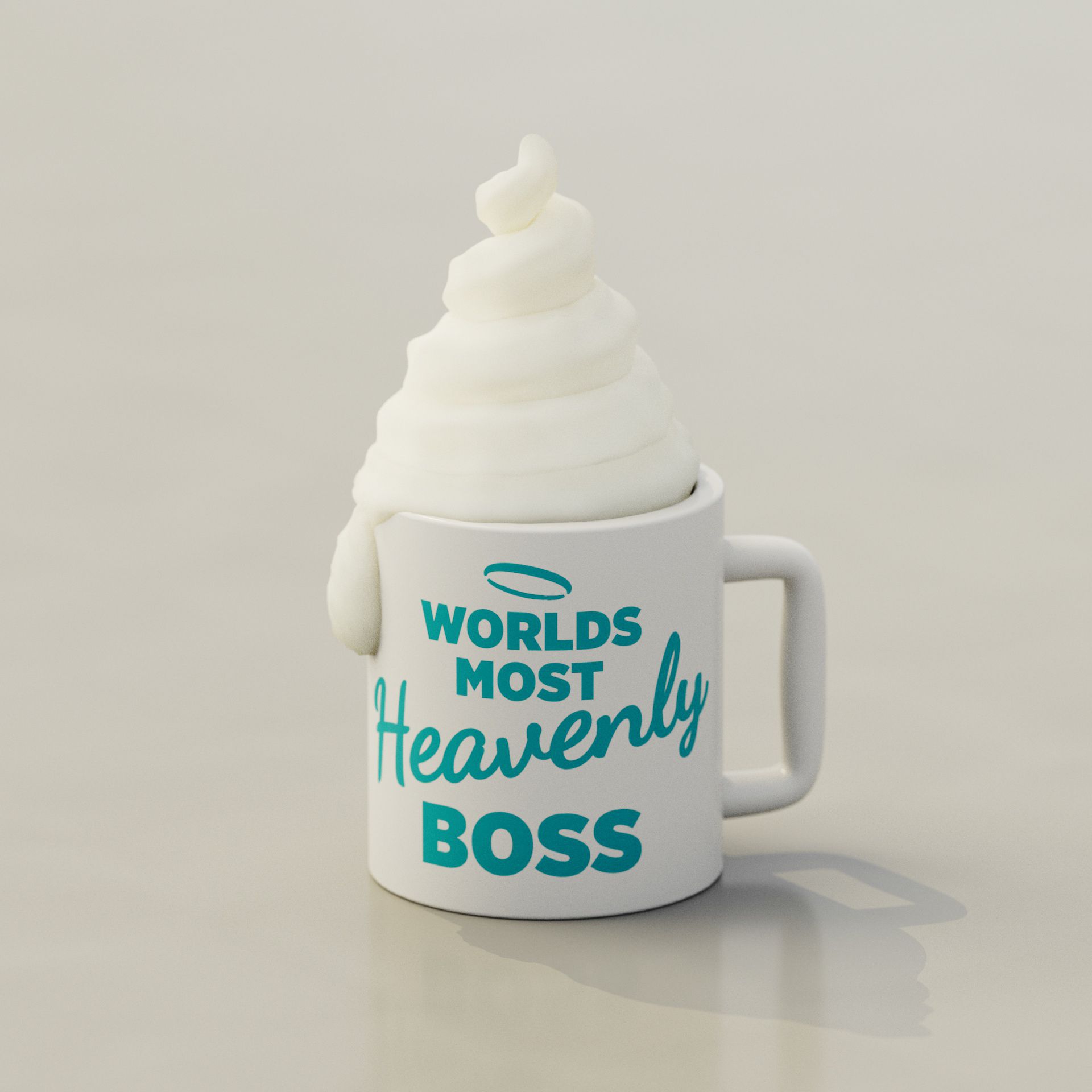 "The Angels love all things fluffy. They wear fluffy sweaters and eat fluffy foods. They don't feed off the precious clouds though, those are turned into [the product]. Their absolute favorite food is whipped cream and they put loads of it on anything. Coffee with loads of milk and whipped cream, YES! Cream cheese bagel with large whipped cream topping. YUM! Or just whipped cream straight from the can, AWESOME! There is a whipped cream machine in every room. And some might even hide a "special" can of whipped cream in their desk drawer."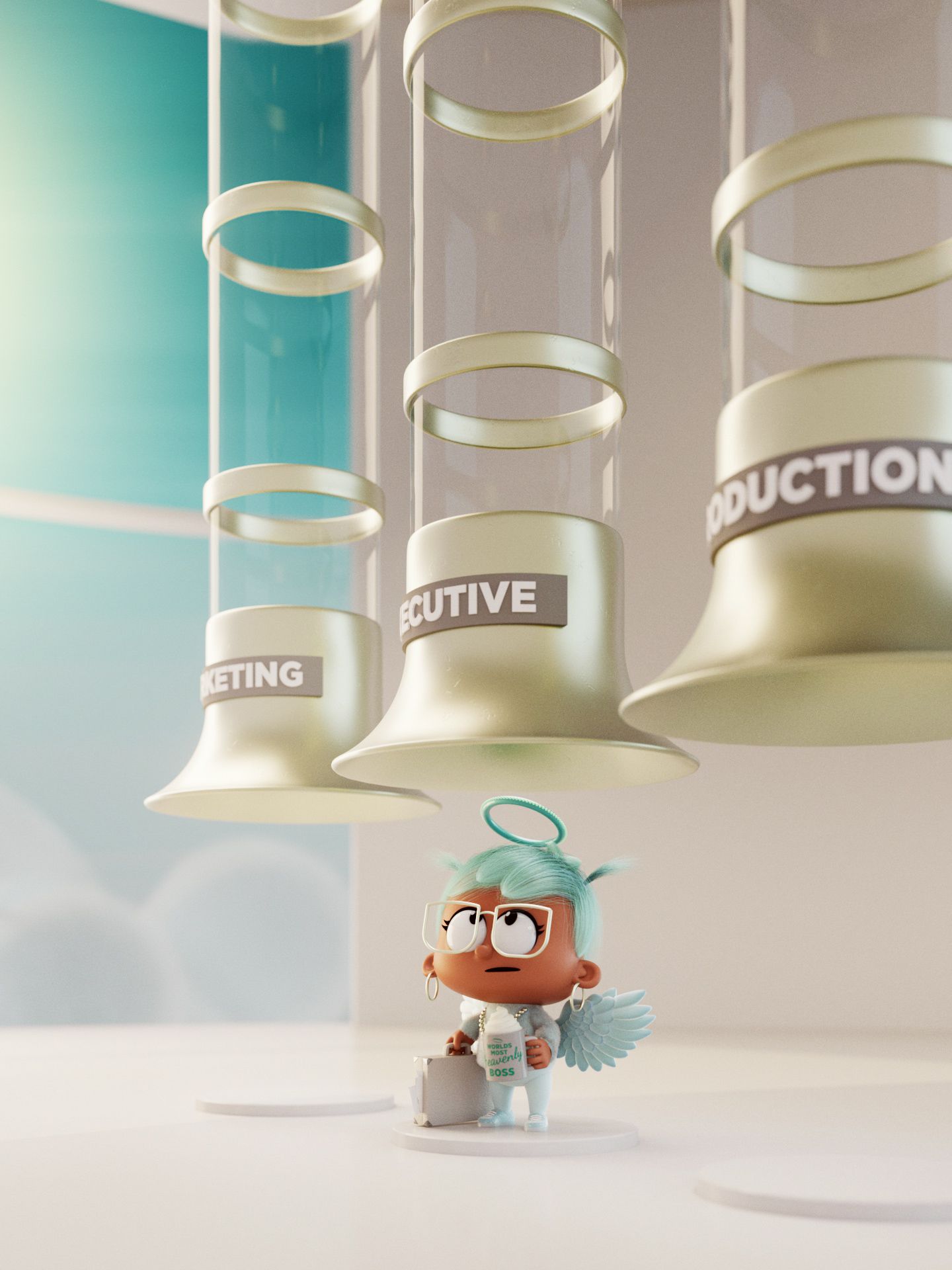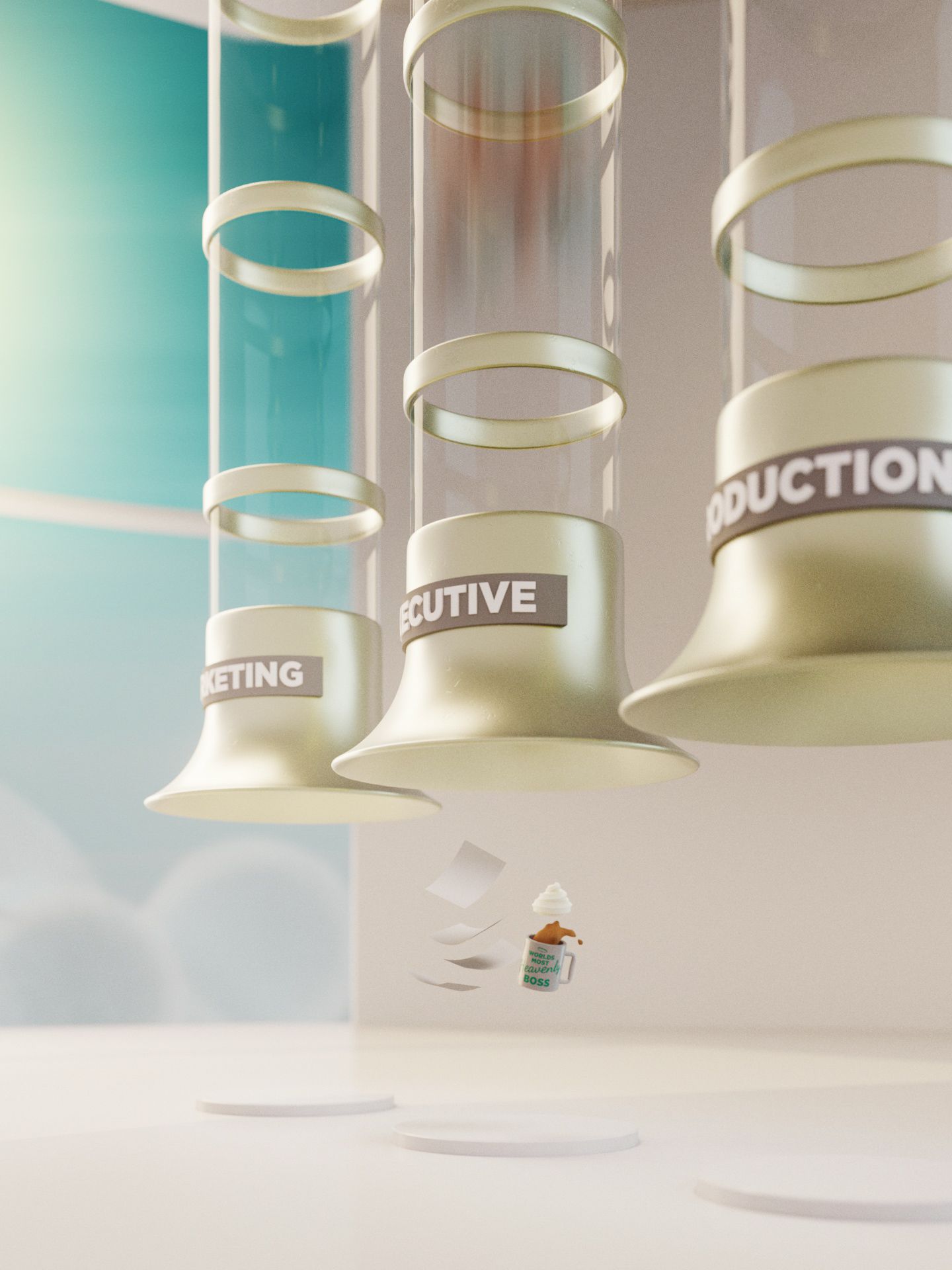 "The tube system basically connects every department, and is comparable to tube mail systems found in large buildings today. Except, of course, it propels the angels."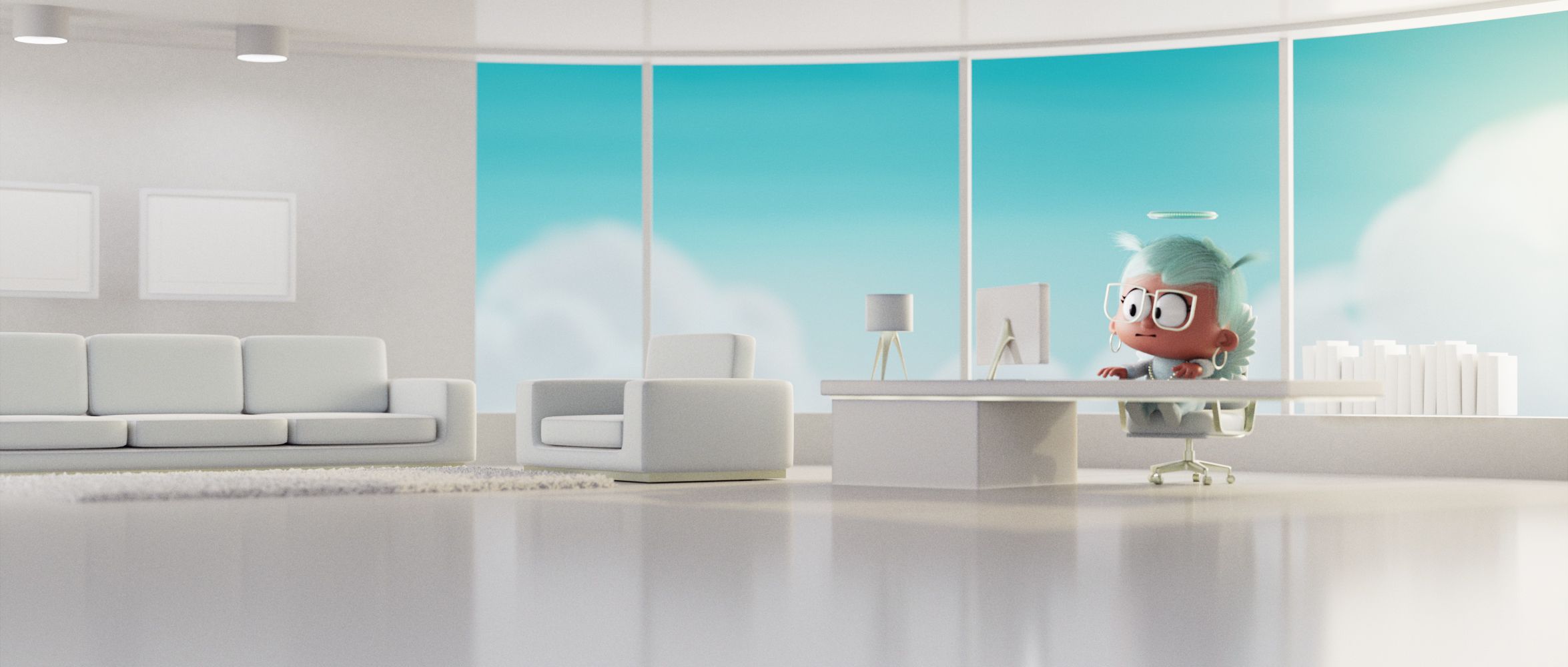 "Production design is futuristic but not fantastic. Technical infrastructure is high tech but not sci-fi. It is relatable to human technology. Fancy and slick computers and big-screen displays. But no floating holographic technology, that feels just a bit too far from current reality."
Stylistically, Neil's aim was to create an ownable character design that would set the brand apart in the oversaturated 3D brand mascot world and rise to the challenge of appealing to the everyday consumer, while still staying true to his signature unconventionally, comedic approach. Take a look at some of the clever explorations Neil did around basic look and feel, as well as wardrobe and accessories.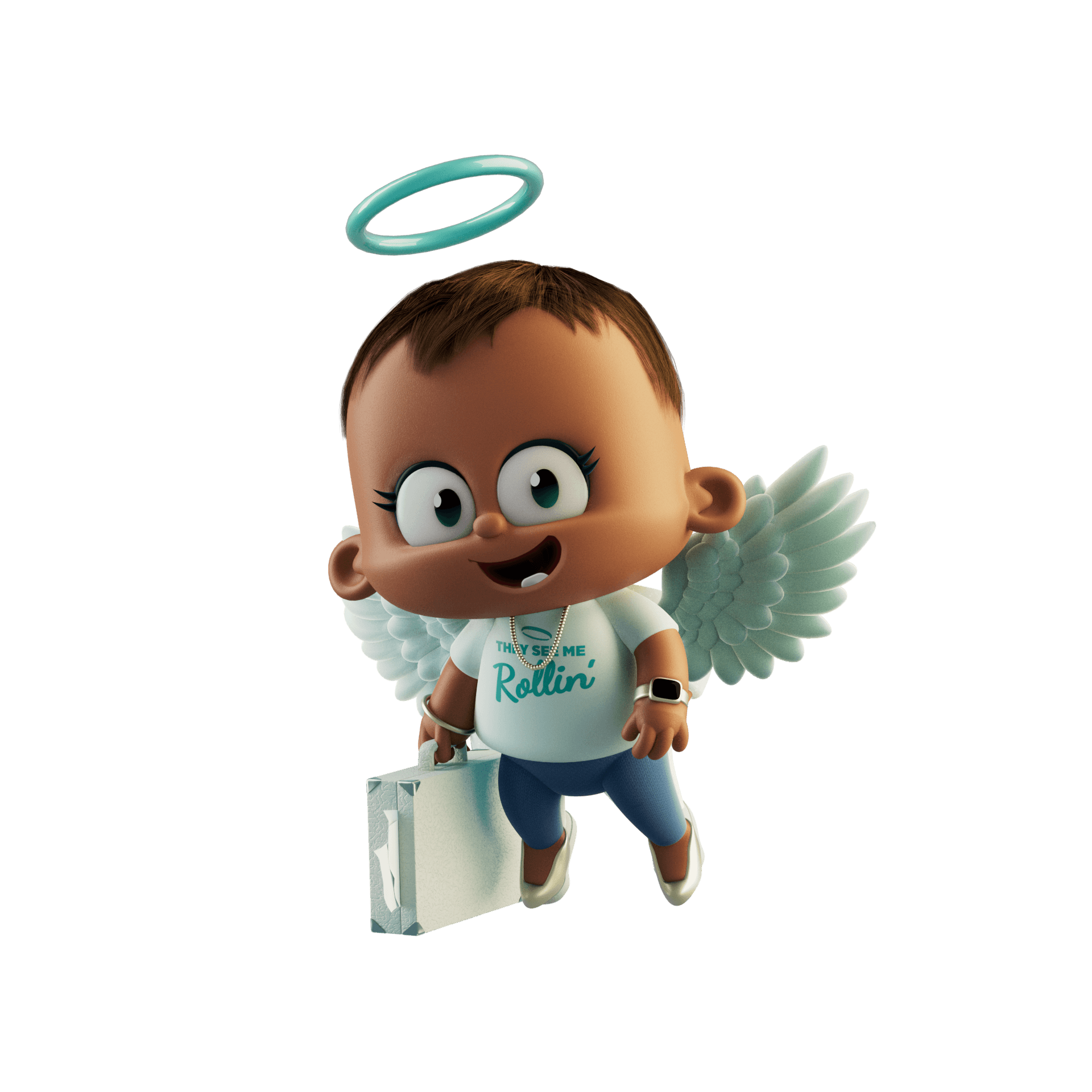 While we were bummed not to have had the chance to bring this one fully to life, it was a great excuse for Neil to flex his brand world-building skills!
See more of that in action over on Neil's page, here.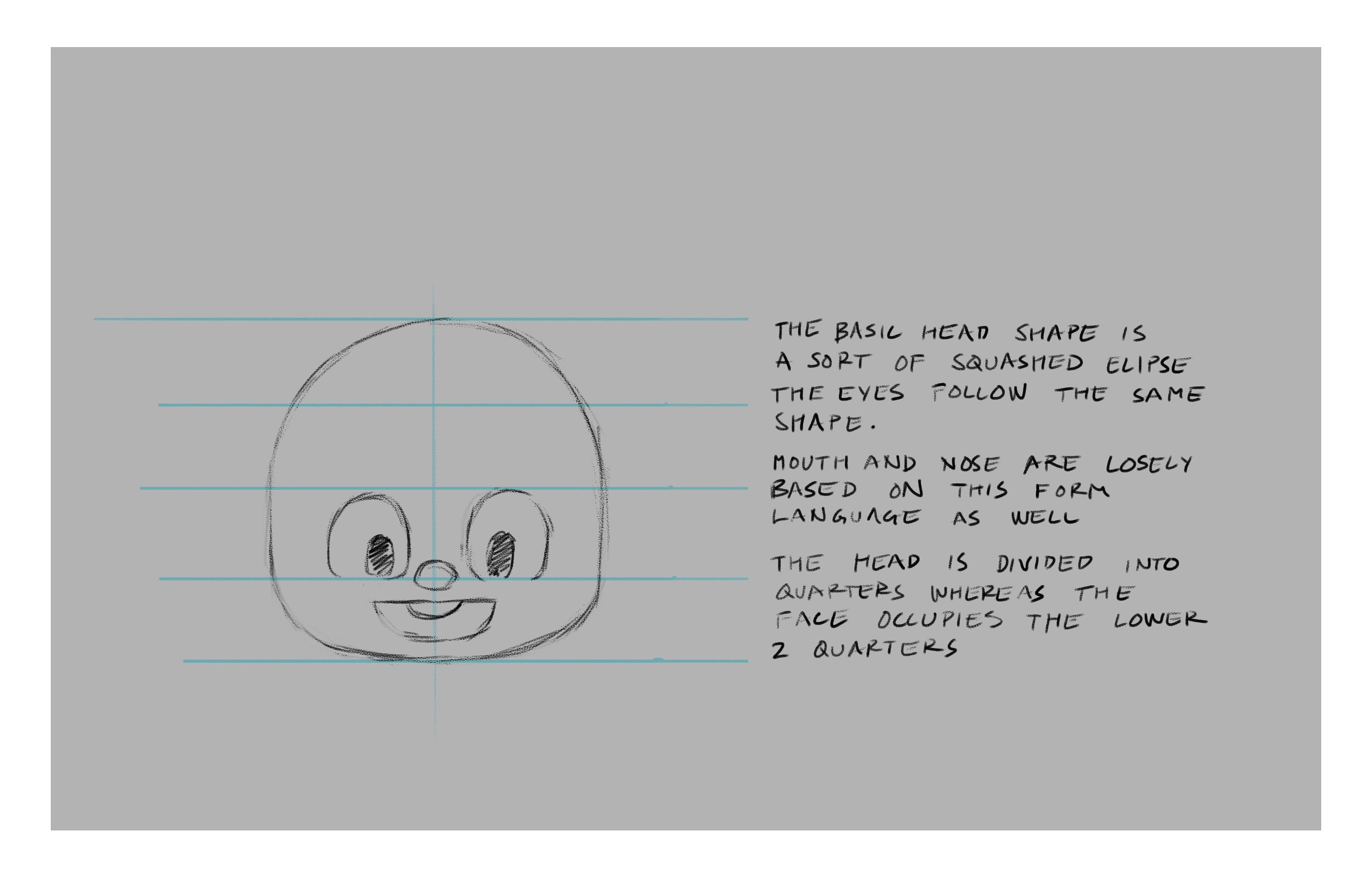 What We Do
Solving creative problems with strategic thinking, bespoke teams, and expert execution View the Collection