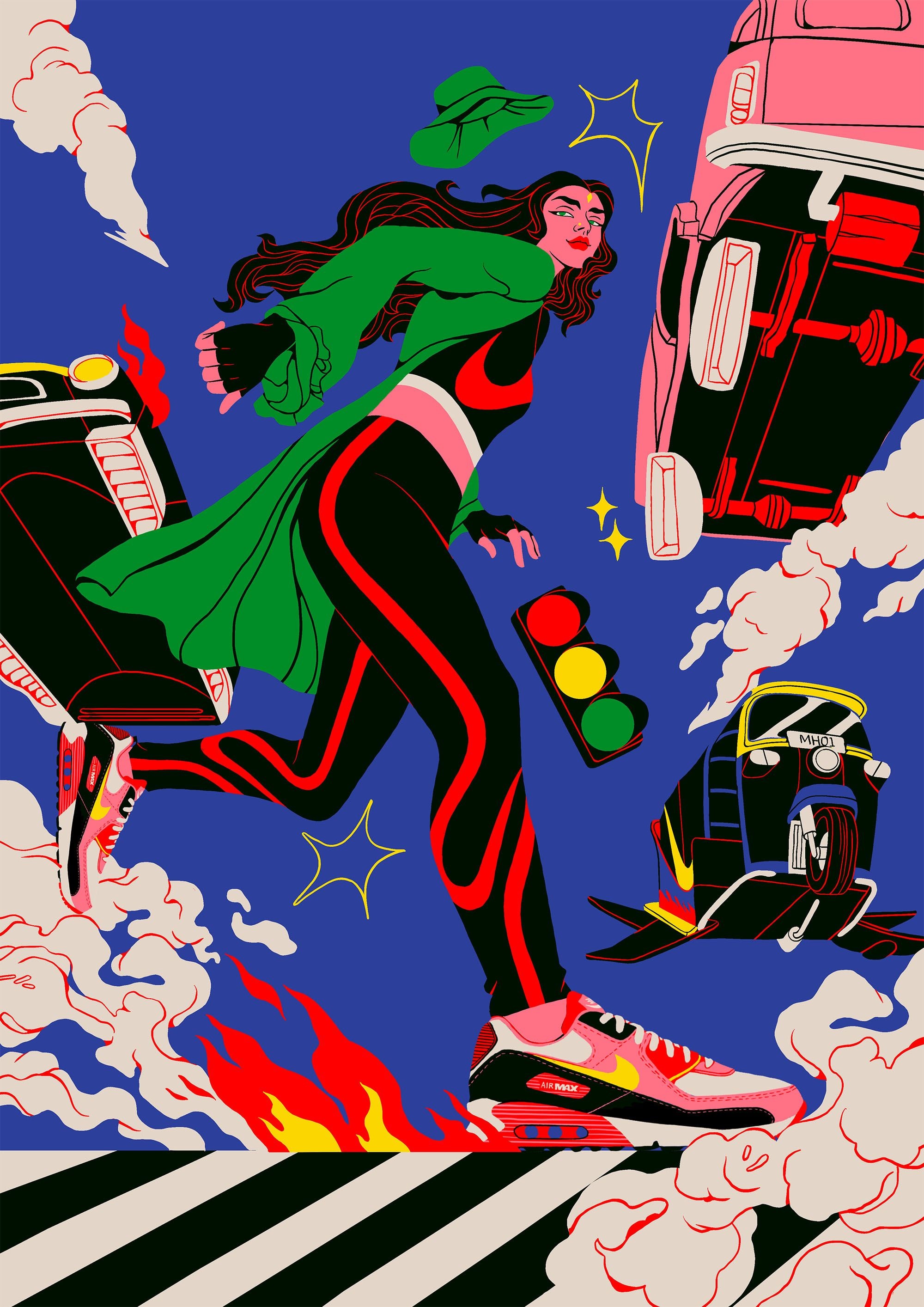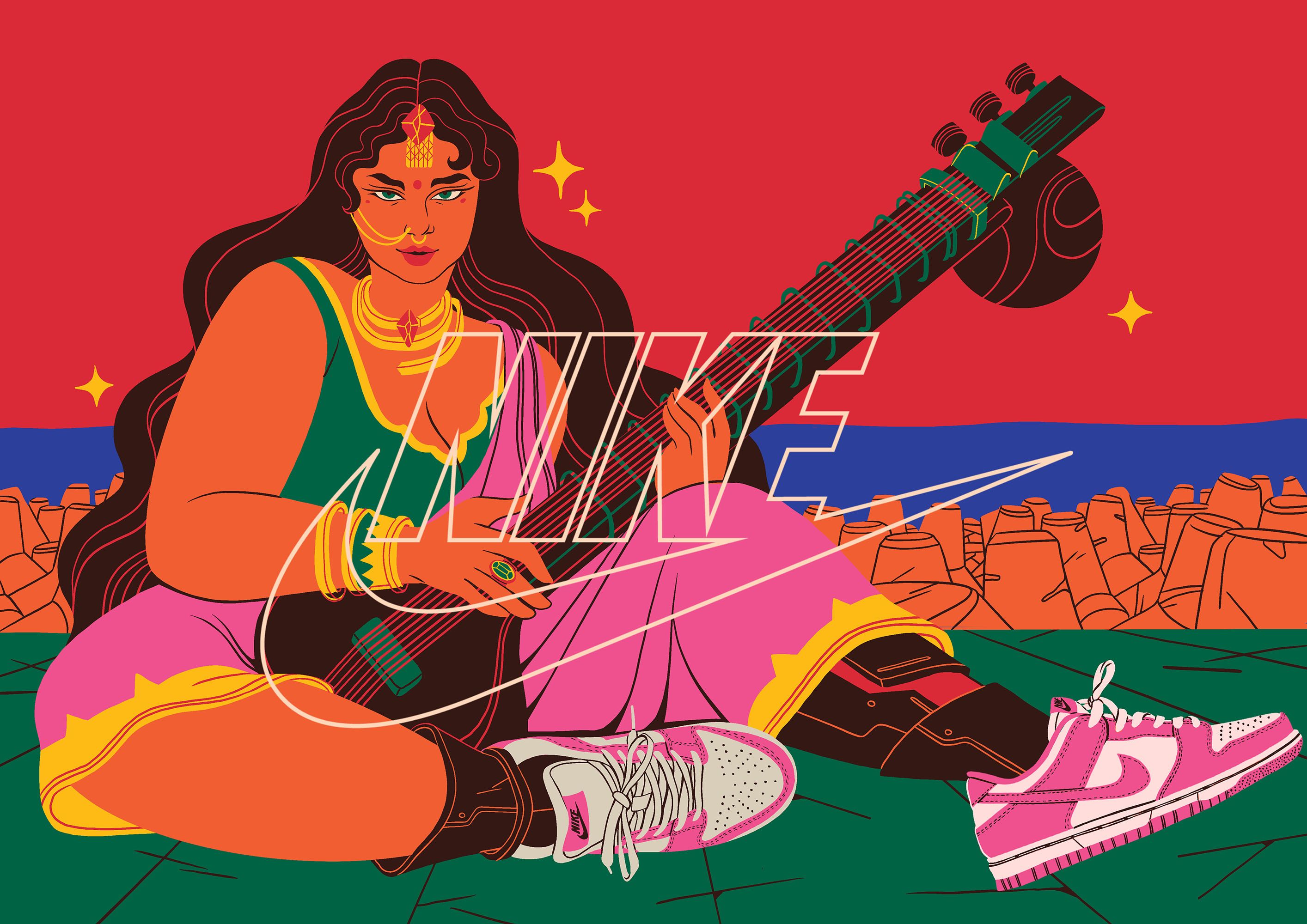 Introducing: Boomranng
The newest signing to our illustration roster, Mumbai based studio Boomranng craft visually extravagant designs inspired by their love of storytelling through illustration, Indian mythology and forward-looking perspectives. We sat down with them to dive deeper into their design philosophy and their desire to tell unheard stories...
Tell us about yourselves, what's your story and your journey to where you are now?
Our journeys started separately in the peripheries of this giant metropolis right when we were kids. As far back as we can remember, we have always loved art. We grew up reading comics and picture books. Sonal would cosplay pop culture icons and Makarand save up to buy fantasy folk tales by local artists from local bookstores. We began drawing and painting quite early sometimes on the walls and floors of the houses we grew up in and helping our siblings in their drawing assignments. Sonal remembers her mother always being supportive and encouraging of her artistic pursuits. She credits her instinct to her mother, who herself has secretly been an artist all along. Makarand remembers his sister giving him her art supplies and encouraging him.
Art inspired and shaped us. As we grew up we both individually realised that this is our calling. We were imagining new stories and characters based on the multimedia that we were consuming. We discovered our hunger to bring our imaginations to life. We realised that art was and is our exploration of reality. We sense our world through it. And we have always wanted to add to the world. So when the time came to choose our vocations, we decided to explore our curiosity and interests and opted to go to an art school.
And that is where our paths crossed.
We met and found that we had similar interests. We gelled well, started writing stories together and began working commercially as a duo. We founded Boomranng in 2020 having worked in advertising for some time. We found illustration is our domain and haven't looked back since. Over the course of years we have worked on the most interesting projects with brands from around the world and helped them tell their stories.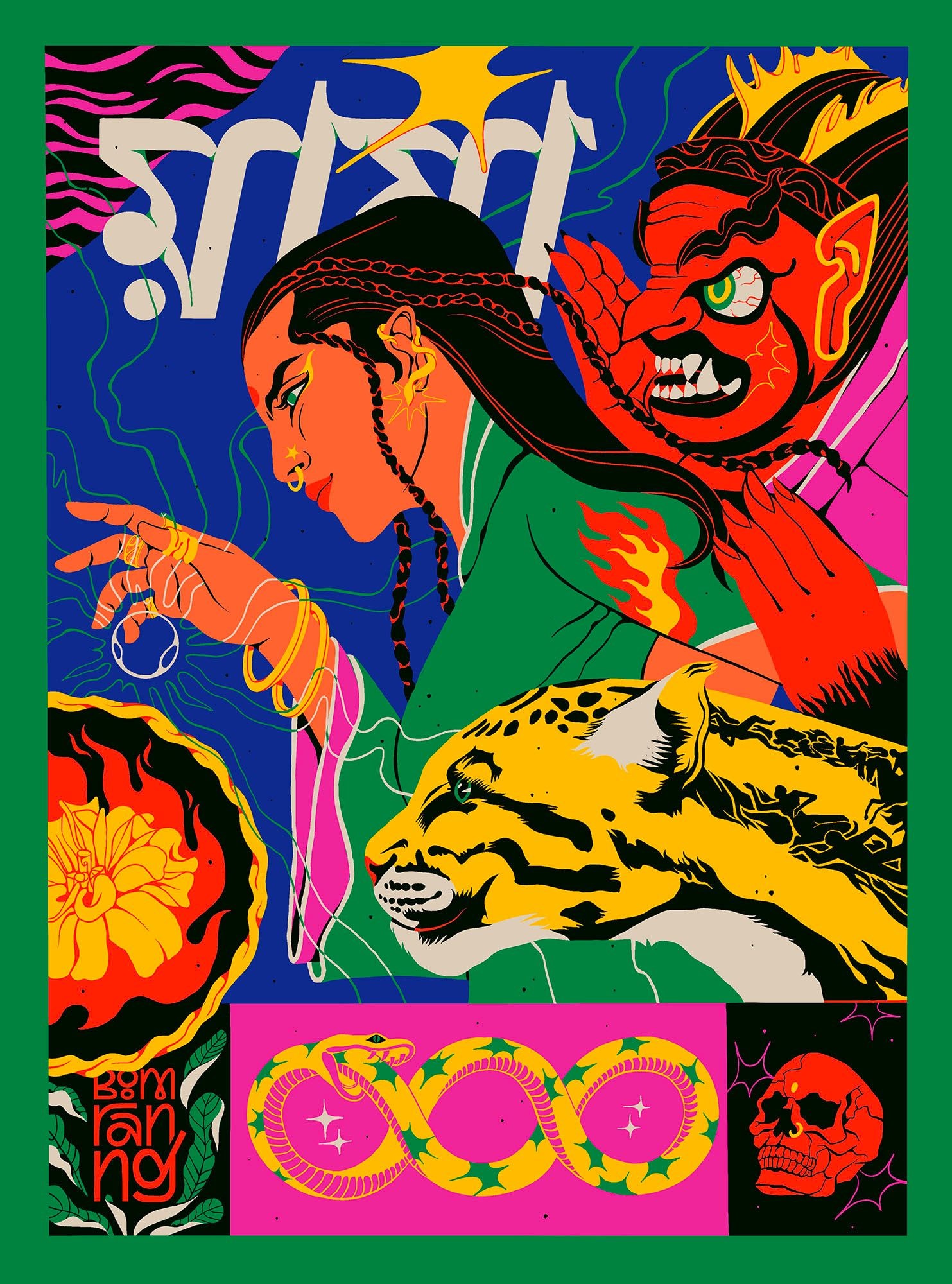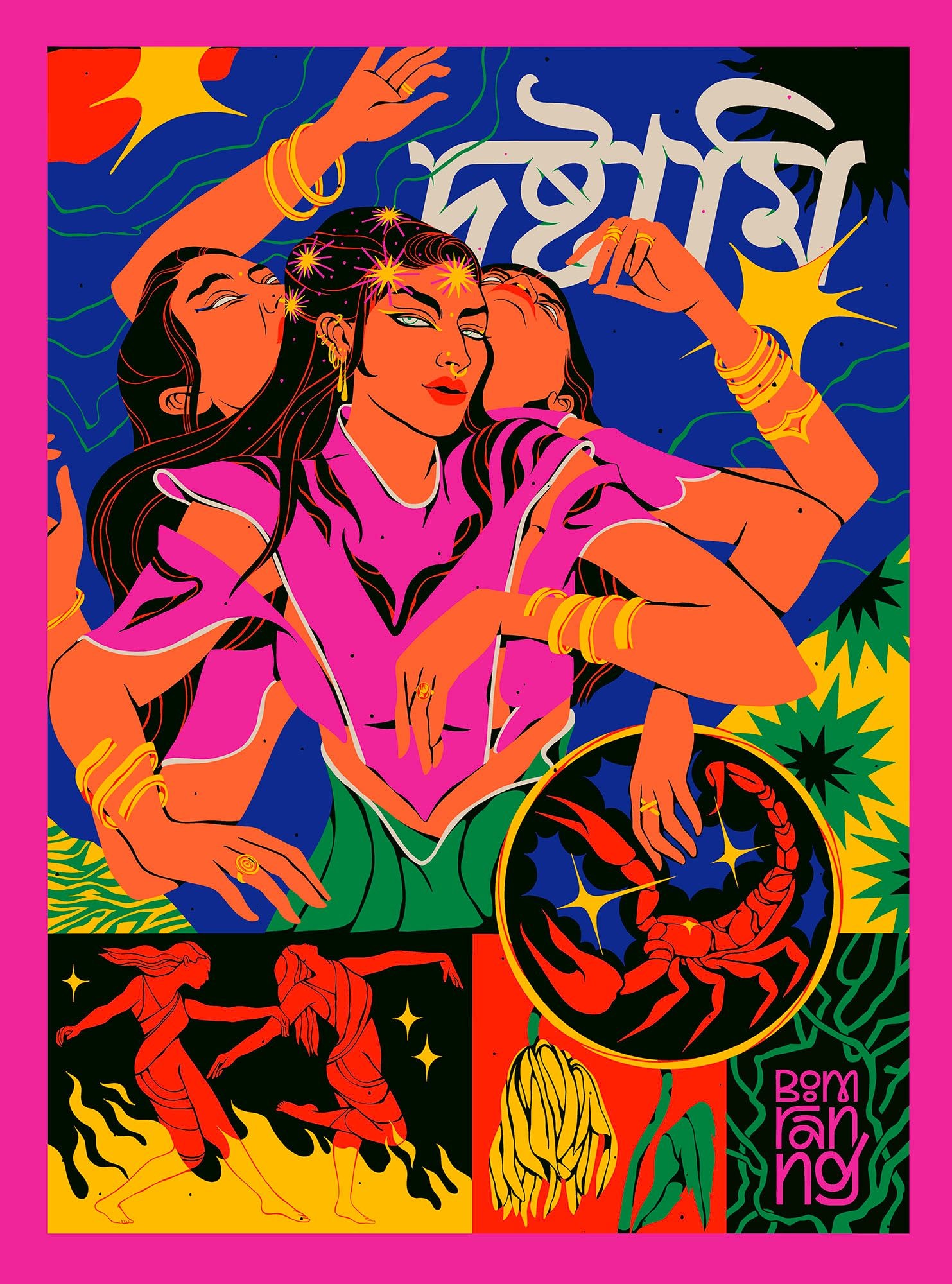 Where do you get inspiration from?
We have an eclectic taste and our work draws inspiration from a wide array of sources and experiences. We grew up in and around Mumbai. Suburbia has had an enormous influence on our art. We are big fans of this democratised global pop culture where we get to appreciate art from all over the world. Having lived in a cosmopolis that is quite the melting pot of cultures, we find our inspirations woven together by a range of cultures, ethnicities, traditions and modes of expression. We love sci-fi, comics and anime. We also enjoy the cinematic universes that are quite in vogue these days. But most importantly, we love exploring local art. And we find it bleeds into our work quite often. Our mythology and our traditional roots are our biggest sources of inspiration.
How did you get into illustration as a duo and why?
We both studied together at the prestigious J.J.School of Art. Makarand, happens to be top of the University class. When we met we instantly connected on an artistic level. We found that we have overlapping interests and talked about them for hours. We also realised that we both have an unquenchable desire to tell our own stories and create. That is when we started working together. We began making zines and comic books. Those were our earliest collaborations. We eventually began participating in art pop-ups/zine fests. What we discovered in those collaborations was that not only did we resonate with our artistic choices, our purposes behind those creations were also similar. We have similar ideas about changing the world we live in. It's rare to find people who are so synchronised. But here we are! We both compliment each other's thoughts and art and that chemistry translates into our work.
Tell us your favourite project you've worked on so far.
Nike by You has been, by far, the most defining experience for us. Nike commissioned us to create a series of twenty illustrations that would be merchandised for its first-of-a-kind personalisation service in India. The precise brief was to place Mumbai at the thematic centrepiece of the artwork.
We have lived the sounds, the feel, the visuals and the peculiarities of Mumbai. What we really set out to do was to marry that Mumbai from our subconscious and essence with our philosophy of retrofuturism. Retrofuturism, to us, is the juxtaposing of our traditions and hopes from the past with the aspirational character of the future. We set out to capture Mumbai as an entity that is alive and so inexhaustible a powerhouse that it refuses to be put down. We created a Mumbai with its unique quirks, its rich textile history, its bustling network of trains and its loudness through our vibrant illustrations. It was also the first time we deployed Augmented Reality at that big a scale. Our art was not limited to the confines of two dimensions.
We loved working on this project because we could experiment and Nike encouraged us by being open to it. We could really push the boundaries of what we wanted to say and the stories we told and that made all the difference. To us, crafting a narrative is just as important as focusing on the style. We were happy that we could explore that space and grow so much from it.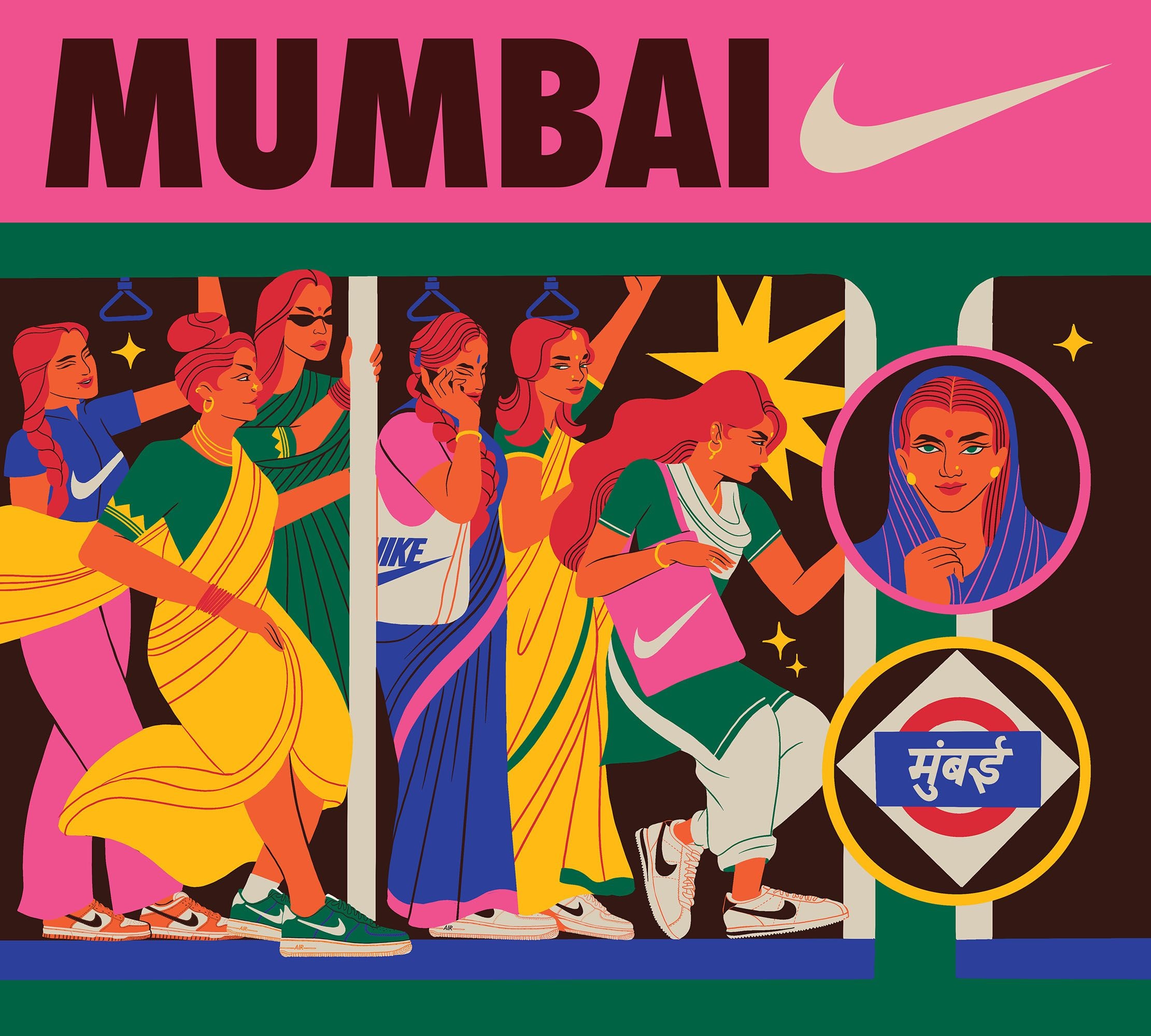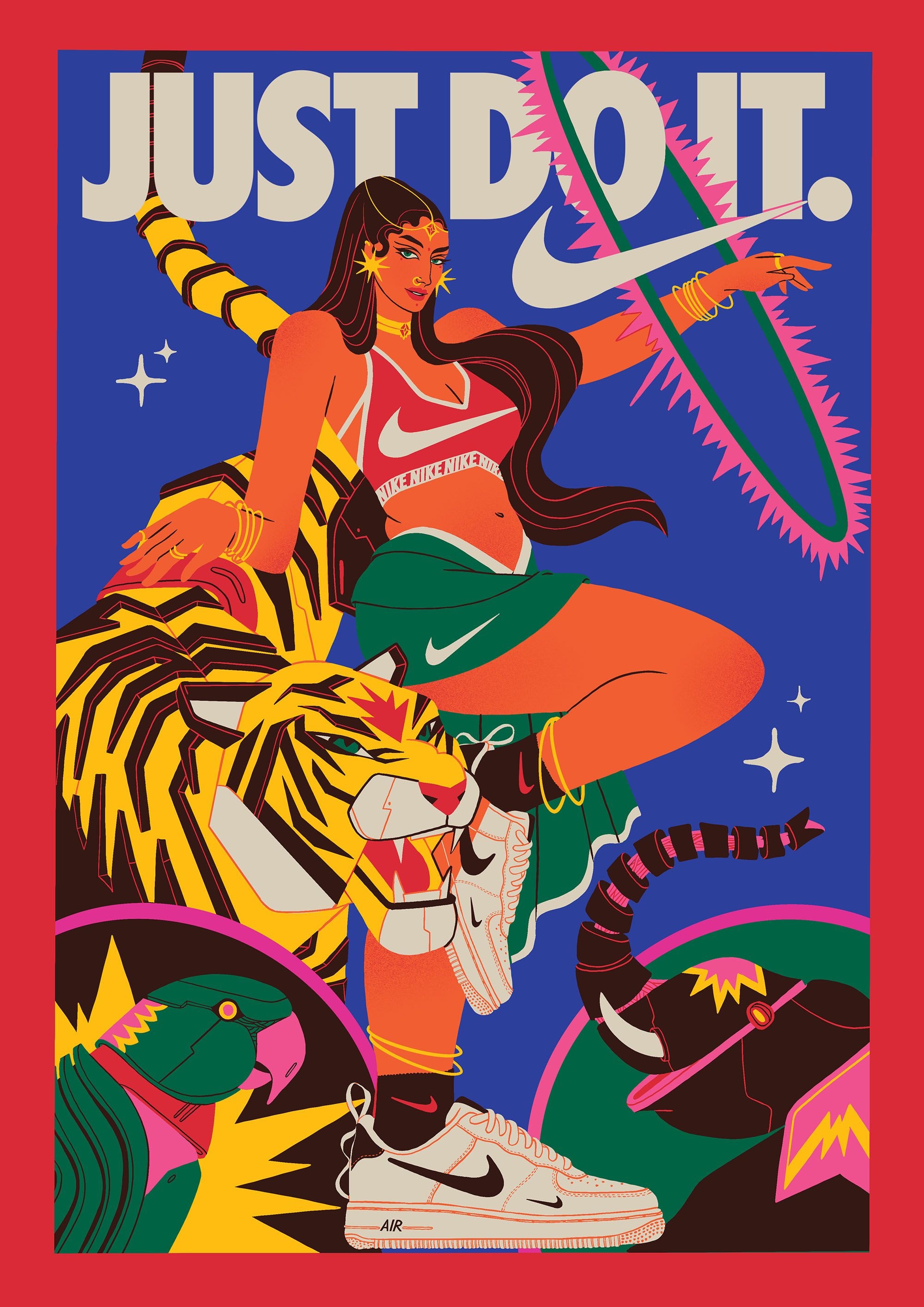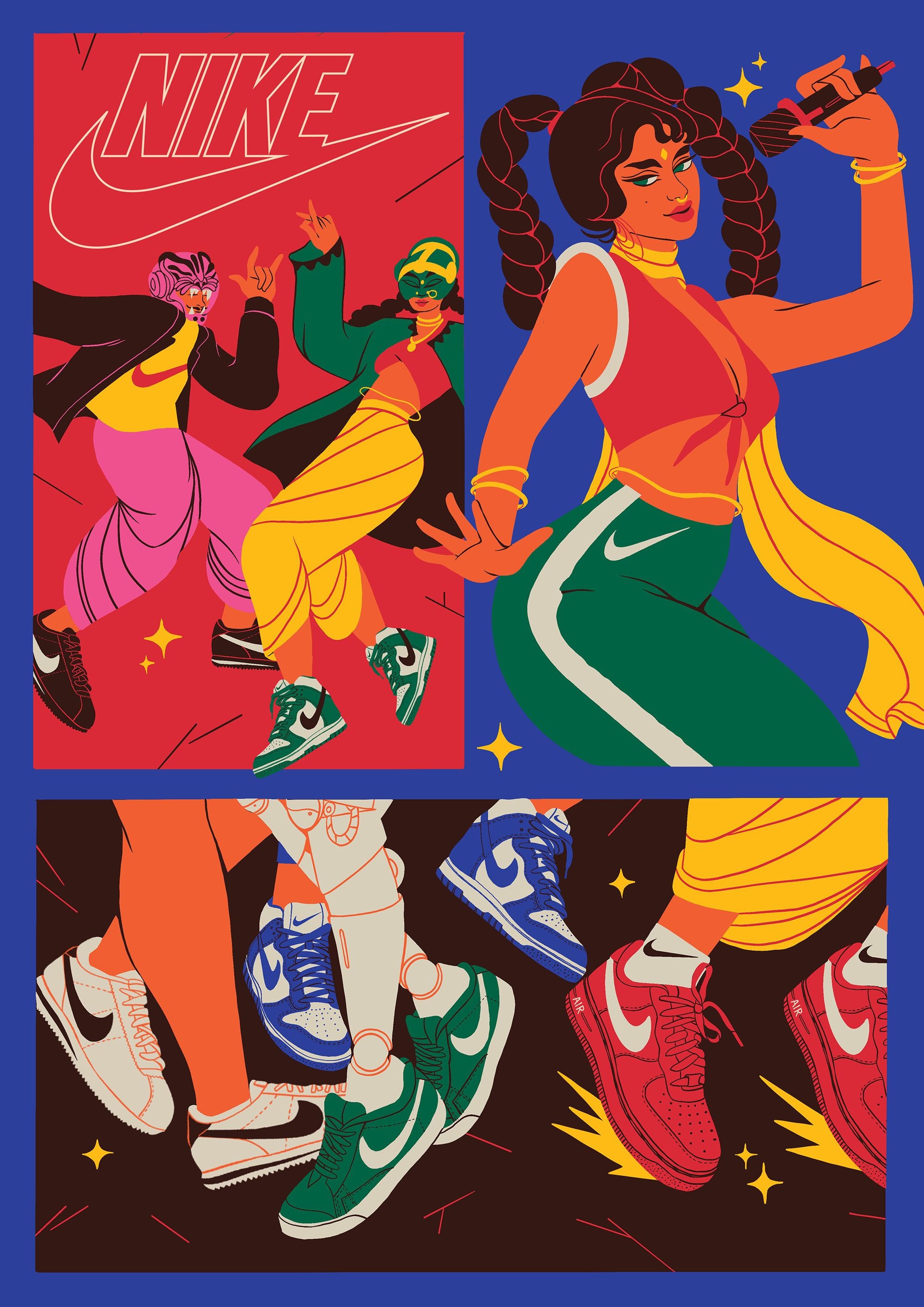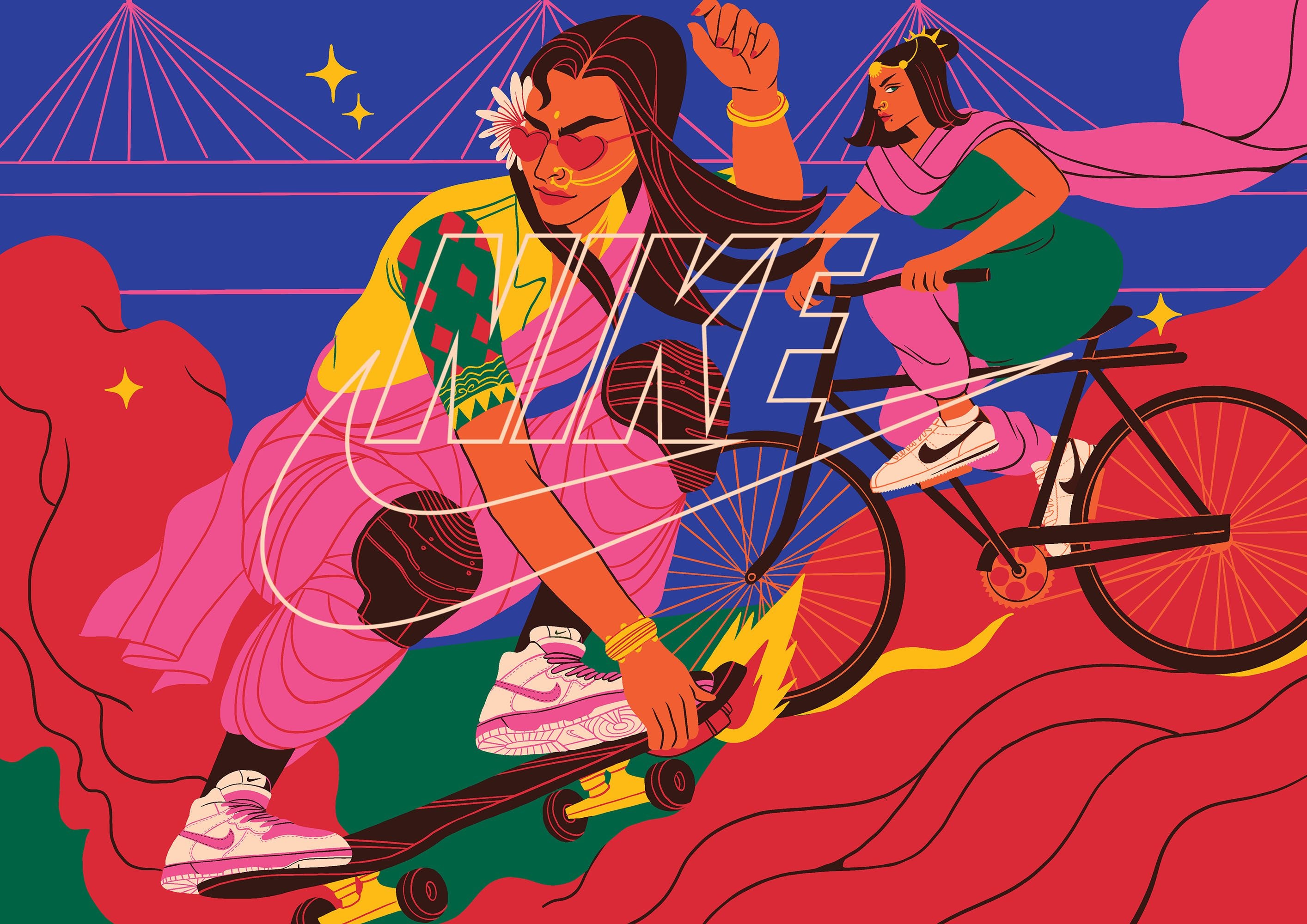 We love your work for Coca Cola India. Can you tell us more?
When Coca Cola India reached out to us, they had a campaign in their mind. They wanted to reach students in Indian college campuses and universities.
Since the campaign targeted the younger demographic at their hangout spots, we made careful creative choices that would resonate with the youth. We brainstormed over what youth relates to and why. The concept of the art, the outfits, the colours, the characters, the culture portrayed in the art- all was in service of being relatable to the demographic. We also identified that youth essentially has the value of vigour and boisterousness to it. The art style of maximalism tonally matched that value. Our choice of maximalism as the style for the artwork came from there.
The campaign posits Coca Cola as an indispensable and ubiquitous part of the college experience. The artworks which revolve around eating and jamming and partying, place Coca Cola at the centre- a symbol for the bubbliness, thrill and spirit of the events.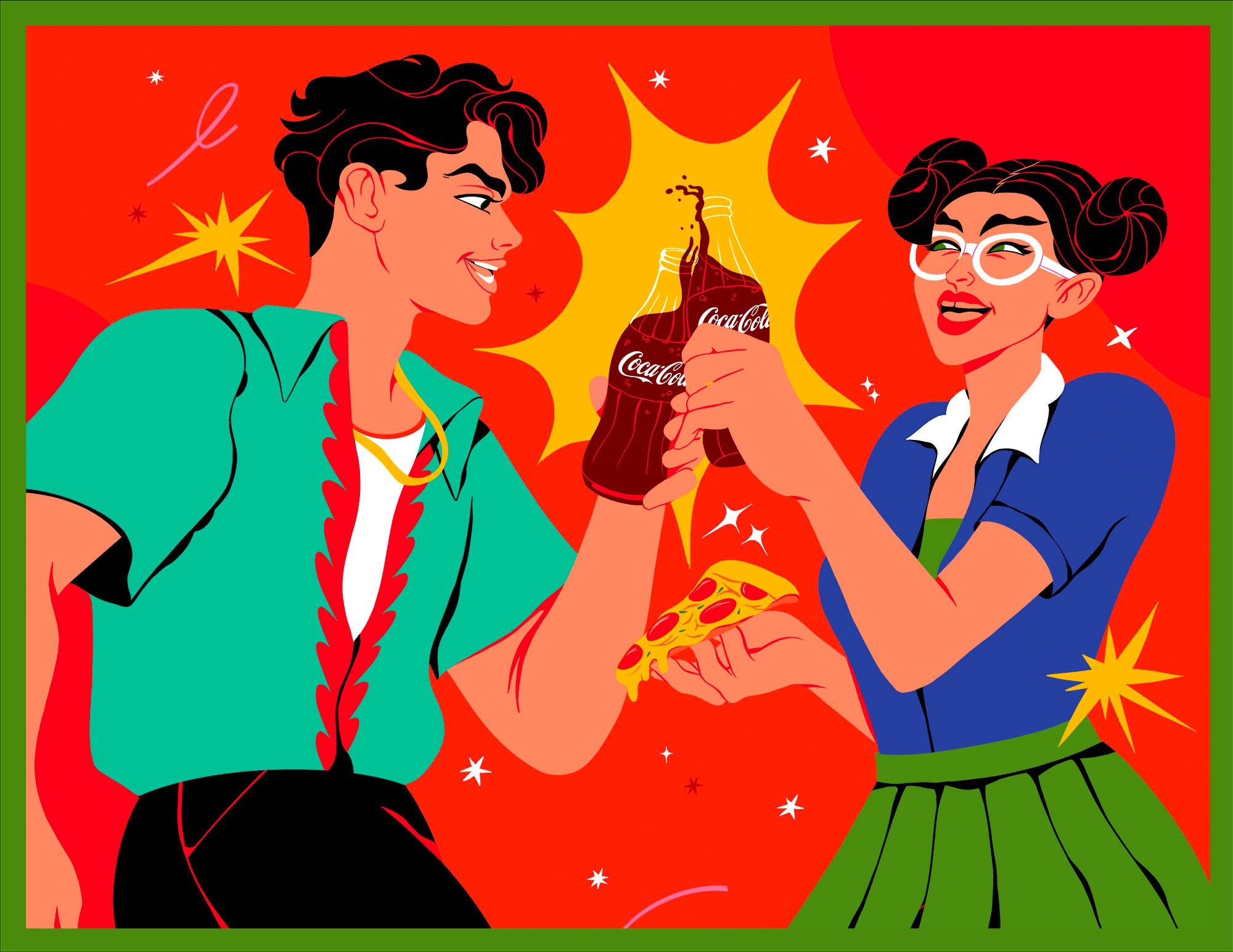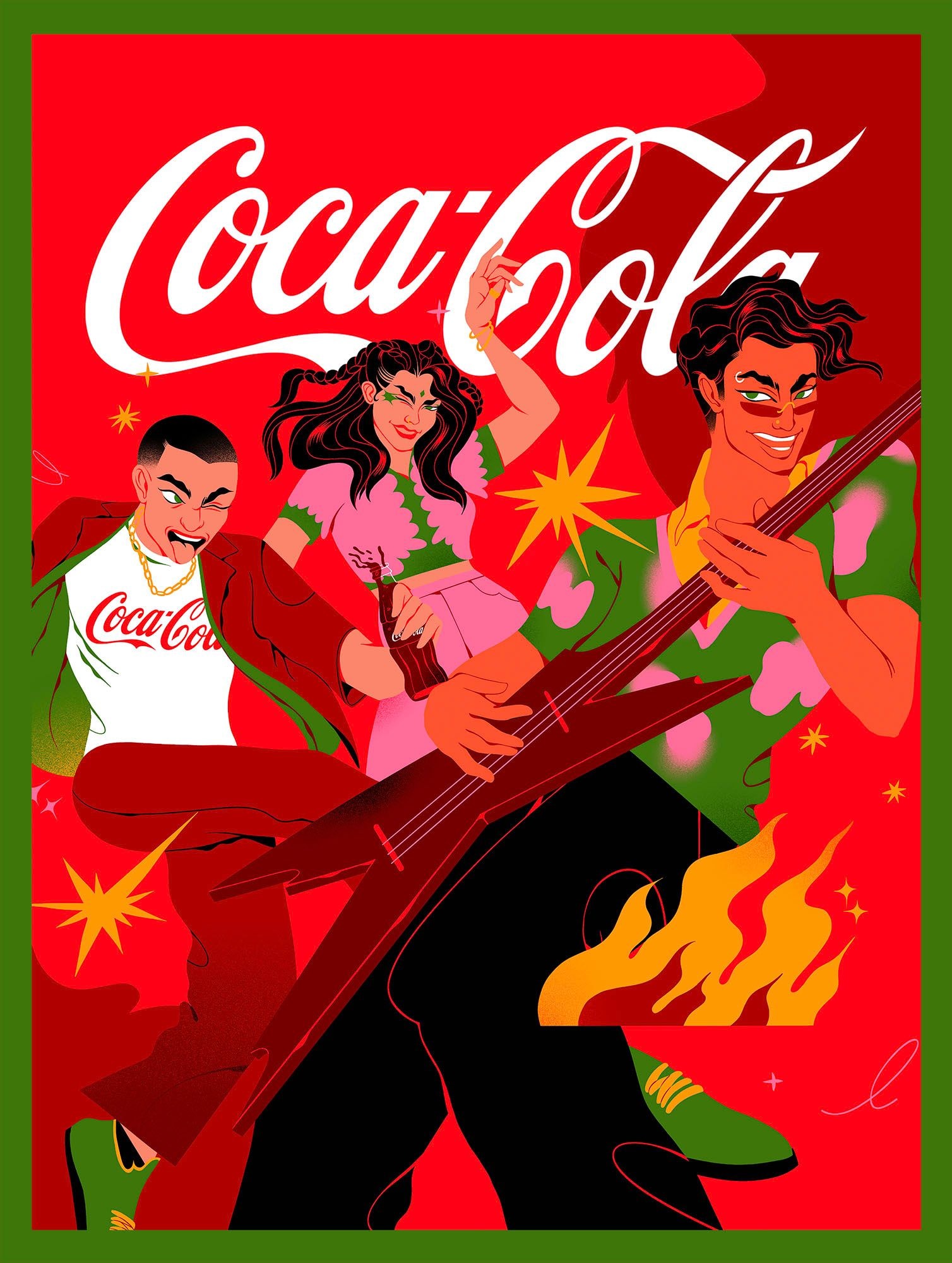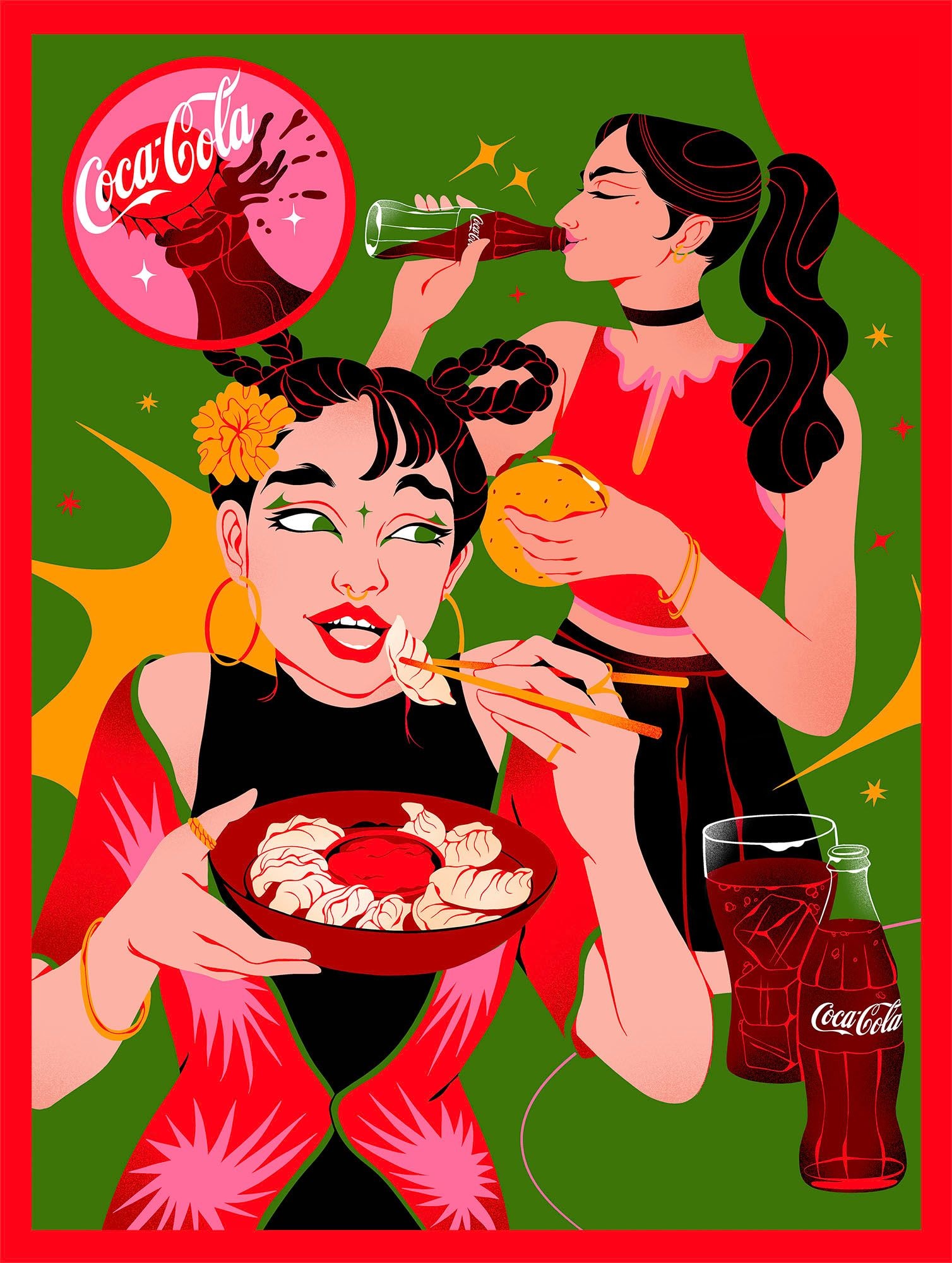 What are the events that have pushed you and your craft?
The pandemic was a crucial juncture for us. We wanted to study illustration abroad and pursue our Masters degree together. But that is when the entire world came to a halt. Instead of waiting around and letting things fall the way they would, we decided to explore our options. We thought the time was ripe to start our own practice. We didn't want to work under someone. That's how Boomranng came into existence. Building a studio is quite a Herculean task. The journey taught us much along the way. It kept us on our toes. It demanded the best from us. Having our own practice encouraged us to constantly enhance our skill and craft.
And we are blessed by the company of those around us. We love travelling and meeting new people. The artistic community has been a great motivator. Seeing people's art and their creativity makes us want to do better. We are inspired by so many artists from all over the globe, following their work has also made us want to explore that which is within.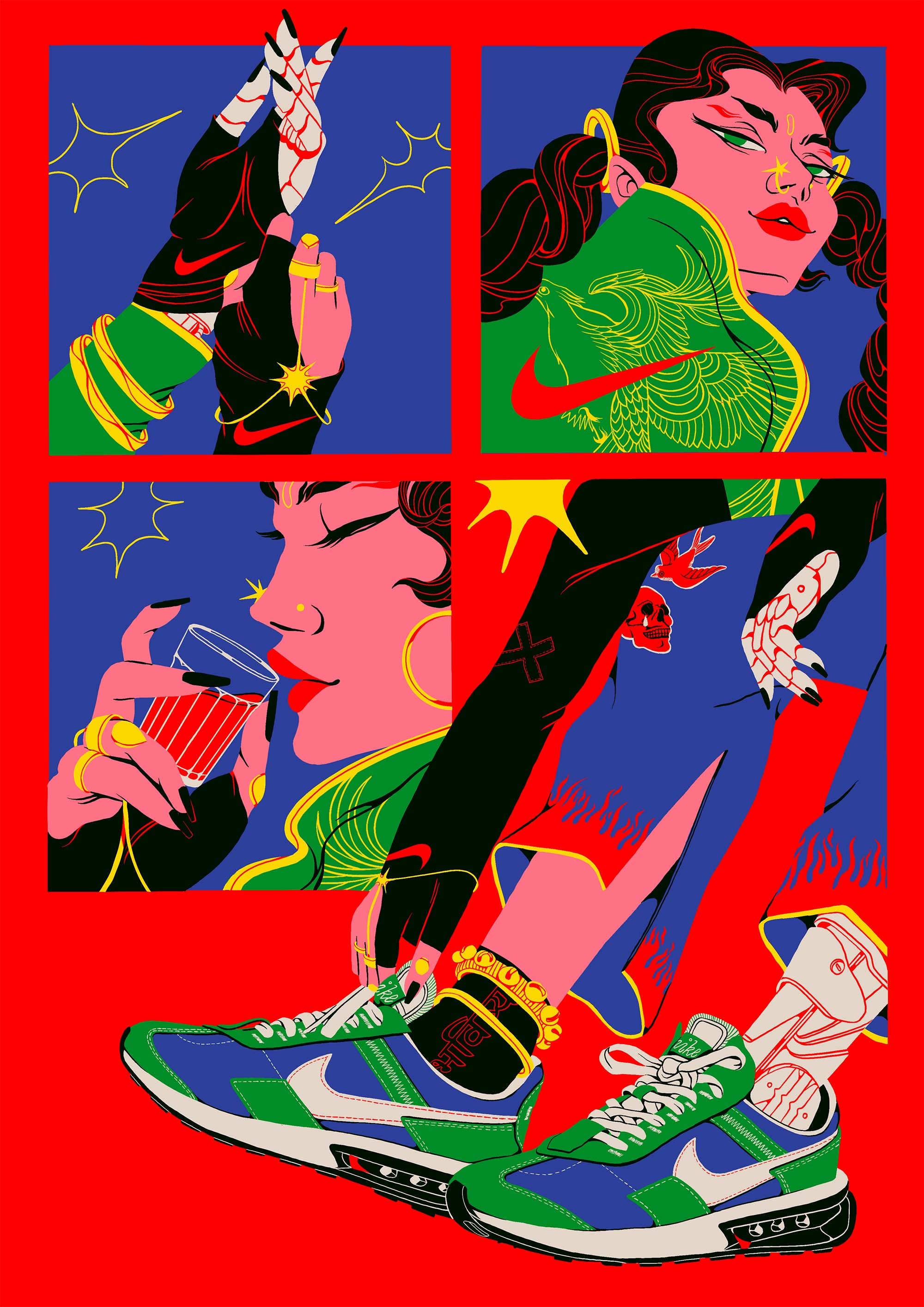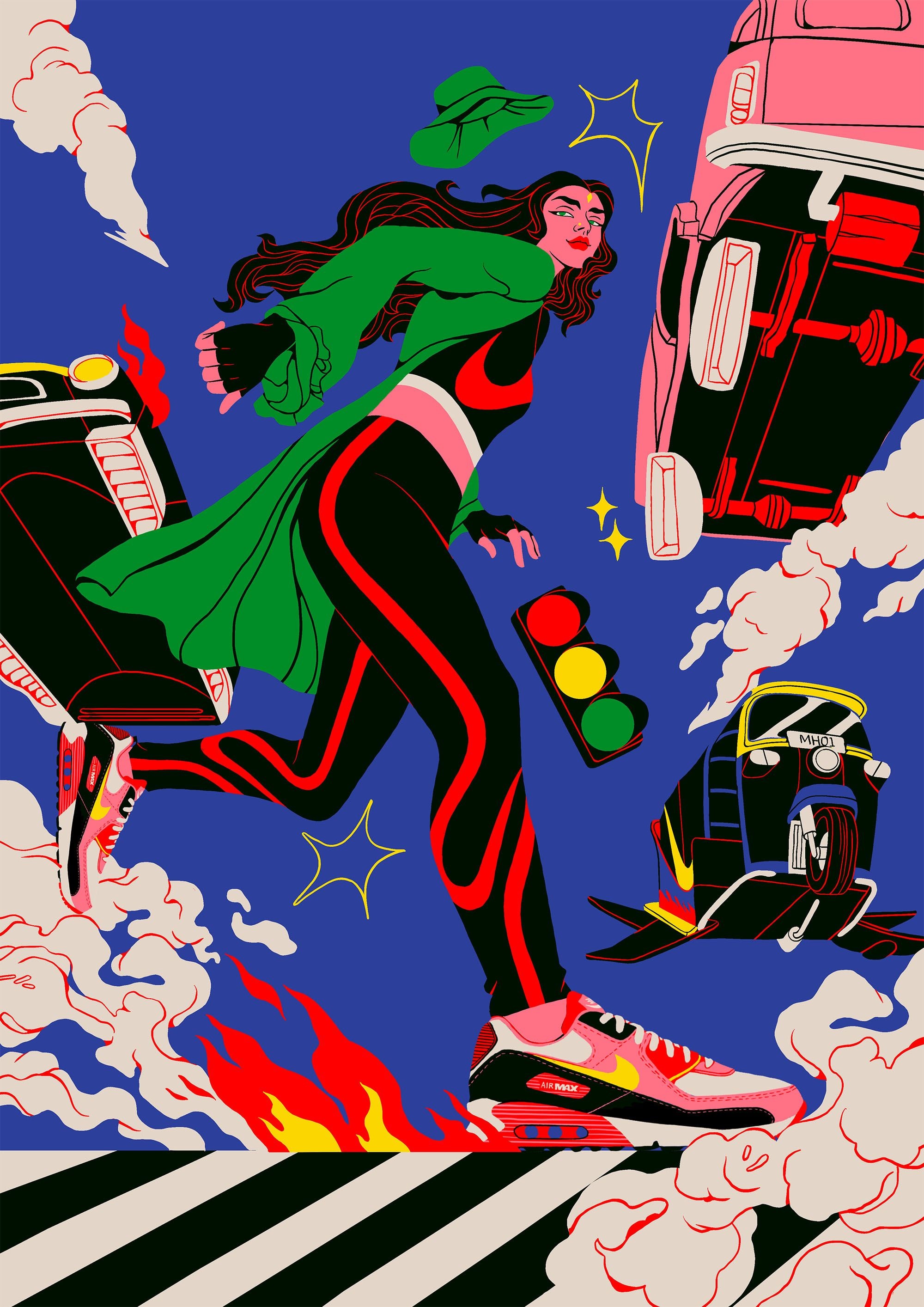 What would you say your purpose is as artists, and what gives you that motivation?
We like to believe that art serves a greater purpose in society. We see it as a force and an expression of humanity's creative instinct. We like to approach our art as a way of creation all the while preserving and building on our tradition and influences. Our purpose as artists is to create a Cosmicpunk universe. We want our art to express the realities of the world we live in and at the same time escape it. We find our purpose in celebrating life through the stories we tell.
We ultimately want to create a new wave, a new culture. We want our art to take a life of its own and proliferate. We want it to transcend its form and seep into people's hearts. Because that is what motivates us- people relating to our art, finding their expression through us.
We think our art serves also to talk about the issues very dear to us. We are passionate about mental health issues. We care deeply about LGBTQIA+ community- their wellbeing and their rights. A large part of our work is driven by a desire to put their stories out there. And all of it comes from an optimistic point of view- the more we know about each other, the more we identify with each others' suffering and joys, the more we come closer together as humanity- and therefore the more we become capable of achieving our full potential together.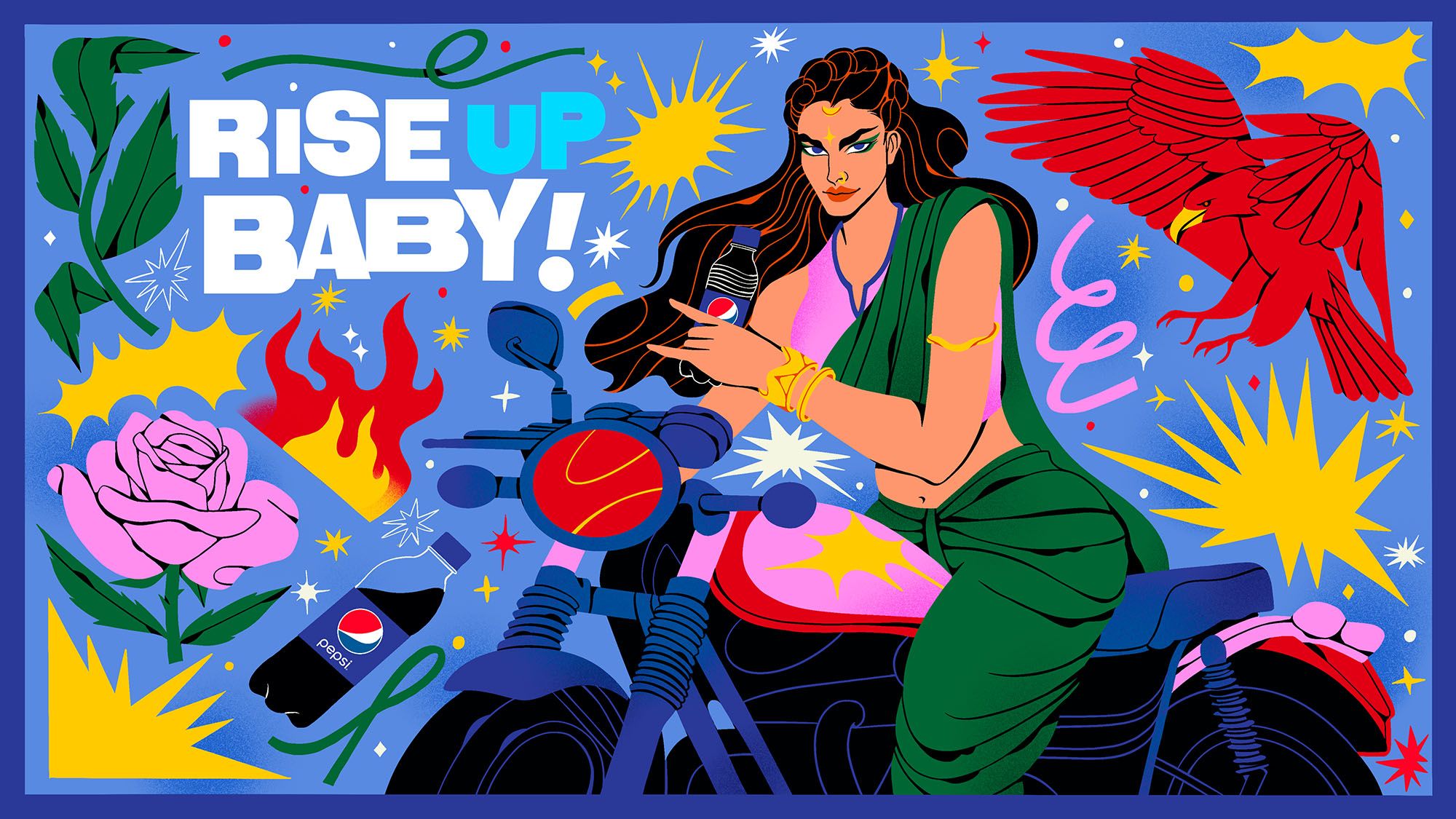 Where do you see yourselves in the next few years?
We see ourselves closer to having built our own universe. We want to be in a place where our creation inspires people the way we have been inspired by so many people's creation. We see ourselves leading the crest of a new wave in our culture- a wave that brings joy and meaning and happiness to people's lives. We see ourselves in the midst of a rebellion of hope.
We hope to be in a place where people find comfort and solace in our art.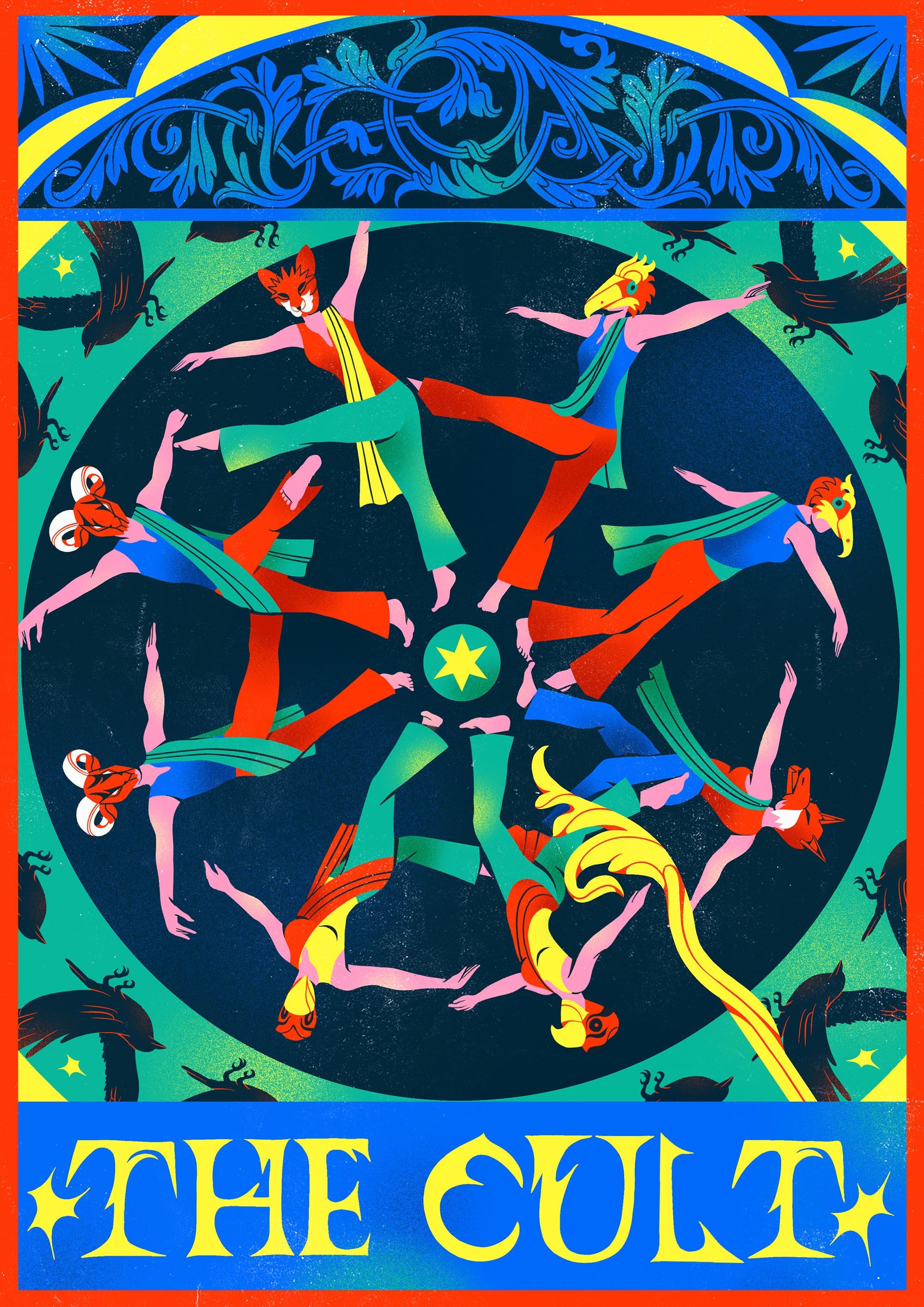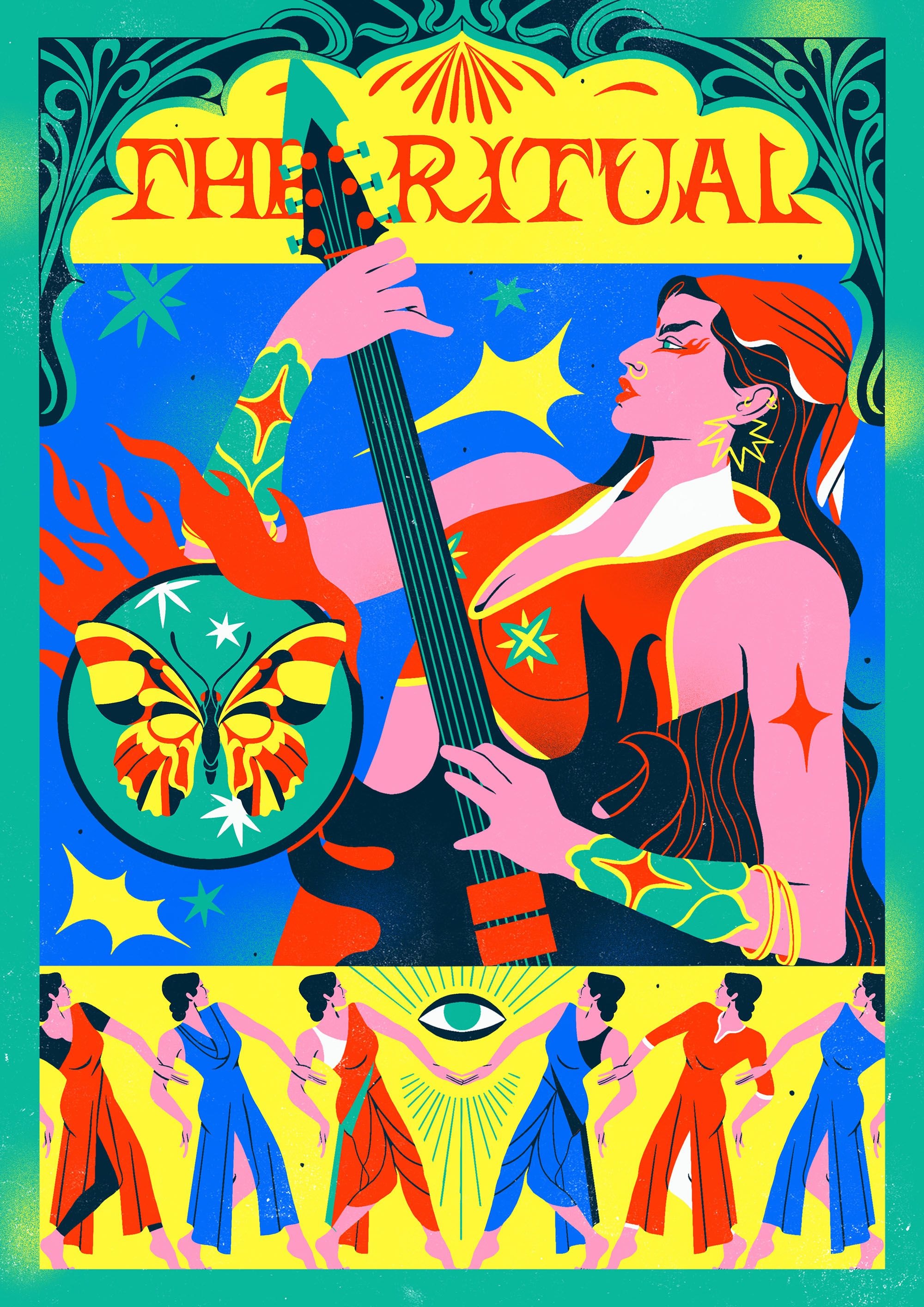 What We Do
Solving creative problems with strategic thinking, bespoke teams, and expert execution View the Collection