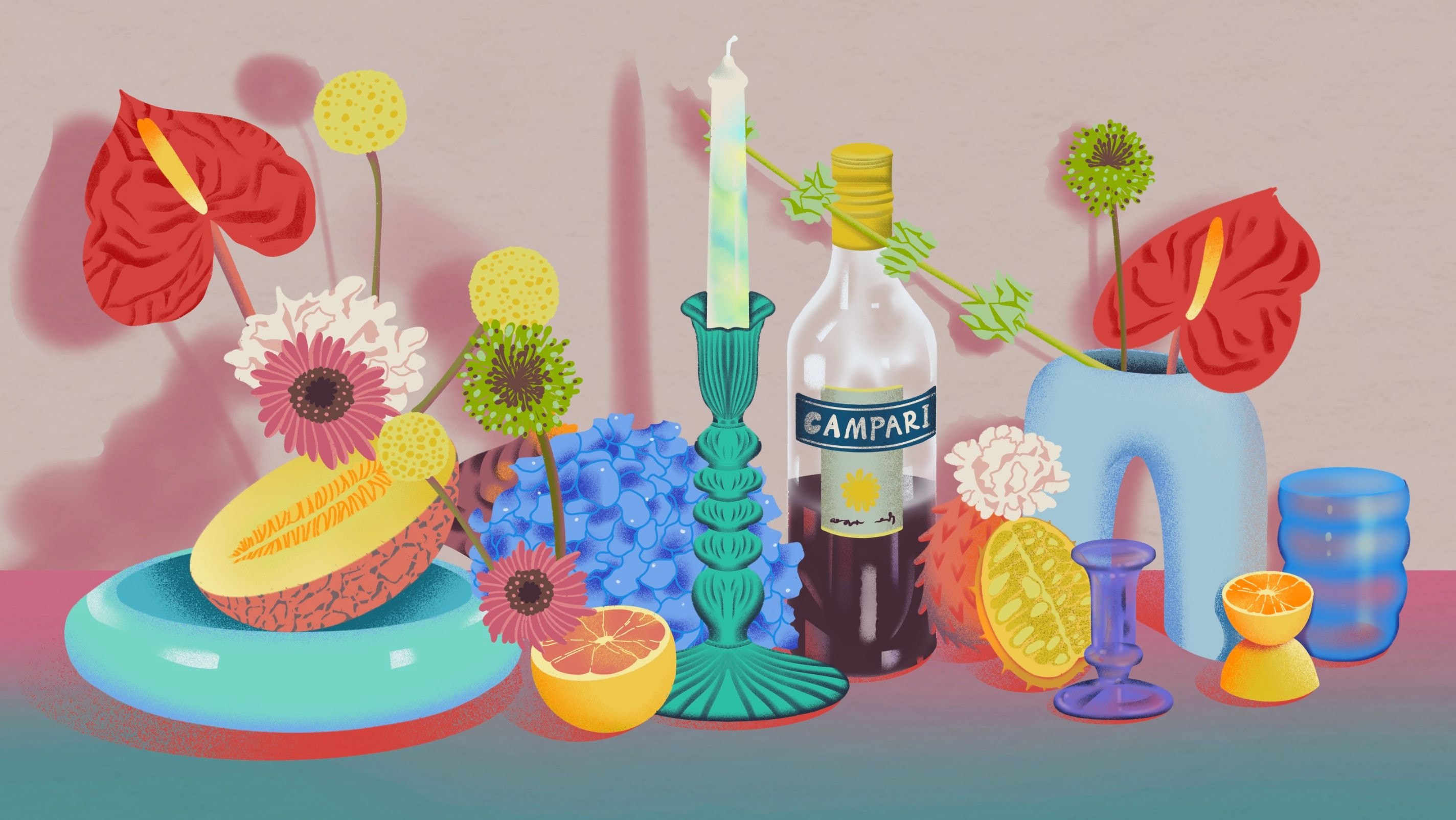 Introducing: Wei Wu
A recent addition to our Futures Roster, Wei Wu is a London-based Chinese illustrator who creates dream-like colourful illustrations exploring the themes of love, friendship & the experiences of being a woman. We sat down with Wei to find out more about how she developed her style, how she strives to understand every subject in her designs & where she hopes to be in the future...
Tell us about yourself, what's your story?
I was born in a small town in southern China. My parents were always busy working and most of the time I stayed with my grandparents, who cared for me a lot but may not be able to respond to my emotional need. That's probably why I was an introverted and sensitive girl back then. I drew a lot at that time, as it was the easiest way for me to beat loneliness. I doodled on the walls and the floor in the house with cheap chalks my granny bought, and the house was always a mess.
When I was in high school, I had trouble making decisions regarding my major in college. I was never talented in or enjoyed studying academic subjects in school, so I didn't want to carry on a similar journey for another four years. One day I realised that the only thing I had always been good at and had been sticking to was painting, and it was gradually becoming a way for me to heal my heart. So why not just keep doing it? And then I made my first serious adult decision: to go to an art university.
Your style has a beautiful dream-like quality. What are your interests and how have they influenced your work/style?
I'm happy to hear that, thank you! I've always wanted to create illustrations in a 'unique' style, with a subtle balance of playful palettes.
Fascinated by relationships between different people and drawn to a variety of social phenomena, I enjoy observing people's reactions, analysing their experiences and behavioral patterns, and feeling their emotions. A yearning to talk about these but not excelling at expressing myself with words has made me turn to illustrations.
At first, I was just recreating the beautiful and dreamy colours that reading and thinking about these issues conjured up in my mind. As I grew older, I began to believe that visual beauty can mean more to society. Instead of just focusing on the structure and the color, I started to add more meaningful elements to the paintings as symbols and metaphors for the topic I intended to talk about. In so doing, I believe, the audience's curiosity would be aroused to discover the stories hidden behind the works and therefore be encouraged or inspired. As a creator, I enjoy seeing various interpretations from the audience.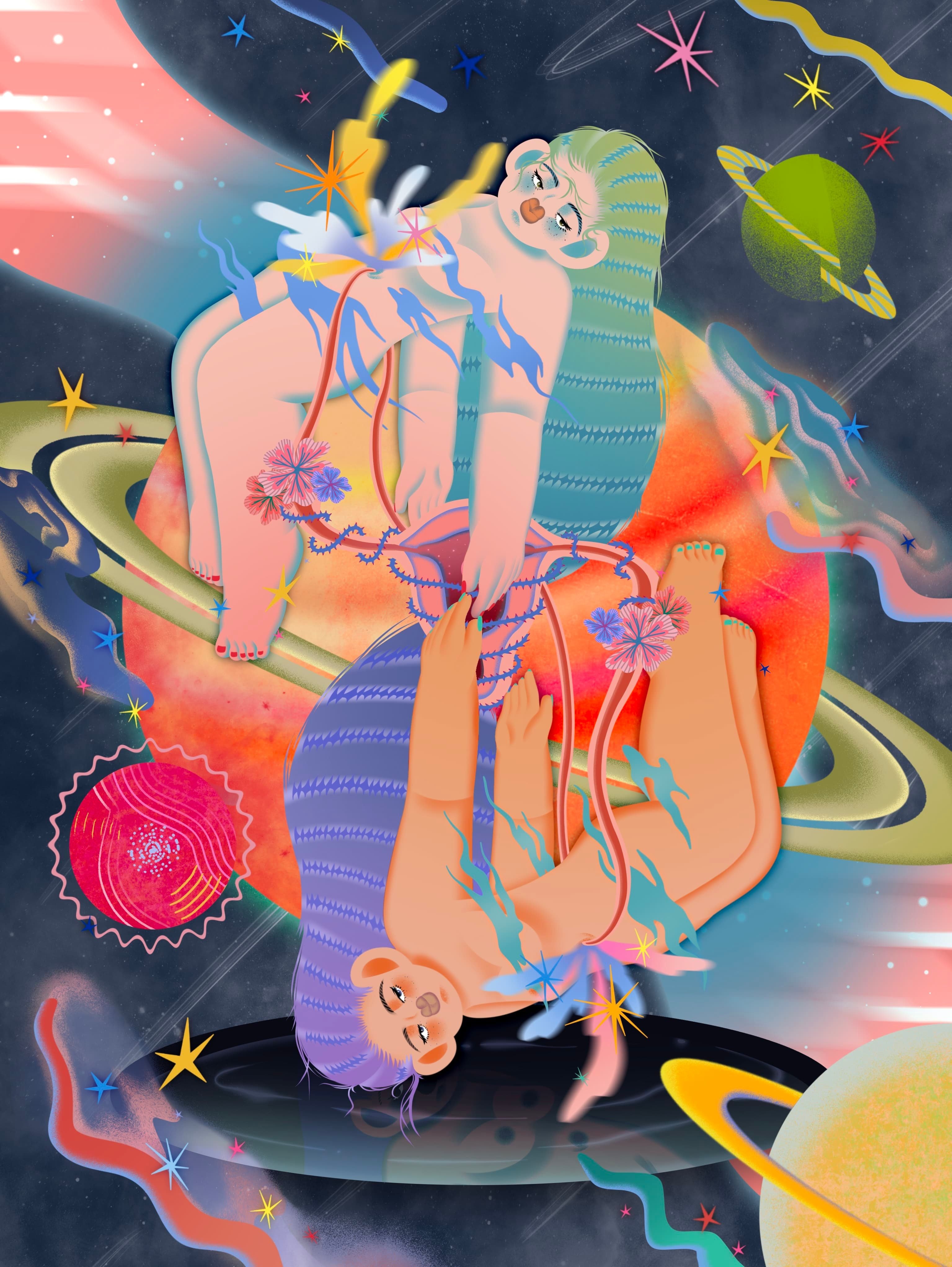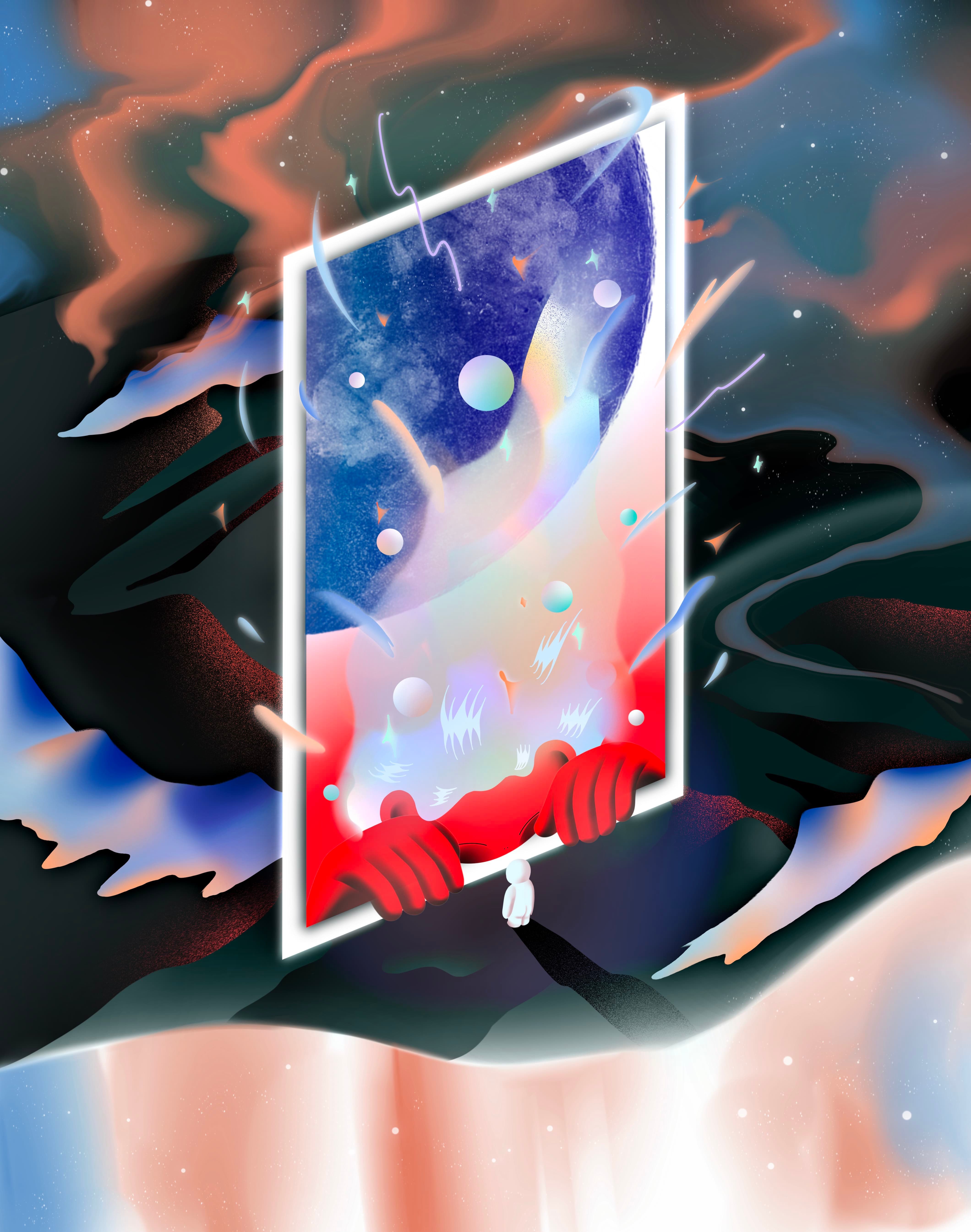 How did you get into illustration and what inspired the decision?
I opted for illustration in college simply out of love and curiosity, and my family has been really supportive. Most of my projects in college were making children's picture books, which could have been my occupation after graduation were it not for Professor Ageng. When I first met her, she was already a well-known Chinese illustrator, who had created many film posters and published numerous picture books. I was impressed when she talked in class about how she got into the industry and how she had worked hard to earn all she had. And I also related to the character 'Lin Xiaolu' in her book 'When You Stand on Your Tiptoe,' an ordinary girl who is self-conscious and introverted, but full of brilliant, creative ideas. Her story encouraged me to stick to what I believe, so as soon as I graduated, I came to the UK to study illustration at Kingston University. Not that I was not passionate about making children's picture books, I just had the feeling that I should see as much of the world as I can and that I can make a difference. This was one of the most significant turning points in my life, and it provided me with a genuine opportunity to get into the field.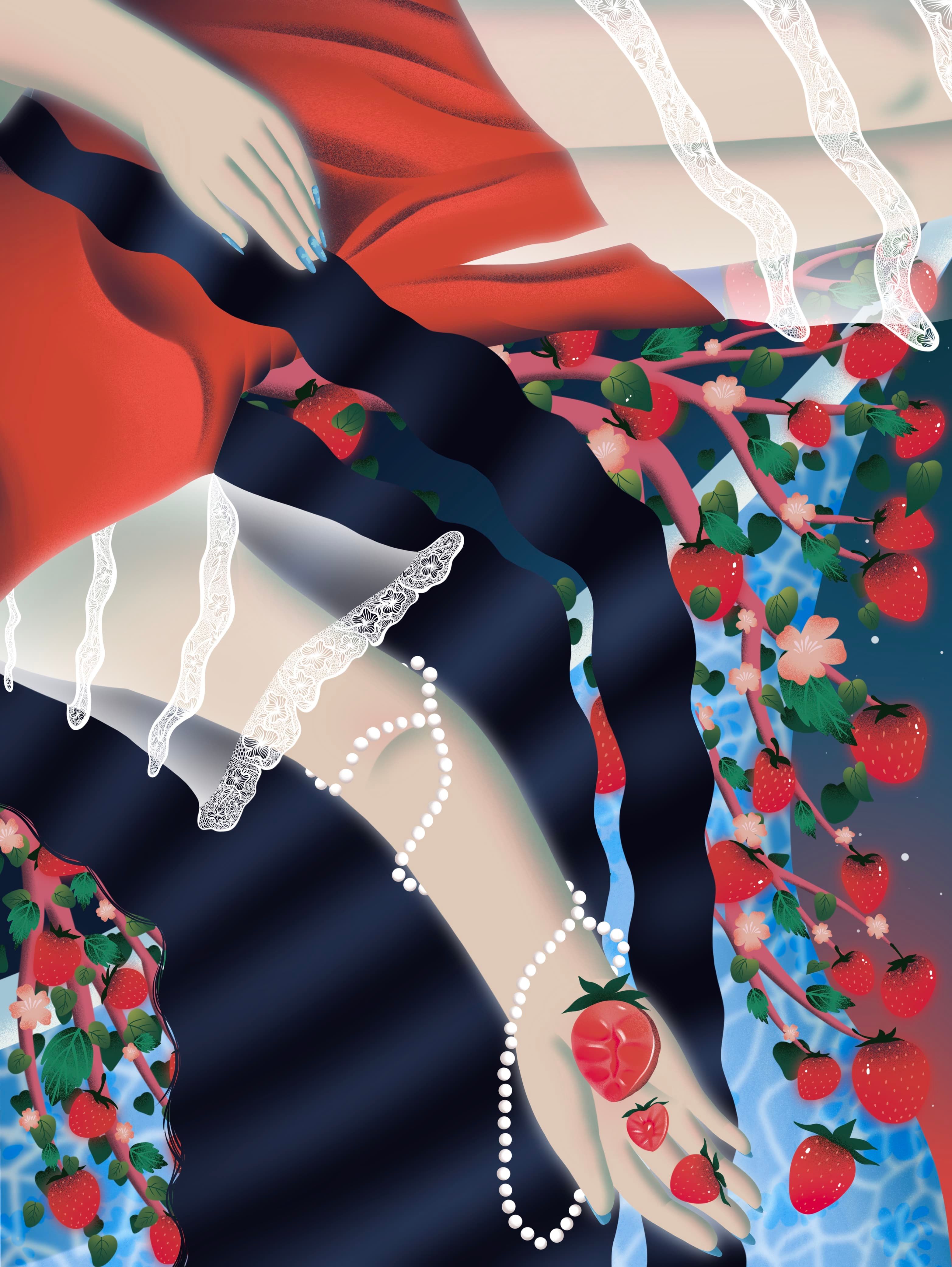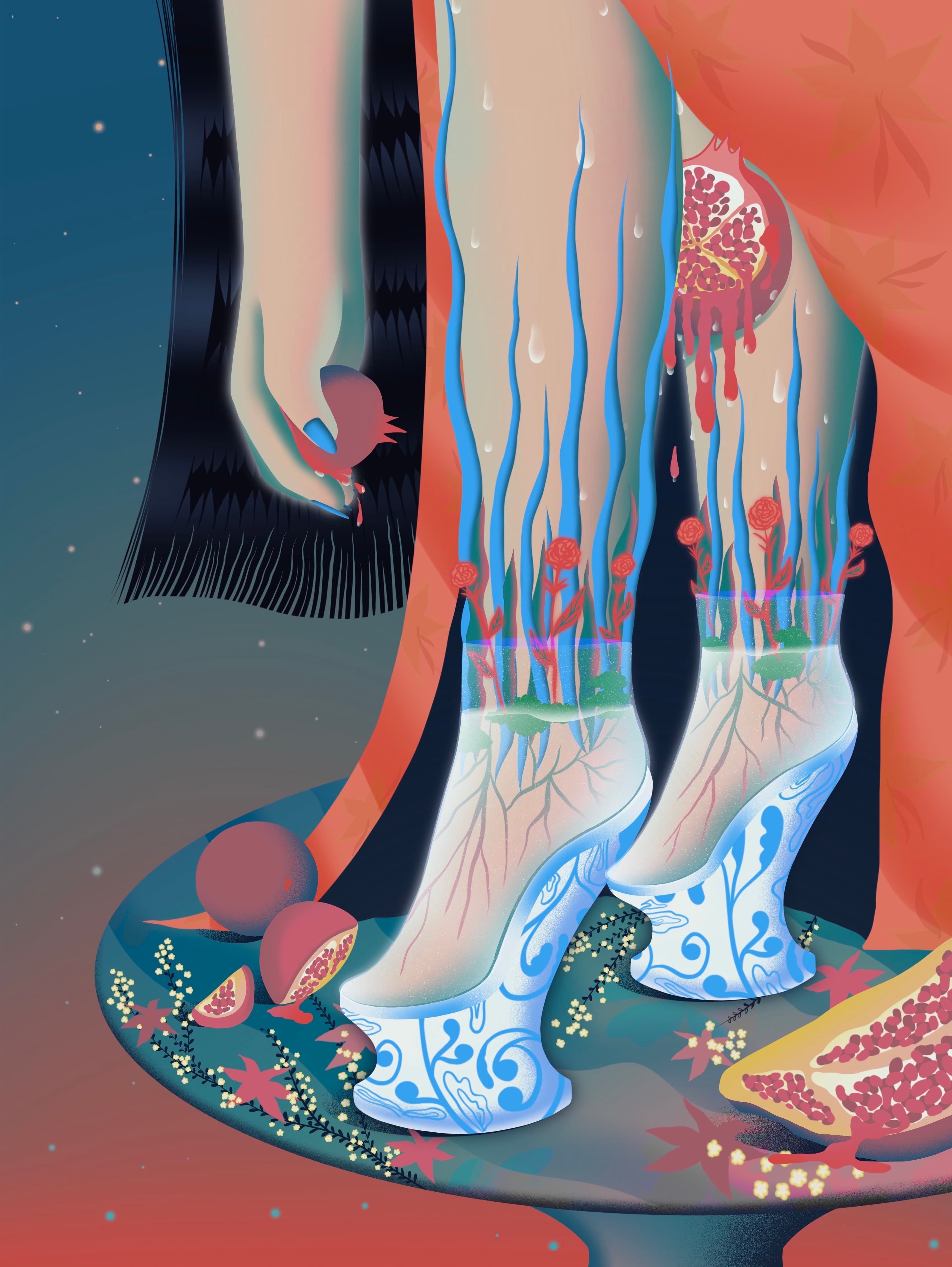 What unique perspective do you feel your art communicates?
I believe my art can be interpreted in a variety of ways, which is exactly what I want it to be. It may not be so simple and straightforward that the essence of the work can be seen at a glance. However, I would say that my work is kind of like the mysterious oriental stories. Truth, which is mostly related to my cultural background, can be unveiled when the audience spends time observing, feeling and exploring. Oriental elements incorporated into my work, such as flowers, plants, artwork totems, are all wonderful resources that help my audience imagine and interpret.
Much of your work explores complex emotional topics. How much of yourself do you draw upon to create your art?
Whenever I created a piece of art, I tried to understand the subject matter from my point of view and put myself in the shoes of the characters. My work 'Living Alone,' for example, was based on my own life experiences. The story was about a group of young women, who were struggling to make a living in the big city and who always managed to find inner peace in their bittersweet life. And you see, I am one of them. I tried to depict the moments of my life, darkness or light, in my illustrations. I believe that the most touching parts of pieces are always rooted in priceless experiences reflecting innermost emotions of the creators themselves.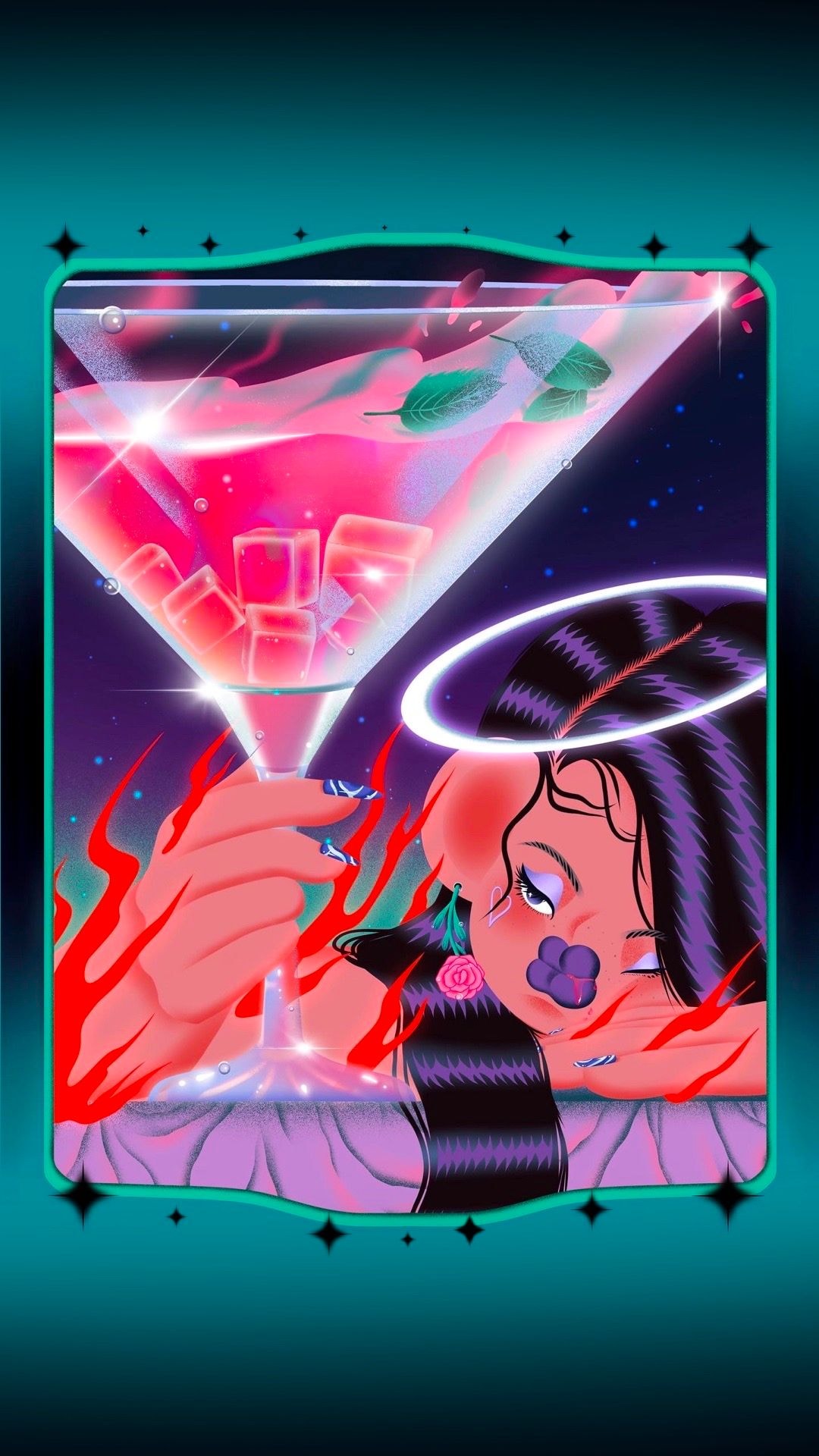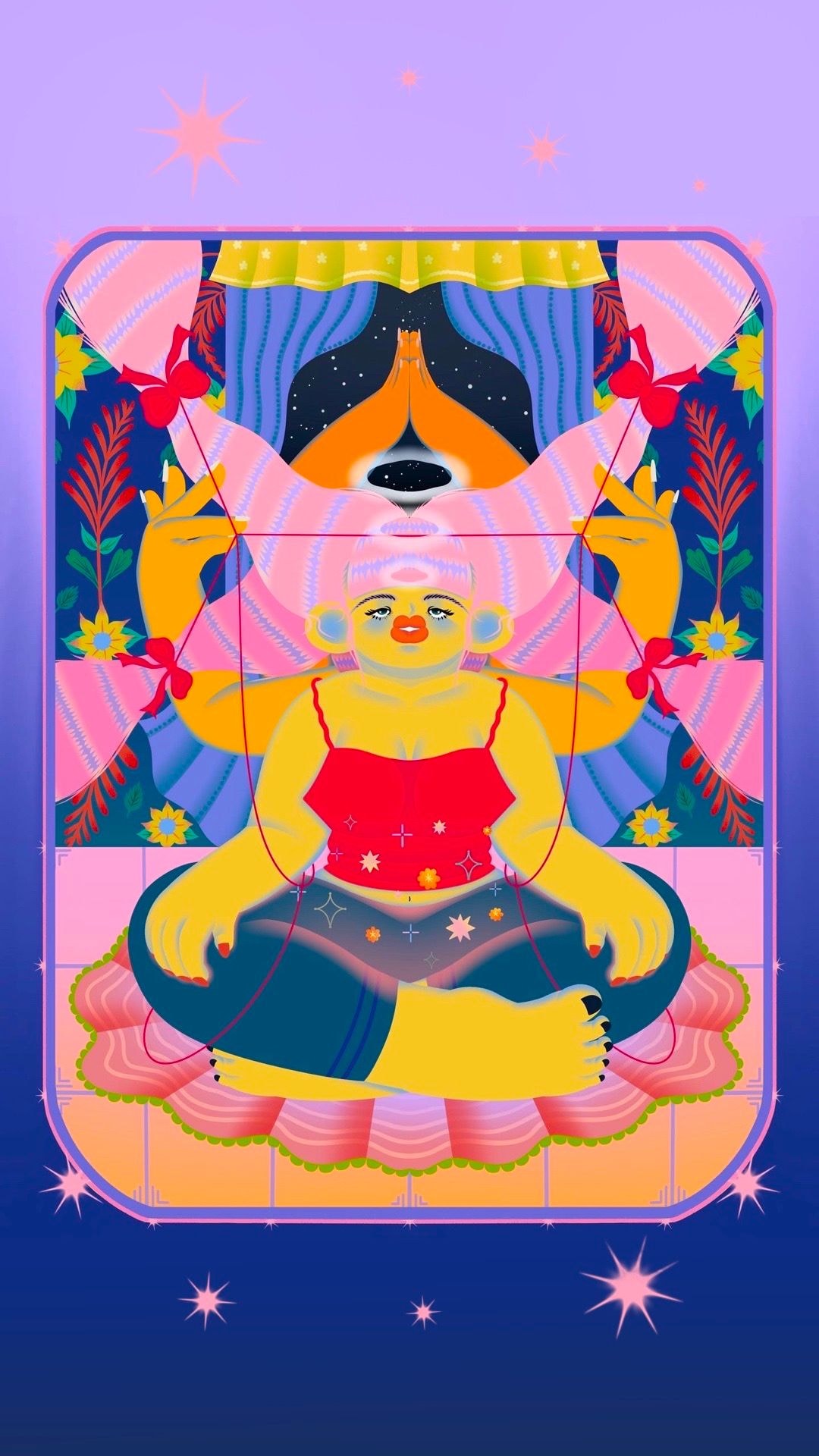 What's the most meaningful piece of work you've created so far, and why was it so important to you?
My graduation project 'Being an Only Child,' the longest project I have done so far, was the most meaningful work for me. It was a story I told about our country's culture and history, which I enjoy doing and consider my responsibility as an Asian artist. I devoted considerable time(about 5 months) and energy to it. Starting with my own life experiences, I investigated other people's stories, conducted interviews, and gathered opinions. And finally, I found that we shared similar traits, and we felt intense empathy with one another. I knew in my heart that this was the story of "us" and that it deserved to be seen and heard by more people.
In this work, I focused on the story of China's last generation of only children, from birth to adulthood, and presented the conflicting parent-child relationship implicitly by combining Chinese idioms and childhood games. Finally, stories of love and hurt, along with reflection on our culture and mapping of contemporary one-child families, constituted my work.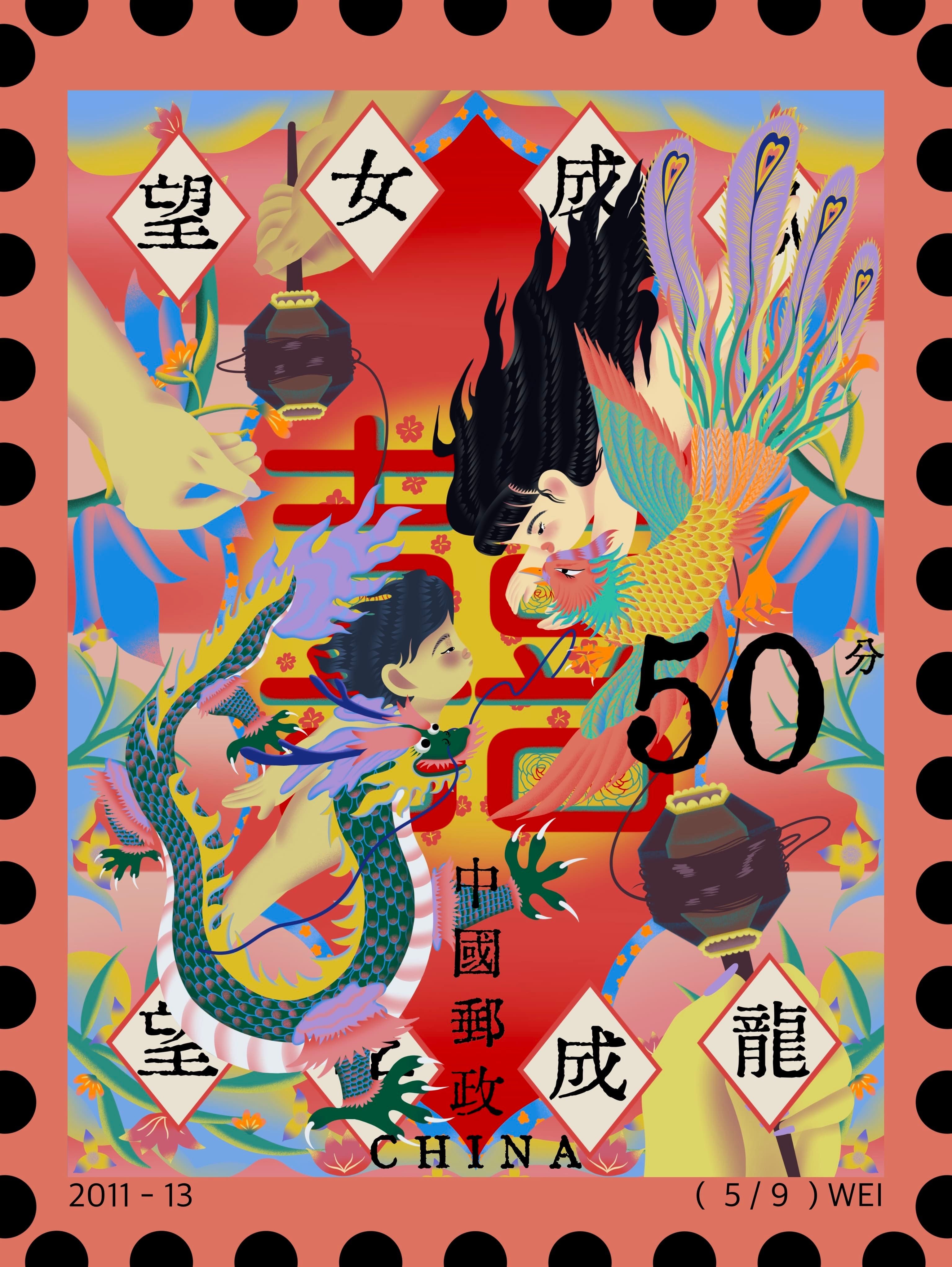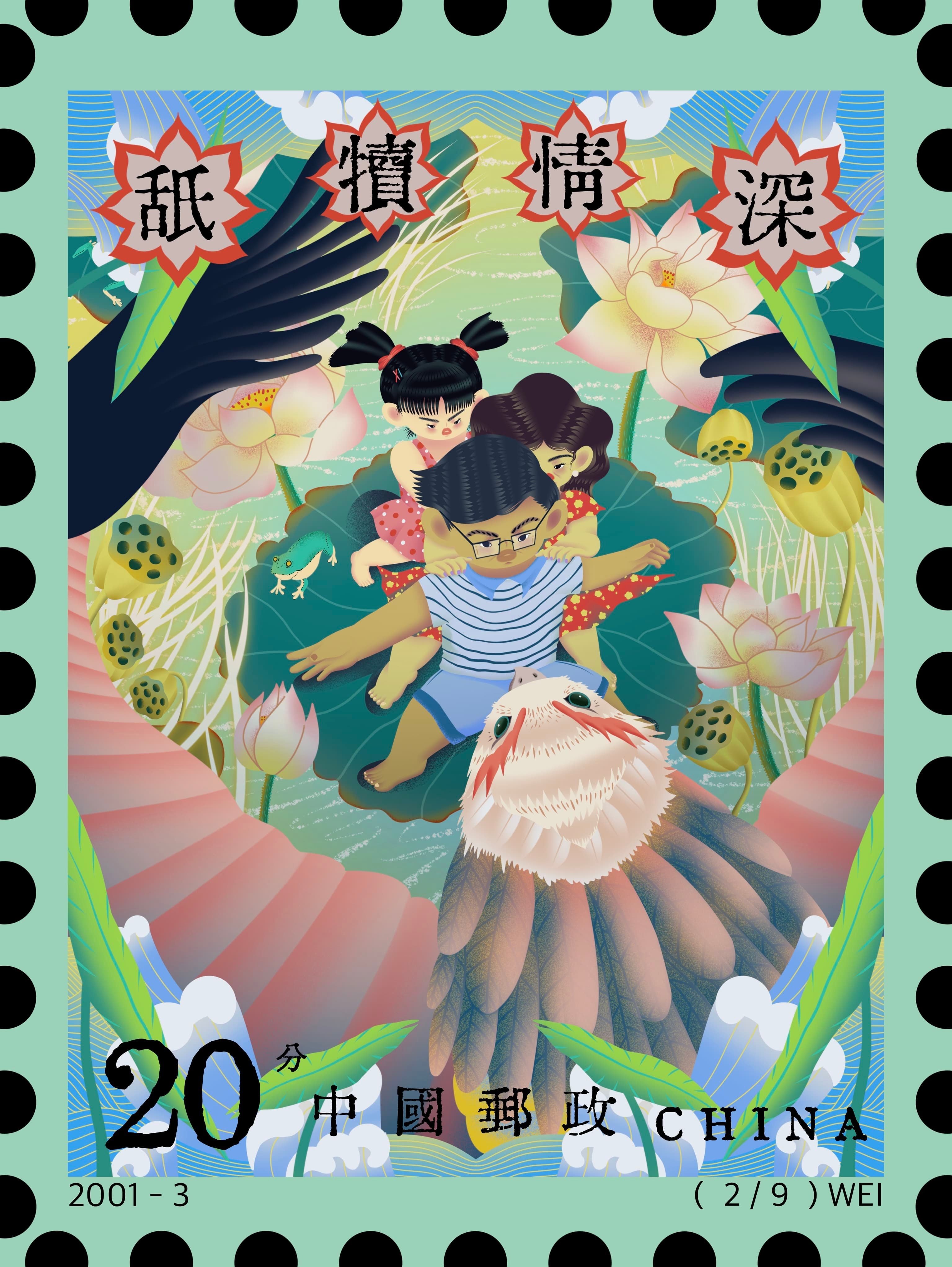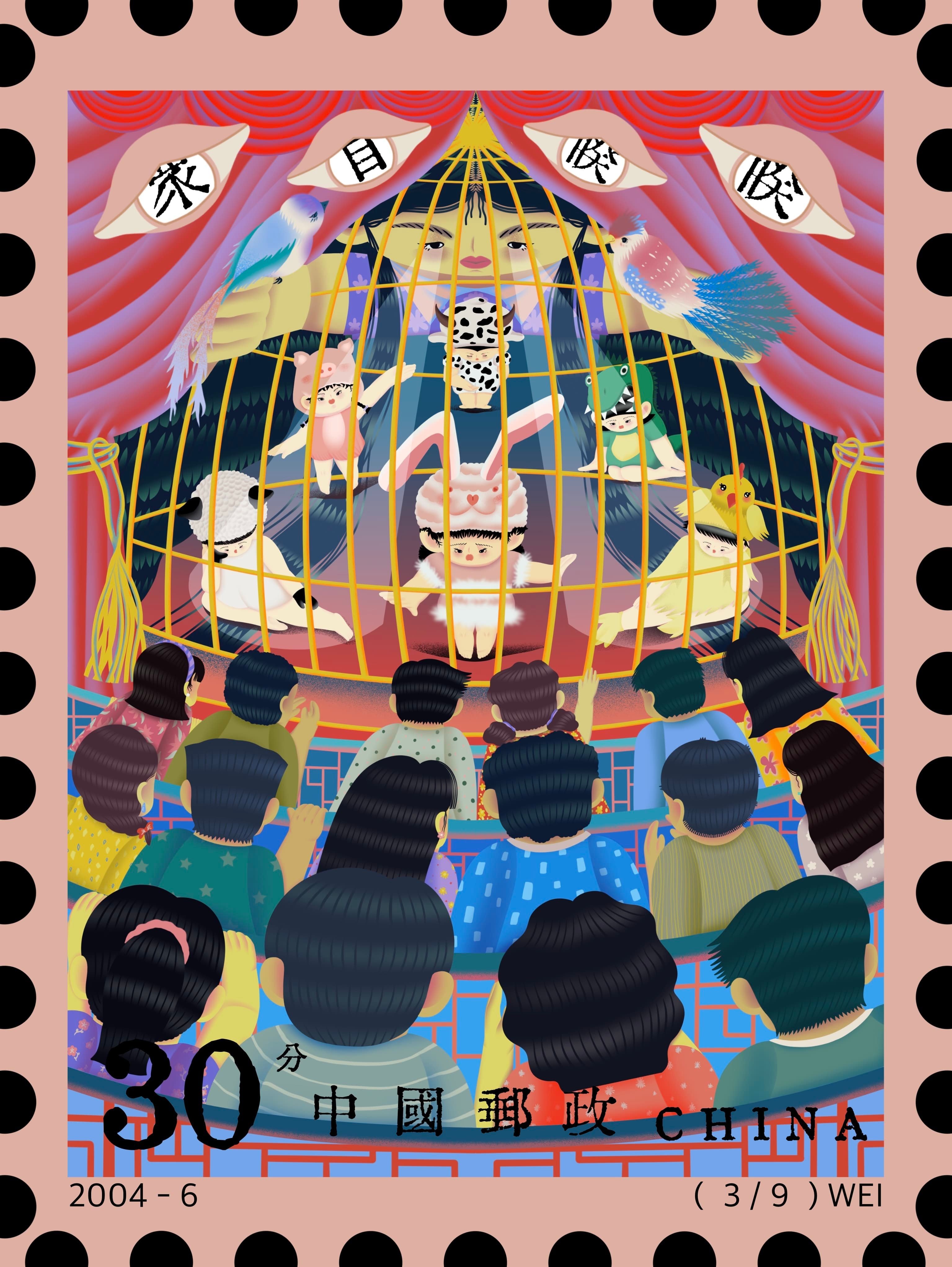 What are your favourite kind of stories?
I'm interested in all kinds of stories. I often spend the night drinking wine, talking with my friends, and telling each other stories about personal growth, relationships, or simply just about films. My father is also a close friend to me and what we talk about often includes in-depth topics, such as politics and cultural differences between countries, and sometimes my future. I can express myself freely, and he offers brilliant insights. The conversation between us gradually creates a calming effect on me.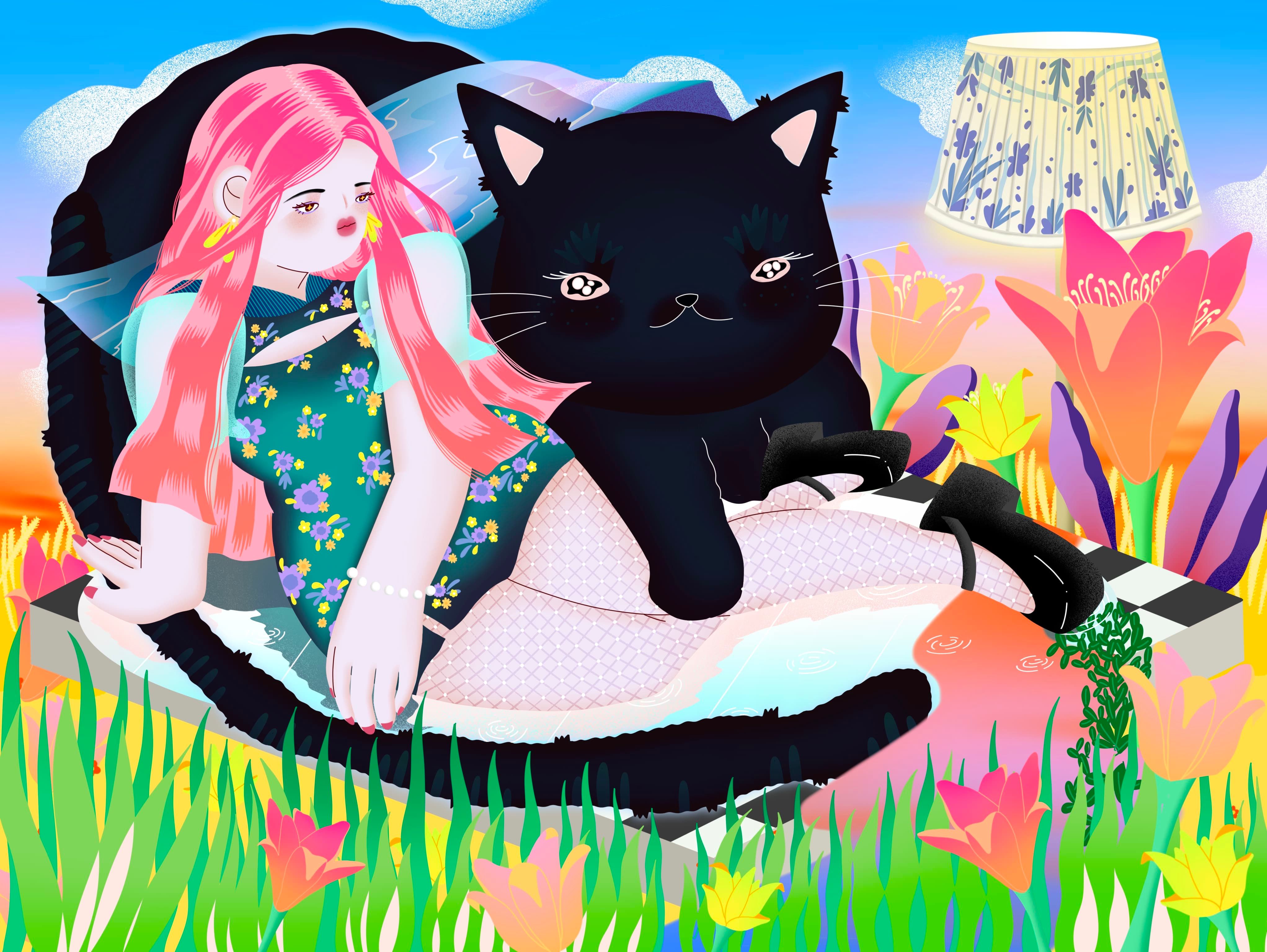 What are the events you feel pushed you and helped you develop your craft?
My life has changed dramatically since moving to London. The MA programme was without a doubt fruitful. It was a year in which I was exposed to more diverse cultures and styles than ever. Drawing upon all the things I learnt every day, I continued experimenting on the characters and colours of my illustrations, gradually developing my own distinctive style, after five projects, nonstop. In February 2022, It's Nice That published a special feature on my work. Never would I have imagined myself and my work being promoted on such a great platform, together with all the incredible artists I had only seen on social media! I was so grateful and so excited about it. This was the event that once again pushed me and made me believe in myself. The appreciation and recognition I have received since has made me even more determined.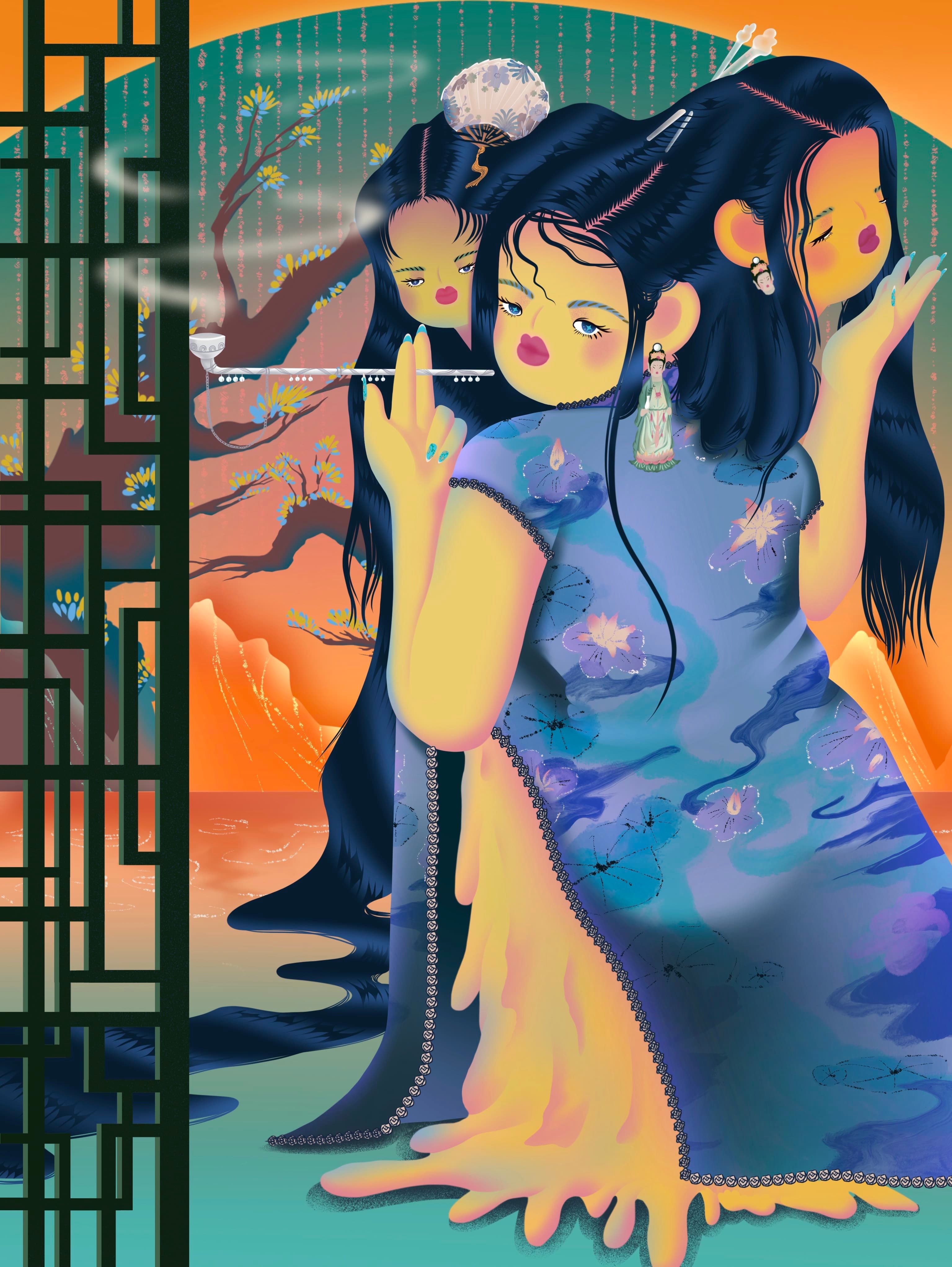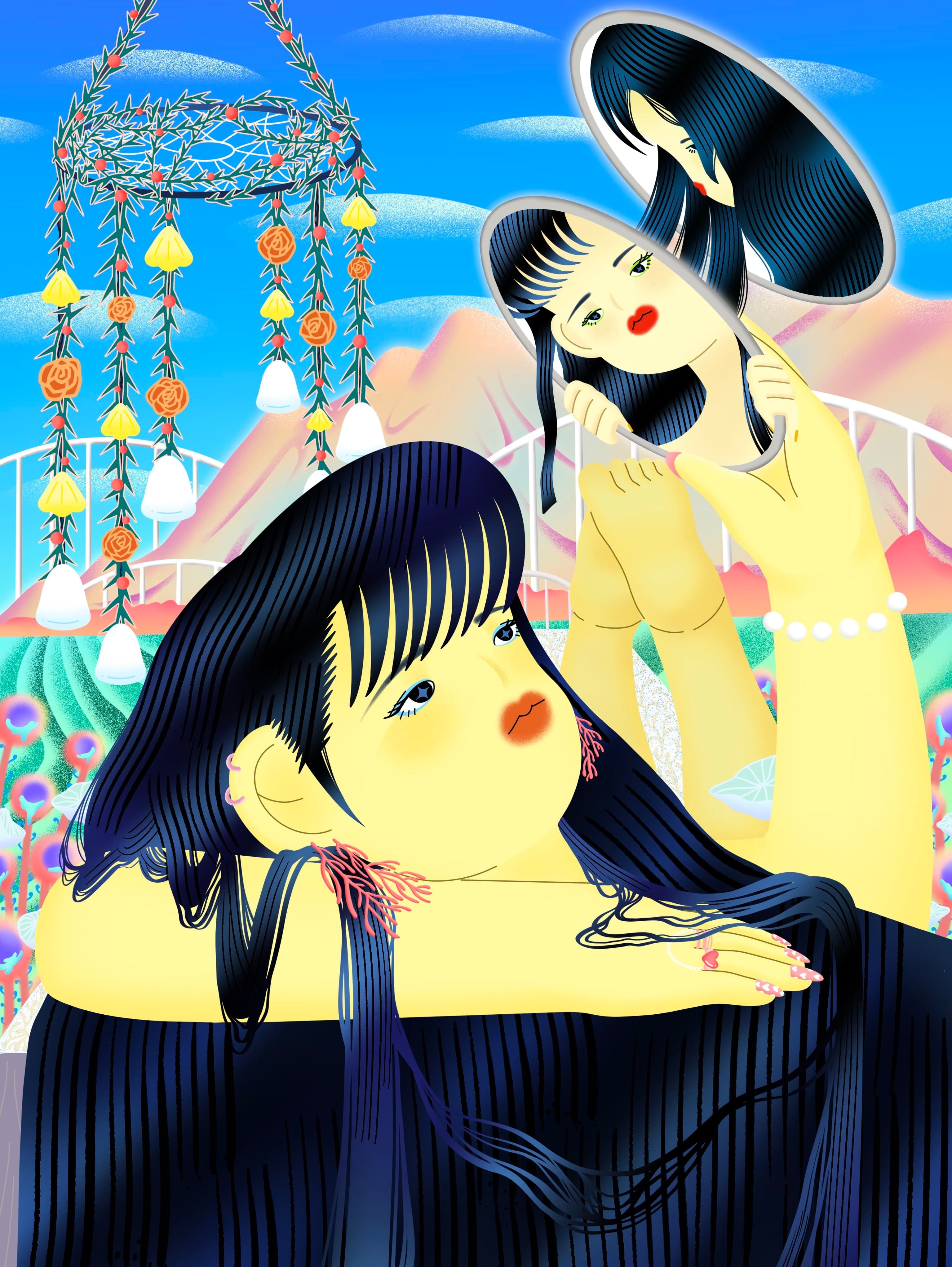 As a recent graduate, what excites you most about the industry?
I believe it is the openness of art. Unlike most industries, there is no absolute standard for good work in the art industry, and everyone can be free to express themselves. This gives me the confidence to keep on creating better work. Another thing that excites me is the shared belief that art has the power to change the world. And I can feel the faith from the artists I admire and the people in the industry.
Where do you see yourself in 10 years?
I think I'll always be an illustrator, yet more than an illustrator, because I have always stayed open to new things and possibilities. I know for sure that I'll devote my life to making art, although I may not necessarily become the best in my field. In the next few years, I hope that my art can be seen by more people in more forms and that it can speak for different groups of people. I'm thinking of those who are unrepresented and the minority groups. So, maybe combining installations, sculptures, handicrafts, or newer art forms (who knows what will appear in a few years) and having large- scale exhibitions around the world. This sounds attractive!I guess in this way, my art can reach more people, more of society, and different voices can genuinely be heard.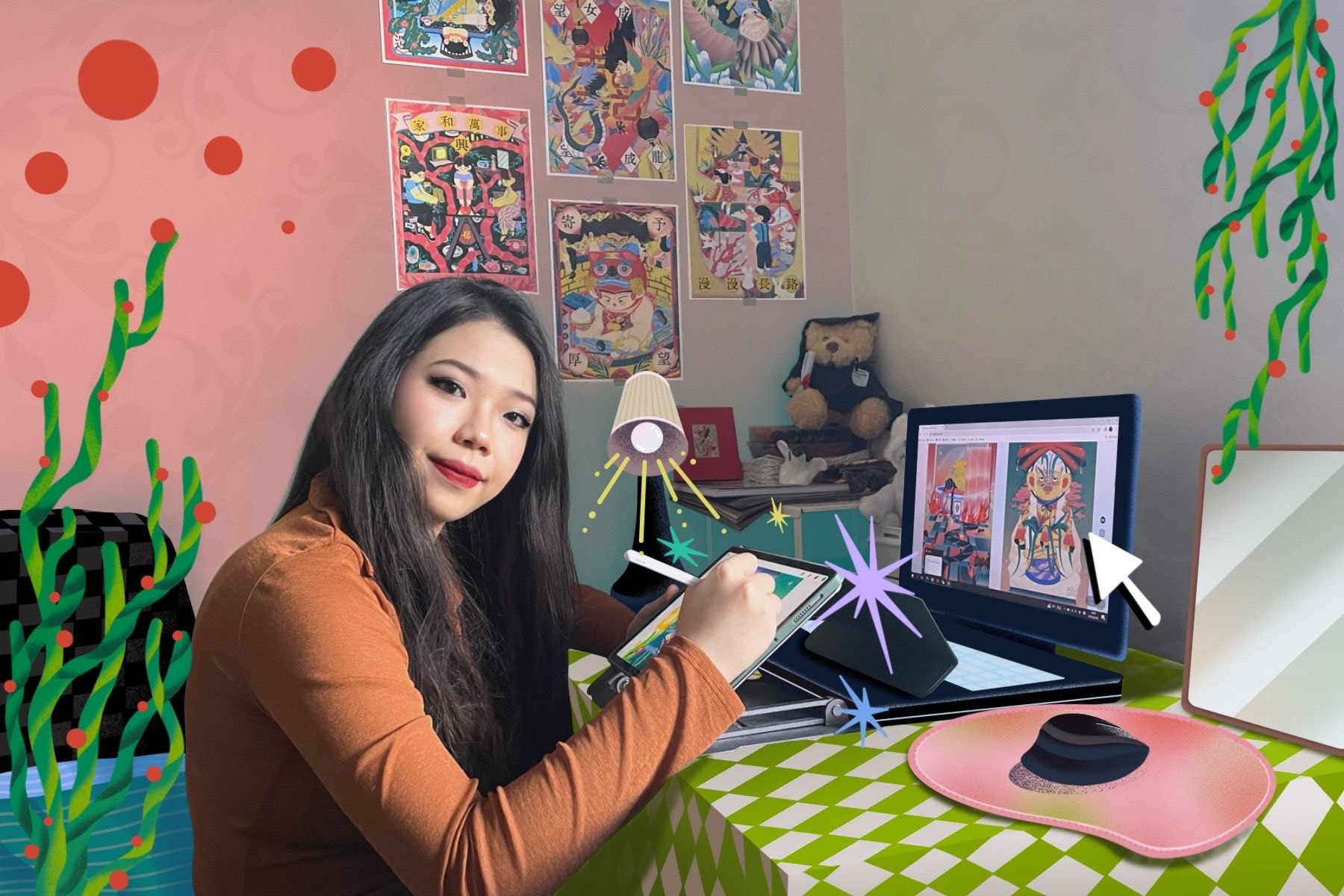 What We Do
Solving creative problems with strategic thinking, bespoke teams, and expert execution View the Collection